Behind the research of 'Beyond Common'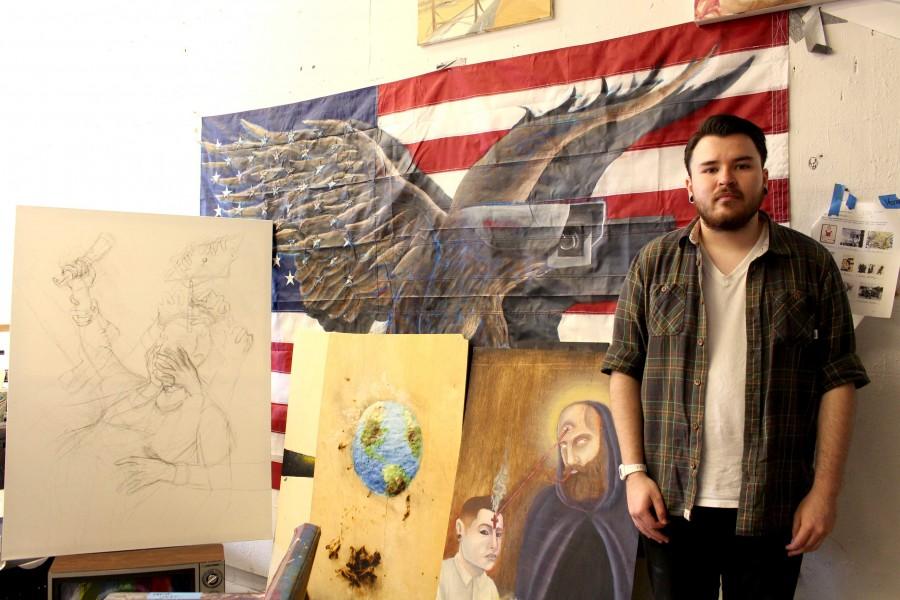 Fernanda Leon, Contributor
May 5, 2015
Since the semester began, Deven James McCoy, senior studio art major, has dedicated his time preparing artwork for his exhibition.
His project proposal was accepted at the Campus Office of Undergraduate Research Initiatives (COURI), a program that seeks to advance research participation among undergraduate students.
"My exhibition is entitled 'Beyond Common' and basically features work that I have created for research purposes over the course of the last two semesters," McCoy said.
McCoy's research is divided into two parts. One part focuses on the illustration of a character named Common Man, who represents the mundane social standard of what is an American citizen. The second part is the representation of McCoy's ideas about the world of illustration.
"I've come across tons of people in the art community who kind of look down on illustration as an inferior practice," McCoy said. "In my opinion, I believe that mentality is due to the commercial properties typically associated with creating and replicating illustrative work."
McCoy found out about the opportunity to apply for his research program with the help of Kim Bauer, associate professor of art and McCoy's mentor.
"Deven had been a teaching assistant of mine for a year and I respect his artwork, commitment to quality, along with his writing and research skills," Bauer said.
McCoy said this semester meant a lot of work for him where he gained knowledge. He said art is not only something that a person can create, but also something the artist needs to learn how to communicate and convey .
"I feel like anyone can learn how to draw or paint well, but being able to come up with conceptions is something else entirely. It's actually not a skill many artists own," McCoy said. "I have always been pretty good about talking about my art and coming up with ideas, but now I've been able to develop those skills even further to work hand in hand with my technical ability."
Professor Bauer became a support system during McCoy's research project.
"I honestly could not have asked for a better mentor. Not only was Mr. Bauer an excellent resource both technically and conceptually, but he also kept my head on my shoulders when I felt like it was going to fall off," McCoy said.
Bauer also helped McCoy work with different methods and new technologies combined them with already existing art-making methods.
Among the methods that McCoy used to create his artwork is the use of 3D printers and CNC routers, which are computer-controlled cutting machines he used to create his relief prints.
"Relief prints have been around for centuries, but definitely not with these recent technological advancements," McCoy said. "Working with these methods and technologies that very few, if any, artists are currently taking advantage of was pretty exciting."
Professor Bauer also found the research project to be a challenge since this represented the use of skills that were out of his comfort zone.
"This grant demanded that I explore and investigate possibilities that will undoubtedly have an impact on my future teaching and personal artistic inquiries," Bauer said.
For both McCoy and Bauer, doing a research project represented an opportunity to create support and attention to the art field. Both worked in the areas of knowledge, ability and craft and creativity in order to achieve the research goal.
"As artists, our research is based on all three of these areas in obviously different percentages for each endeavor," Bauer said. "Continued artistic research is critical, as it develops ideas and questions for future investigation, eliminates stagnation and produces results."
McCoy will be graduating this spring. His plans are to continue doing art and partake in as many opportunities that he can.
"Attending graduate school is an obvious choice, but it's definitely not the only one," McCoy said.
Fernanda Leon may be reached at [email protected]