Anna-Kay James: overcoming hurdles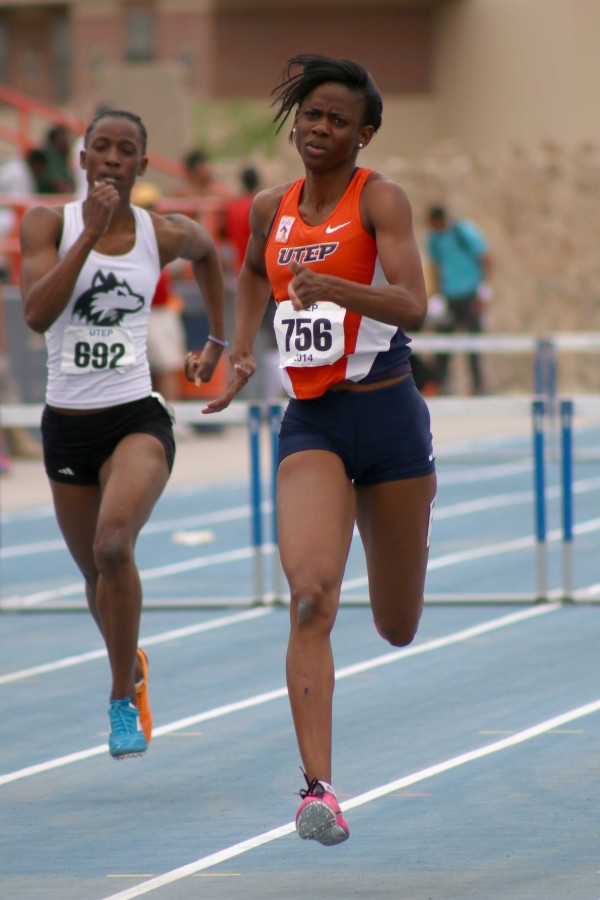 Juan Carlos Navarrete, Staff Reporter
May 5, 2015
UTEP hurdler Anna-Kay James, senior accounting major, has had a challenging year to say the least. Riddled with injury from the start, her senior year has provided plenty of physical and metaphorical hurdles, but her will to end her career as a Miner on a high note remains. Born in Kingston, Jamaica, James has track and field in her blood. Her mother, a hurdler like herself, is her main drive and inspiration in the sport.
"She was very good at track. She is my biggest reason to keep running," James said. "Even when I feel like I don't want to run, she makes me want to run."
Although life on the track started as a family affair for James, her excellence in the sport has provided opportunities that have been the key to her education. She received a scholarship for hurdling that allowed her to attend high school and then another that took her to Lincoln University.
"I realized I could be good at track because it is something that has got me to school," James said.
Before coming to UTEP, James spent some time was in Jefferson City, Mo., competing in Division II. While she was at Lincoln University from 2012-2013, she was named an All-American three times.
After her time in Missouri, James made the jump to Division I and landed in the borderland looking for better competition and bigger accomplishments.
Now in her second year at UTEP, James has continued to perform at a high level, despite the increased competition. In 2014 she was part of the 4×400-meter relay team that took first place at the Conference USA Indoor Championships. During the outdoor season, she received two NCAA honorable mentions for her showing at the NCAA Championships in the 100-meter and 4×100-meter hurdles.
James may be having a challenging year, dealing with a knee injury that has bothered her all season, but she has still found a way to get results on the track. This year, during the indoor season, James aided the women's team to the program's first-ever conference championship. At the Conference USA Championships in Birmingham, Ala., James received a silver medal in the 60-meter hurdles.
Dealing with the challenges has been easier because of the support James finds in assistant coach, Lacena Golding Clarke.
"Anna is a very good athlete–she has struggled this year because of injury," Clarke said. "Hopefully she can get through it and qualify for regionals and end her year well."
Qualifying to regionals is not impossible. As of now, she is qualified and a place at regionals would be secured with a strong showing at home during the Conference USA Championships. Only five runners are behind her and even if she does not run her best time, she might qualify.
Returning and competing at the national level is not the only goal in mind for James. Achieving All-American status, like she once did at the Division II level, is also in her sights.
"To qualify to regionals and then go to nationals–if I end in the top eight then I'm an All American," James said.
The fact that her collegiate career is coming to a close makes these next few weeks of competition special for James. She is hoping to make them even more significant by having a special fan come to the conference championships at Kidd Field.
"I am trying to get her (mother) over here as a surprise," James said. "I want her to be here since it is my last conference (meet)."
Her coaches are also pushing her to end her career on a good note and relying on her to help the team repeat what they did during the indoor season. James will play a big role in UTEP's search for a second- consecutive Women's Conference USA Championship.
"She is an example for the other girls," said track and field head coach Mika Laaksonen. "They look to her and she is an example for them."
James has plans to continue her track career after she graduates. She would like to continue her professional track career before starting her career.
"I want to keep running after I am done running here," James said. "I want to continue after I am done and then become an accountant or own my own accounting firm."
The track team will have 16 seniors run at home for the conference championship. The Conference USA Championship will be held at Kidd Field on May 14. For James and the rest of the team, it may be a last chance for the team to finish as a winner.
Juan Carlos Navarrete can be reached at [email protected]
About the Contributor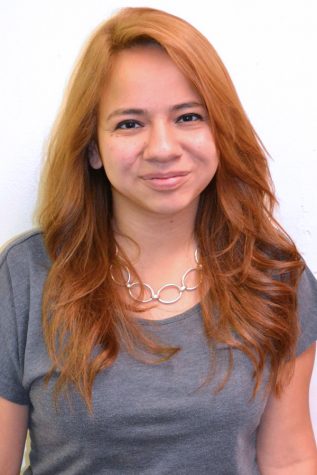 Michaela Román, Editor-in-Chief
Michaela is a Senior Digital Media Production major at The University of Texas at El Paso. As the Editor-in-Chief, and former Photo Editor of The Prospector,...