Protestors unite for Immigration rights
More than 300 El Pasoans marched under the blazing sun to protest against a slew of anti-immigration bills filled in the Texas legislature this session.
Beginning at Armijo Park and ending at Cleveland Square, protestors marched through Downtown dressed in white shirts while chanting "¡Perry reacciona, aquí no es Arizona! (Perry wake-up, this is not Arizona!). They were referring to freshman Senator Charles Perry, R-Lubbock, who authored SB 185, one of the focal points of the rally, which would allow local police officers to ask anyone they detain about their immigration status.
The event was organized by the Border Network for Human Rights in direct objection of SB 1819, SB 3, HB 2912 and HB 11.
"The environment in the Texas legislature right now is hostile, there is an enormous amount of Republicans…It's really hard to pass any law that is tagged as a democratic law,"said Oscar Silva, community affairs and media relations for Sen. Jose Rodriguez, D-El Paso, who represented the senator at the rally.
Many students at the rally spoke out against SB 1819, which would repeal in-state tuition in colleges and universities for undocumented students.
"In UTEP, we have such a high percentage of students that are under the DACA program," said Claudia Loli, junior political science major and a Deferred Action Against Childhood Arrival student. "Making me pay out-of-state tuition now is inhumane. It's wrong and it's keeping students from pursuing a higher education and from pursuing their dreams."
UTEP President Diana Natalicio cited  an analysis from the Texas Tribue that states are 164 undocumented students enrolled at UTEP in a statement intended for the rally.
"These talented and highly motivated young people have huge potential," she wrote. "Not only to enhance their and their families' prosperity and quality of life, but to help increase the competitiveness of Texas and the U.S. 21st century global economy."
All of the bills have yet to be voted on.
"I went to Arizona after SB 1070," said Aurelia Murga, associate professor of sociology at UTEP. "People are affected by these laws every day, there's certain fear that's created…inequality as a whole, this will really affect the way folks do their everyday."
Maria Esquinca may be reached at [email protected]
About the Contributor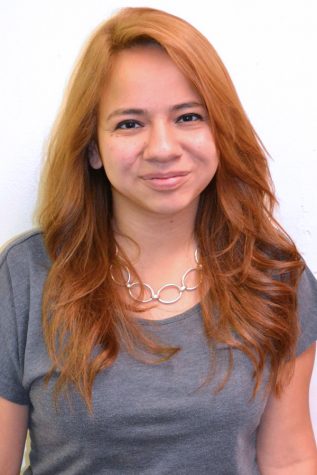 Michaela Román, Editor-in-Chief
Michaela is a Senior Digital Media Production major at The University of Texas at El Paso. As the Editor-in-Chief, and former Photo Editor of The Prospector,...