@BaltimorePolice: Please remain peaceful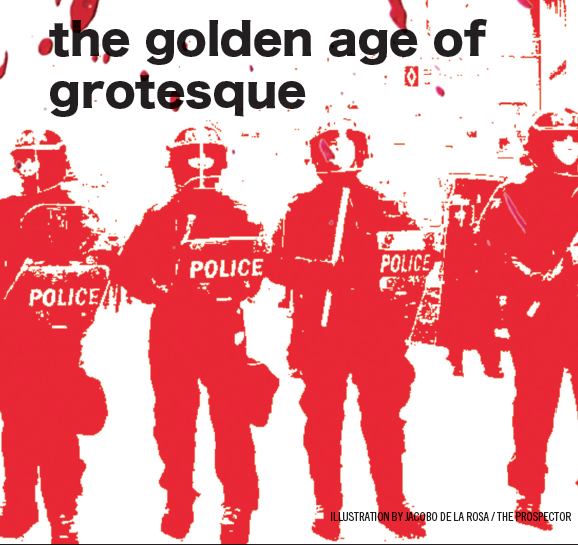 "The streets were never ours to begin with, because on these same streets our sons and brothers, fathers and uncles were, and still are, prey," wrote Edwidge Danticat, in an article for the New Yorker titled "Enough is Enough" after the death of Eric Garner, who died in a chokehold position by a cop after muttering, "I can't breathe."
The quote is particularly illuminating concerning the flood of deaths of young men of color at the hands of white cops.
Currently, the newest victim was a 25-year-old unarmed young man of color, who was killed in police custody due to a spinal cord injury.
A website called killedbypolice.net chronicles the occurrence of every death by a police officer in the U.S. The spreadsheet contains the name of the victims, the sex and a link to a news article associated to their death. Last year there were more than 1,000 deaths by cops, and since Freddie Grey died, there have been 21 more people killed.
The death of Grey, similar to the death of Brown, has incited protests in the city of Baltimore, Md. However, protests turned violent after the funeral of Grey.
The violent protests lead Gov. Larry to declare the city in a state of emergency and activate the National Guard. Larry stated that looting and acts of violence will not be tolerated.
"I strongly condemn the actions of the offenders who are engaged in direct attacks against innocent civilians, businesses and law enforcement officers. There is a significant difference between protesting and violence and those committing these acts will be prosecuted under the fullest extent of the law."
It seems that once protestors resort to violence, it allows for their pain and suffering to be undermined.
On Twitter, you'll find #FreddieGray, and you'll also find #BaltimoreRiots. An article from the Daily Kos read, "Baltimore erupts into chaos." Carson Daly tweeted, "Really sucks to see these looters ruining the great city of @Baltimore. This isn't protest, this is a violent attack on your OWN city."
You can almost see the flames burning in mid-air.
While others point out a different reality, an article from Black Westchester headlines "10,000 strong peacefully protest in Downtown Baltimore, media only reports the violence and arrest of dozens." The article goes on to detail that out of the 10,000 peaceful protestors in Baltimore, mainstream media focused on the 100 who "acted up" and the 35 who were arrested. Jamison Foser tweeted, "Dear @BaltimorePolice: Please remain peaceful. Several of our citizens have been killed."
But the point of this column can be framed more poignantly through a Tumblr user called mysharona1987 who wrote, "I wish people were as mad about the police literally severing a man's spine and killing them, as they are about some broken car."
I can understand the indignation that may be spurred after people begin "looting" and "rioting" and creating "chaos." It's violent, it causes damage to property and it's breaking the law. But once one title (protestors) is replaced by another (looters), it allows for the narrative to be changed, and suddenly the damage they inflict on the city, on cars, on property, becomes more significant than the damage that has been inflicted on their lives.
Erased is the pain felt by communities of color, by families, fathers, mothers, brothers, sisters, friends and the fear they must live with day by day, as their loved ones are murdered with impunity and a blatant disregard for their pain.
I will never understand the hypocrisy of that logic.
If at the core of the enragement is that "rioters" are breaking the law and destroying property and enticing violence, where is the enragement when cops kill unarmed young men? Eric Garner, Michael Brown, Freddy Grey—what they all had in common besides being young men of color is that they were unarmed. How does someone without a weapon pose a threat to someone with a weapon?
The reality is that this is a race issue, and we need to ask ourselves why unarmed black men are threatened by white cops? But we also need to ask ourselves why, as a society, we seem to be more enraged and alarmed by the 100 "rioters," who loot and burn cars, rather than the cops who continue to kill a plethora of unarmed men of color, adding up to a 1,000-plus death count.
Maria Esquinca may be reached at [email protected]