'Mary Poppins' comes to the UTEP Dinner Theatre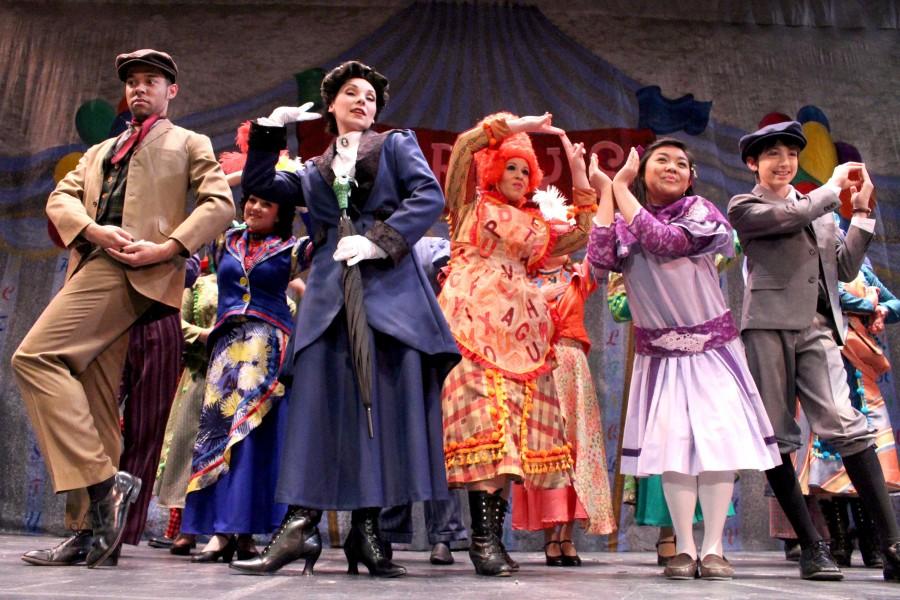 Fernanda Leon, Contributor
April 21, 2015
A capacity crowd witnessed an evening full of memories and much fun at the opening night performance of "Mary Poppins" at 7 p.m. April 17 at the UTEP Dinner Theatre.
The place was full of spectators, who first enjoyed a three-course dinner. After dinner, the lights went off, the stage lights went on and the play started.
The costumes that each character wore were similar to the costumes portrayed in the original Disney movie. The silhouettes, the accessories and the colors of the costumes designed by Jaime Barba, theater lecturer, took the audience back to the time the early 1900s.
During the play, the stage offered different scenery that adjusted to the situation of the scene. The different stages combined to offer scenarios, where the audience could sense movement. The harmony of the scenes created a sense of place and the viewer felt like a participant in the action.
The lighting design by Michael L. Spence, set designer and director of special facilities and technical services, left the audience fascinated and moving their heads all around the theater with a sense of wonder and surprise. These effects gave the audience and the theater a magical touch that took the audience to the world of "Mary Poppins."
The choreography by Lisa Lopez and assistant Josey Mitchell, gave the play a touch of fun that the characters interpreted to the tune of the music from the play. The dancers and actors reflected every part of the lyrics with their movements.
The music of the play was filled with the magic of the original songs. The actors in the play sang the classic songs such as "Chim Chim Cheree" and "A Spoon Full of Sugar."
The audience clapped and sang along to the songs from the famous musical as the play proceeded.
The direction of the play by Gregory L. Taylor, director of the UDT, portrayed every aspect of the classicism of the original musical, giving this play an ambience of magic, music, colors and visual effects that took the viewer to a different era.
"Mary Poppins" is presented as part of the 2014-2015 season of musicals at the UTEP Dinner Theatre from April 17 – May 17.
If you are looking for an evening full of magic, music, colors and fun, this classic supercalifragilisticexpialidocious production can't be missed.
Fernanda Leon may be reached at [email protected]