Chihuahuas open series with win
Up since 3 a.m. this morning, the El Paso Chihuahuas had a long trip back home after a four-game series in Tacoma, but it didn't show on the field as they went on to beat Sacramento 7-1 in front of 6,098  fans tonight at Southwest University Park. Robbie Erlin pitched six innings, allowing just one run, and the Chihuahua offense had 13 hits as El Paso got its sixth win in the last seven games.
"It's a battle," said first baseman Tommy Medica about the early morning. "But once the first pitch is thrown you do what you got to do to get it going."
The left handed pitcher from Scotts Valley, Ca., did not allow a hit through three innings, retiring all nine batters that came to the plate. Erlin got into some trouble in the fourth when, after getting the first two outs of the inning, he allowed a single and a double.
With a man on first, the Rivercats' Adam Duvall hit a line drive to left-field. Duvall was nearly caught on his way to second by El Paso second baseman Taylor Lindsay. While they both waited to hear the umpire's decision on the play, Sacramento's Juan Perez who was at third easily got home breaking the shutout.
Erlin recovered and pitched the next two innings without much trouble.
"I was able to land my off speeds for strikes consistently," Erlin said. "Anytime I got behind the count, or even ahead, I felt like I had multiple options."
The Chihuahua offense did its part as well, continuing to find hits all though out the lineup. They started off with a two-run first inning thanks to a double from Austin Hedges that very nearly cleared the wall. The bases were loaded thanks to back-to-back-to-back singles from Abraham Almonte, Medica and Brett Wallace.
"The offense coming up and scoring early made it easy to kind of settle in, put my mind at ease and get the game plan," Erlin said.
The first inning was just a prelude to what would come in the fourth. Lindsay got on first thanks to a line drive to right and Erlin helped his own cause by bunting him to second. Raymer Liriano came on and tripled, making it eight straight games with a hit. Medica would double and Almonte would homer to make it a four-run inning for the dogs.
"We have a lot of guys down here that can swing it," Medica said. "It's a very talented team."
The guys who came out of the bullpen for the Chihuahuas were solid, as it is becoming the custom this season. Cory Mazzoni, Nick Vincent and Marcos Mateo each pitched an inning, all of them shutouts. Vincent allowed a couple of hits and Mateo one, but the result was never in danger thanks to all three relievers.
"I think every starter on this team is happy to turn the ball over to the pen when that time comes," Erlin said. "The bullpen's been outstanding."
El Paso manager Pat Murphy is happy with the recent results and the direction in ehich the team is headed. The starting pitching staff is beginning to settle and the bullpen has been outstanding. The offense has had many contributors and shown to be explosive, but Murphy is still looking for more consistency from his lineup at the plate.
"I'd like to see us put together a more complete game," Murphy said. "We gave away AB's (at bats). In the PCL teams come back and we're not locked and loaded to have that kind of bullpen every night."
The Chihuahuas, no 8-5, will be back on the field tomorrow night for the second of the four-game series against the Rivercats. First pitch is scheduled for 6:35.
Luis Gonzalez may be reached at [email protected]
About the Contributor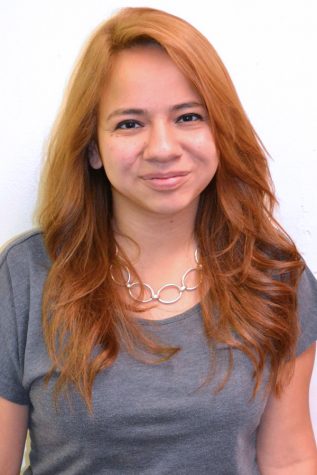 Michaela Roman, Editor-in-Chief
Michaela is a Senior Digital Media Production major at The University of Texas at El Paso. As the Editor-in-Chief, and former Photo Editor of The Prospector,...