Hunter leaves, blame it on the system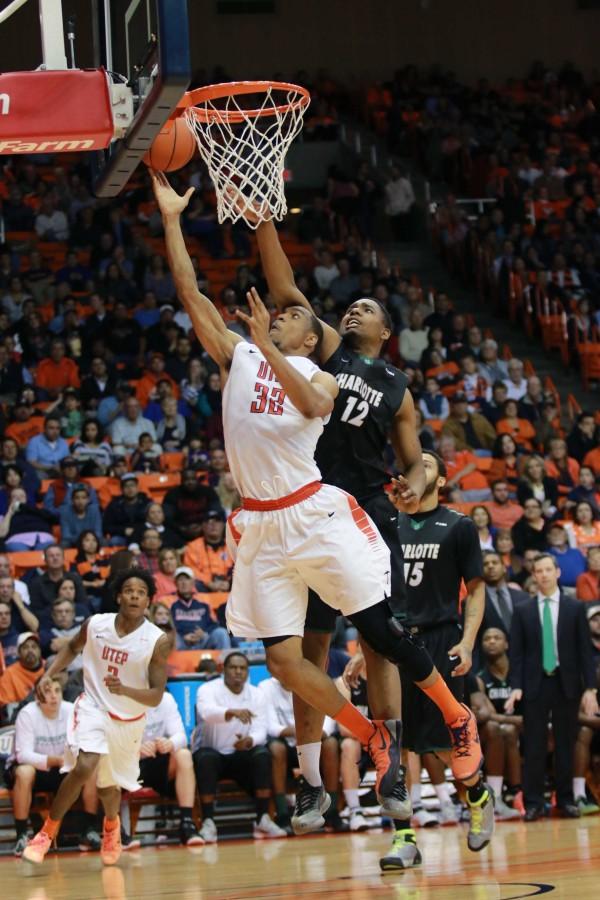 Last week, UTEP basketball's top offensive player, sophomore forward Vince Hunter, declared for the 2015 NBA draft. Throughout the 2014-15 season, NBA scouts were seen at UTEP games and rumors circulated about Hunter leaving school to pursue his NBA career. The situation brought one of the sports biggest points of debate a lot closer to home.
A lot of people feel that the current system for the NBA draft is flawed. The "one-and-done" culture that has developed in the NCAA Division I basketball ranks that has developed in recent years is looked down upon by more than a few. The rule that a player cannot be drafted until they are 19 years old may be hurting the system.
A player, who goes to college for one year knowing that they will be heading to the NBA after one season, has no incentive to even attend class.
Perhaps the NBA would benefit from a system like the one in the National Hockey League. Instead of only allowing European players to play for another team while under NBA team control, this idea can be expanded to all prospects including the ones in college.
In the NBA, a lot of the drafting is based on projected talent.
Opinions vary widely on where Hunter will be drafted—his team and coaches believe that he will be drafted regardless.
UTEP men's basketball assistant coach Bob Cantu believes Hunter's was an informed decision.
"With coach Floyd's connections, he could get any bit of information from any GM or team," Cantu said. "He's advised Vince on his future."
Teammate Omega Harris also thinks Hunter will have no problem at the next level.
"Everybody says he's not ready, but his knee is injured…they haven't seen his full potential," Harris said. "When his knee gets back right, they'll see. He's just got to show up when the lights come on."
If Hunter's injury or the dearth of talent in this year's draft were to cause him to not get drafted, he has other options.
He could end up playing with an NBA summer league team in hopes of being signed or he could head to Europe to play professionally.
If Hunter hires an agent during the draft process, the one thing that he can never do again is play basketball for the Miners.
The El Paso Rhinos are a junior A hockey team that plays their home games at the Sierra Providence Events Center in El Paso. The players range from 18 to 20 years old and come from all over the world. They have come here to demonstrate their talents for professional scouts and college coaches.
Rhinos head coach Cory Herman says that 95 percent of his players receive college scholarships following their time here in El Paso.
The NHL draft consists of players from around the world who are 18-20 years old. Unlike every other NCAA sport, players can be drafted by an NHL team and still play in college.
When either the player or the team that owns his rights decides that they are ready physically and mentally for the NHL, they will sign a contract and leave school. The NHL team holds the rights to the player until 30 days after they leave college.
Any player who is not drafted by the age of 21 is considered a free agent and allowed to sign with any team.
Herman feels that this system is great for young players who may not be completely ready for the rigors of the NHL.
"Going to the NHL at 18 is very tough to do. Players going to college have a chance to develop, get bigger, stronger and more mature," Herman said. "Getting a college degree that they can fall back on if hockey doesn't work out."
Former Miner basketball player Tyler Tafoya feels that an NHL-type of system could work in the NBA and that it would encourage teams to take more chances on players such as Hunter.
"I think it would give some extra advantage to teams because they are looking at long term and saying he still has some years for development instead of being thrown into the fire immediately," Tafoya said.
Under an NHL-type of draft system, Hunter would not have to declare himself for the draft. He could be drafted and still finish his time at UTEP, as long as the NBA team who picked him feels that he needs to develop more.
Cantu is all for a system that would allow players time to develop and not cost them their eligibility should they decide to test the draft waters.
"I definitely support anything that allows kids more time to get ready. You have to have a lot of skill and mental toughness to make it in the NBA," Cantu said. "I think a system like the one in the NHL would be great. It would help kids have a better career and better long-term options."
Although it seems to be agreed upon by most people that the current NBA draft system needs to be improved, anyone involved with college basketball currently is very wary of players being involved with pro teams while in school.
Cantu said there is a fine line that would have to be toed between the pro ranks and college.
"It comes down to amateurism. At a certain point a player is no longer an amateur. You have to draw the line somewhere," Cantu said. "In a perfect world, a system like that would be great, though."
Tafoya, currently a high school basketball coach, also said he sees the potential for conflict with a player belonging to an NBA team while being coached by a college head coach.
"There may be some conflict with this," Tafoya said. "The pro team might want the player to work on things differently
It appears that the NBA could benefit from a stronger minor league system. Currently, the NBA has a developmental league with 18 teams and approximately 13 players per team. Clearly this is not enough roster space for the number of players that NBA teams would probably like to draft and watch develop.
Coach Cantu would like to see the NBA develop a stronger minor league – the way that Major League Baseball has. Each MLB team typically has four to five minor league teams.
Currently, due to the lack of space in the NBA D-League, many American players are playing in European leagues. Harris said that the NBA would find you there if you were truly ready.
"I know a couple of people back home that went overseas and the D-League and did all that stuff. They get their money and stuff. If you do your work, do what you're supposed to do, you'll get drafted up to the league," Harris said. "The league is just the top goal to get to. There's just steps that you have to take to get there."
Across the board, the belief is that the system is currently flawed. It remains to be seen whether Hunter will be drafted or if he will be one of the players developing in Europe or on an NBA D-League.
A tweak in the process may be the answer to addressing one of college and professional basketball's biggest concerns. Borrowing ideas from other leagues like the NHL and MLB could hold the key to improving.
The fact remains that the Miners, and possibly Hunter, would have benefited from his developing on the court at the Don Haskins Center.
Jason Green may be reached at [email protected]