REPORT CARD: Vince Hunter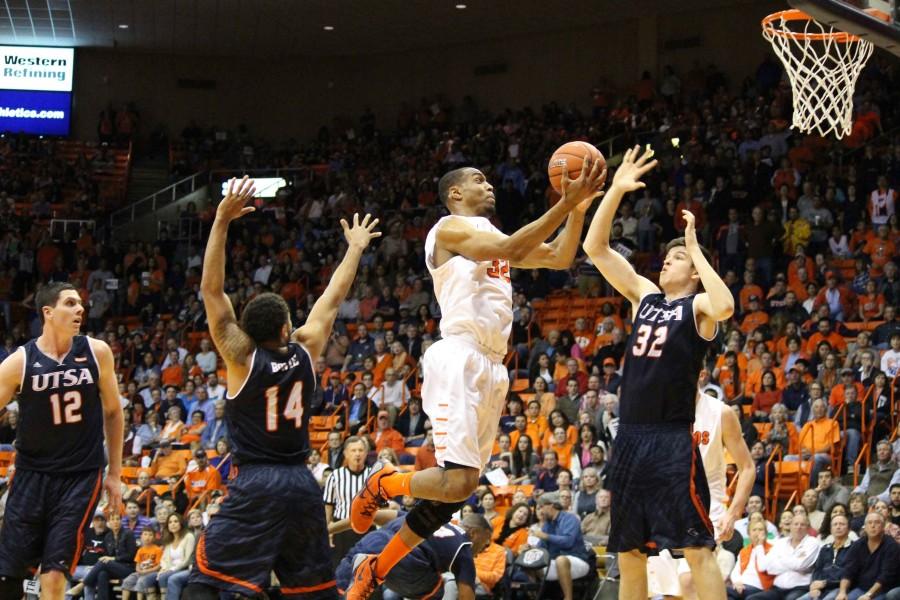 The reigning Conference USA Freshman of the Year did not disappoint in his sophomore year. In fact, for the better part of the season he looked like the best player on the team. Just going by the first five games for the Orange & Blue, Hunter was unstoppable averaging 18.4 points per game and 12.6 rebounds per game. He was too strong for small forwards on the elbows and too fast for power forwards in the post.
His best game came against national powerhouse Arizona. Granted statistically he scored more points, grabbed more rebounds, and shot more efficiently in other games, but his high energy and activity on the offensive boards nearly sparked the biggest Miner upset in 20 plus years.
Instead of doing just one collective overall grade, Hunter will be graded on by different criteria; entertainment value, individual play, statistics, his best game, and expectations. All five criteria are based on an A to F scale; (A-Great, B-Good, C-Ok, D-Subpar, F-Bad).
So without further ado, the grades.
Entertainment Value: A-
Hunter is undoubtedly the most entertaining player on the UTEP men's basketball team. Although the Miners are not a team loaded with entertaining players, Hunter would still stand out on most teams.
His high energy and intensity was only matched by his senior teammate Julian Washburn. But what sets Hunter apart is his ability to finish around the rim. In his two years at UTEP, Hunter has dazzled fans with his high rising dunks in the half court and fast break.
If Hunter could have been graded by his freshman year alone he would have gotten an A+; mainly for one particular play where he put his knee in a Louisiana Tech defender's throat while dunking the ball. Sadly the play is completely lost, no photos or footage. Still the "lost dunk" has carry over for the rest of Hunter's college career.
Individual Play: B-
This is a tricky one. On one hand Hunter seemed to have made big leaps at the beginning of the season and on the other hand Hunter looked like he slightly regressed as the season went on. Teams did not know how good he was at the beginning of the season and they paid.
But as the season went on teams got smart and started to hone in on Hunter; forcing him into off balanced shots, charges and turnovers off bad passes. Hunter lives to drive the ball, but he has still failed to recognize when a double team is coming and when to pass out when opponents pack the paint.
Hunter scores the majority of his points off drives and free throws, but he is easily neutralized when teams run zone defenses and pack the paint. Because he is usually more athletic than whoever is guarding him, Hunter relies on the fact that he can blow by or out jump his primary defender. Although Hunter has turned in some dazzling dunks and acrobatic finishes, he's still not a great finisher around the rim.
Hunter made a huge jump statistically, but as an overall player he only improved incrementally. His offensive game needs polishing in every facet and he can still be exposed defensively depending on the matchup.
Statistics: B
With an increased role Hunter's stats saw a nice jump. As previously mentioned, Hunter exploded right out of the gate averaging a double-double to start the season. His productivity slowed as the year went on, but the sophomore still flirted with a double-double for the season on only 28 minutes per game.
Hunter still fouls too much to play more than 28 minutes, but when he is on the floor he's productive. The only downsides to Hunter's numbers are his free throw shooting and field goal percentage. His free throw percentage is about the same as last year at 60 percent and his field goal percentage has taken a slight dip. Hunter's two-point field goal percentage is 52.6 percent, which is decent for a player who lives in the paint.
Best Game: A-
December 19 vs (3) Arizona: 18 pts, 12 rebounds, 2 steals
After the game Arizona head coach Sean Miller said if Vince Hunter did not foul UTEP wins the game. Against arguably one of the five best teams in the nation with size, Hunter was simply dominant.
Hunter had eight offensive rebounds against one of the best rebounding teams in the nation and outplayed the Arizona big men. Hunter's one downfall was foul trouble, his last foul was careless and with six minutes left in the game.
Nevertheless Hunter finished with a double-double in 28 minutes.
Expectations: A-
Coming into this season everyone knew Hunter's work load would increase and with that more was expected out of him. Not only did Hunter meet the expectations, he surpassed them. He put his name on every watch list for every major accolade in Conference USA, along with garnering some national attention for his play over the course of the season.
Although Hunter did not show major improvements in his individual game and his stats were not eye popping, no one was predicting a 15 and 10 stat line from the sophomore forward. If Hunter returns to UTEP for his junior season he will be on every national watch list and the first on every opposing teams scouting report. The longer Hunter stays in El Paso, the bigger the expectations will get. But for now Hunter met those expectations and squashed the proverbial sophomore slump talks.
Overall Grade: B+
In many ways a B+ is a very generous grade to a player that is still very raw. Vince Hunter made well of his increased role but he still has a long ways to go if he wants to reach his ceiling. His offensive limitations are still apparent and defense is not his calling card, Hunter is still a work in project.
But it is undeniable how much the Miners depended on him throughout the season and for that Hunter deserves a B+. He was the second best player on the team and if he comes back he will be the best player on the team for as long as he stays.
Hunter may never reach his full potential in college but his value to his team and on court impact is hard to argue with. As long as Hunter plays a big role for the Miners he will always grade out high.
Javier Cortez may be reached at [email protected]
About the Writer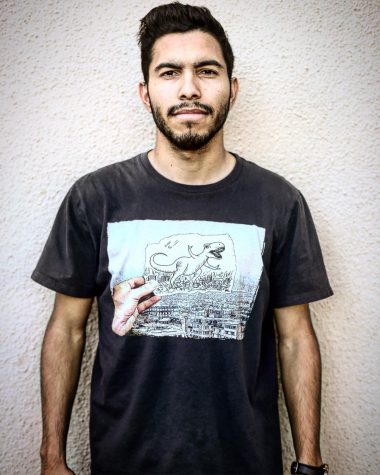 Javier Cortez, Staff Reporter
Javier Cortez is a staff reporter for The Prospector. He is a senior multimedia journalism major, with a minor in English Rhetoric.

Javier was born...