Martinis and manicures to benefit women's homeless shelter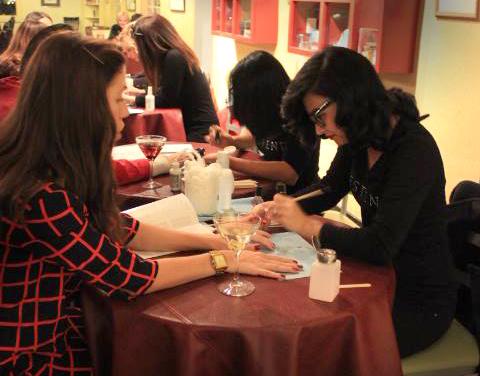 Ardovino's Desert Crossing will be hosting a Martinis, Manicures and Music fundraiser, from 5:30 p.m. to 8:30 p.m. on April 2. Ardovino's Desert Crossing is located at 1 Ardovinos Dr. in Sunland Park, N.M. There is a $40 admission fee and 25 percent of the proceeds will be donated to Villa Maria, a homeless shelter for women without children.
"We're hoping for a good turnout and to get as much exposure as possible," said Marina Ardovino, co-owner of Ardovino's. "We expect around 40 women to attend, which will allow us to raise between $350 and $400."
The event will include a mini-manicure, a choice martini and music. The manicures will be provided to patrons by the team at Westend Hair Company and Day Spa.
"The event is planned to be a fun night out for the women who attend and to help the women at Villa Maria," Ardovino said.
Villa Maria's purpose is to provide homeless women a temporary place to live so they can achieve wholeness again. Their mission is to help guide women back to healthy living through guidelines, such as abstaining from alcohol and drugs, being courteous to other members of the shelter and teaching them to save up money for permanent housing and furnishing purposes.
"There's always going to be people who are less fortunate, and we've been proactive with nonprofits to utilize what we can to give back," Ardovino said.
Villa Maria also provides its residents with counseling, job training and financial benefits to help them get back on track. The foundation collaborates with multiple agencies to help provide its members with accurate, helpful and effective services.
The intake process begins with receiving referrals from agencies or social workers. Once the referral has been processed, the women attend an interview with case managers to discuss the roots of their homelessness and what they can and need to do to reinvent their lives.
"For the past three or four years we have been partnering up with Villa Maria for an annual dinner auction," Ardovino said. "I think just getting the name out there is a big part of it and getting people to notice organizations like this one and to donate their time and money is critical."
Staff members and volunteers, some of which are UTEP students, run Villa Maria.
"Volunteering is important because it can enrich the community, inspire others to volunteer, and create a snowball effect on people who previously didn't see the need to help others," said Damien Smith, freshman psychology major.
Rick Garcia, junior anthropology major, said volunteering and giving back to the community can help students get a sense of what the world is really like.
"I'm not struggling, but the struggle is all around us," Garcia said. "I see people who don't have both their parents and need shelters and help.With volunteering you're giving them something they long for."
Villa Maria is located at 920 S. Oregon St. For more information, call 544-5500.
To make a reservation for the Manicures, Martinis and Music fundraiser, call 575-589-0653 or email [email protected]
Julia Hettiger may be reached at [email protected]