Stand out styles on the border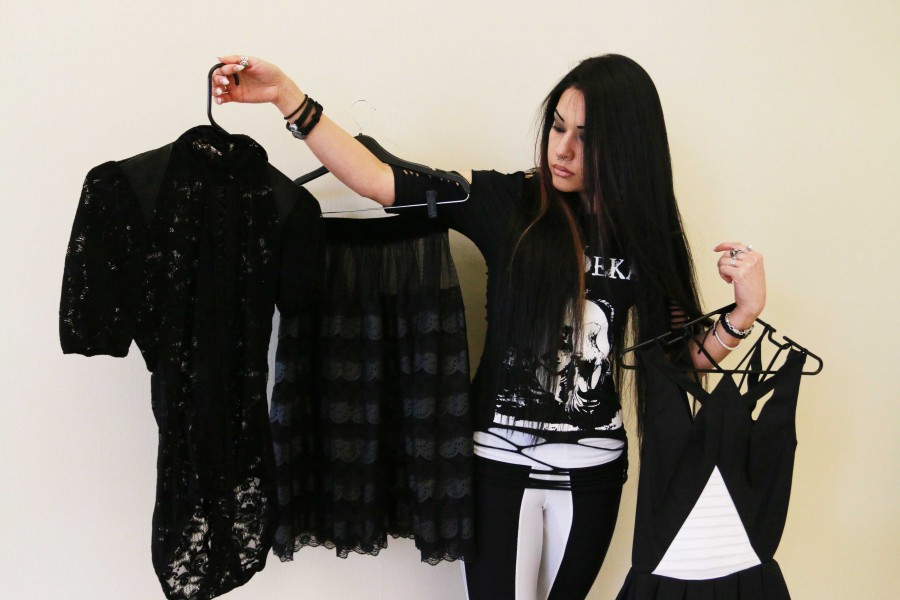 Maria Esquinca, Copy Editor
February 24, 2015
It's a form of art. It's a challenge. It's fashion.
"Everything I create with my own two hands carries a sense of meaning and emotion and everything is projected onto my garment," said local fashion designer Elizabeth Rivero.
Rivero studied fashion technology at El Paso Community College. Since then, she's created her own label called Beauty and Decay, and has participated in five local fashion shows and two commercials televised at EPCC.
But fashion may not be as glamorous as it may seem.
"This is a difficult industry, with very small margins. So there's not a lot of room for error," said Trish Winstead, fashion designer and fashion technology coordinator at EPCC.
It's also more complicated. In fashion, there are two branches: design and merchandise.
"A lot of people don't understand the differences between those two," Rivero said. "When you're a designer, you do everything from the idea, to the sketch, to the pattern, to the overall construction of it. It's more of a process."
Merchandising is the business side, and it involves the actual production and distribution of the garment.
If fashion majors are looking into the merchandising side of fashion, a bachelor's degree is usually required. If their focus is on fashion design, it's not necessary.
If El Paso fashion majors want to continue their education after graduating from EPCC with their associate's degree, NMSU might be the best place to continue or another university in Texas UTEP does not offer a fashion degree.
"I do have a number of people who have gone on to UTEP," Winstead said. "They're basically starting over because UTEP doesn't take the fashion credits from EPCC–because it can't because it has no fashion program."
Crystal Herman, assistant professor of theater and dance, said if fashion students who graduated from EPCC do decide to transfer to UTEP, the best option for them is to major in theater so they can take costume design classes.
"We go over basically the same things, we go over the construction, the design and how to do your illustrations in just a slightly different way," Herman said.
However, Herman said she doesn't teach the marketing aspect.
"A lot of fashion programs do teach the marketing aspect because it's really a business," Herman said.
Whether fashion majors decide to continue their education or not, they have to tackle the industry, and it is one that requires discipline, precision and perfection in order to succeed.
"It requires a lot of patience, especially the design part. It has to be almost perfect," said Veronica Solis, EPCC graduate in fashion design and printmaking.
Solis focuses on the merchandising side, specifically computer apparel design. She said that in order to a find a stable job, she had to look elsewhere.
"There's no way I could find a job here," Solis said. "It's a big issue here because many people in El Paso are very close to home. They don't want to leave."
This is an issue that resonates with El Paso's fashionistas.
"There's not much to be done here in El Paso," Winston said. "Unless they have a strong, entrepreneurial spirit, they are probably going to have to leave somewhere else to find work."
Winstead said more job opportunities used to exist in El Paso until 1996, when large manufacturers started to leave the city.
"The apparel industry follows low labor prices, " she said. "What's happened is that the majority of apparel is now done by major corporations."
Credit Today, a business publication, said that outsourcing began in the 1970s and 1980s with increased global competition and caught on as a way to maximize profits.
In  2011, ABC News said that 98 percent of the clothes imported into the U.S. are manufactured abroad, and only 2 percent are made in the U.S.
A study conducted by the authors of "Globalization and Free Trade" found that out of 85,000 pieces of clothes counted from WalMart, only 17 percent were made in the U.S., while 83 percent were made off-shore.
"People do not want to pay much money for their clothing," Winston said.
The U.S. apparel market is the largest in the world, with sales that reached $182.5 billion in 2013, according to Statista, an Internet-based statistics portal.
Much of those sales are from large clothes manufactures like Forever 21, H&M and WalMart.
"Back when I was able to start in the '70s, there were so many small boutiques that you could go out and sell your garments," Winstead said. "Now there are chain stores and those chain stores only deal with people who can produce thousands of the same items."
Forbes said that Forever 21 raked in $3.85 billion in profits in 2014, and employs an estimated 30,000 people.
"As for designers, that's one of our struggles because we don't really have store buyers here that are willing to always buy what we have to offer," Rivero said.
Despite the setbacks, it's not impossible to find a job.
"We have people who have gone to LA and they're pattern makers making about $150,000 a year," Winstead said. "It's making the determination that you're willing to move around for this job."
Rivero said her energy is not focused solely in El Paso.
"I'm not worried about conquering El Paso, my focus is to conquer the world," she said.
Maria Esquinca may be reached at [email protected]
About the Contributor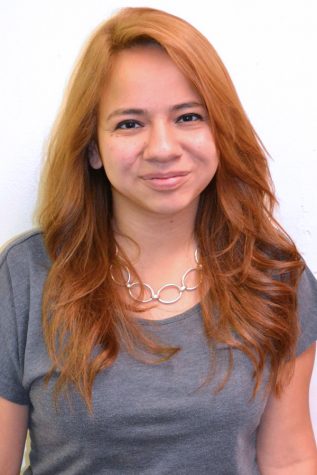 Michaela Roman, Editor-in-Chief
Michaela is a Senior Digital Media Production major at The University of Texas at El Paso. As the Editor-in-Chief, and former Photo Editor of The Prospector,...