Softball heads to Vegas for the weekend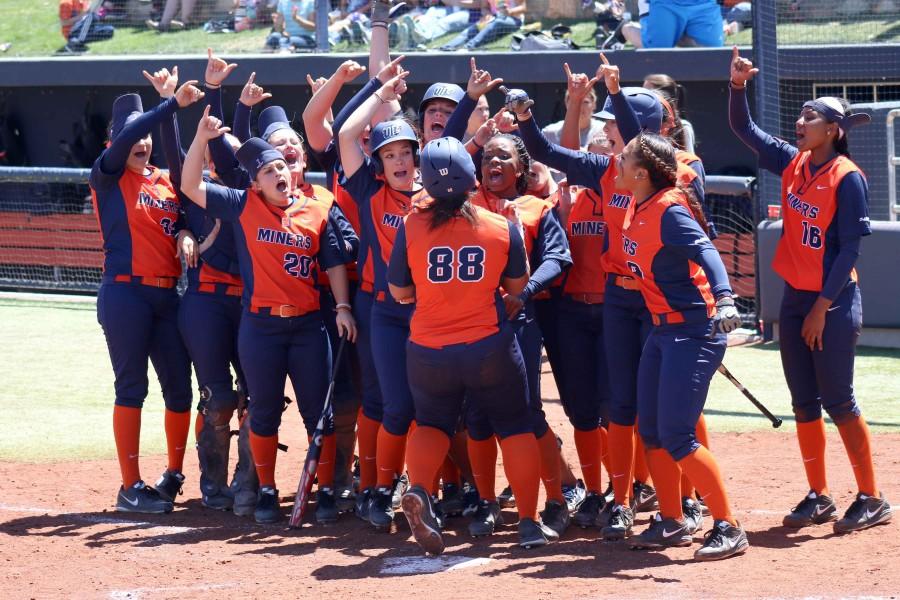 The UTEP softball team opened the season this past weekend with the Kajikawa Classic in Tempe, Arizona.
This weekend, the team will head to Las Vegas for the Wilson/DeMarini Desert Classic.
UTEP is 0-5 after losing all five games of their season-opening tournament. The team lost two games when they were halted in the fifth inning because of run differential. The other three games were very close – UTEP lost two of them by one run and the other by only two.
UTEP lost the third game of their five-game tournament to Portland State (2-3) by a score of 7-5.
Prior to coming to UTEP before the start of last season, head coach Tobin Echo-Hawk was in charge of the Portland State softball team. After losing many close games, UTEP will undoubtedly be excited to match up again the Vikings in the first game of this weekend's tournament.
Heading into the Kajikawa Classic, Echo-Hawk felt that her current team would be well prepared to take on her former team
UTEP's second game of the day on Friday will be against Indiana University.
In the same Kajikawa Classic, the Hoosiers left Arizona with a 1-4 record. On Saturday, the Miners will face possibly their hardest test of the Vegas tournament.
Nevada left the Kajikawa Classic with a 1-4 record, but the team twice held a lead on No.2-ranked Oregon Ducks before finally losing 12-8.
Saturday the Miners will match up against the BYU Cougars (2-3). BYU bested Virginia by a score of 2-0 in the Kajikawa Classic.
Virginia defeated the Miners in the opening game of the tournament by a score of 14-5. Before heading home on Sunday, the Miners will take on tournament host UNLV (3-2).
Much like last season, the Miners' hitters are carrying the load for the team. Senior Tahla Wade went 8 for 18 at the plate during last weekend's tournament and currently leads the team with a .444 batting average.
Wade also leads the team in runs with a total of six. Freshman Courtney Clayton – one of five players to start all five games – leads the team in runs batted in with four. She currently sports a .333 batting average.
Prior to the start of the Kajikawa Classic, Echo-Hawk was not willing to call junior pitcher Danielle Pearson her number one starter. Instead, the Miners coach preferred to start the season with more of a baseball style "pitch by committee" type of rotation.
"We'll put them in for a couple of innings and see how they do and then go from there–do it more of a baseball-type mentality where we have our starter, our reliever and our closer–just because they are all so similar," said Echo-Hawk.
Unfortunately–like last season–pitching seems to be a large part of the Miners' losses. The team left Arizona with a 9.80 team-earned run average.
The team's three starting pitchers–sophomore Taylor Grohmann, sophomore Kaitlin Fifield and sophomore Erika Harrawood–finished this past weekend's tournament with a combined 0-4 record and a total of 30 earned runs surrendered in 21.4 innings pitched.
Another problem from last year that plagued the Miners in their season-opening tournament is stolen bases allowed.
Last season, the Miners were one of the worst teams in the conference at throwing out would be base stealers.
During the Kajikawa Classic, the Miners' two starting catchers–freshman Linda Garcia and freshman Kaitlin Ryder–allowed a total of six stolen bases on seven attempts. Ryder caught one attempted base stealer on five attempts.
Heading into last weekend, Echo-Hawk had not decided on a starting catcher and said that it would be decided by who shows the strongest arm early in the season.
"That's going to be our determining factor in who starts and who doesn't–who can throw out runners," Echo-Hawk said. "We gave up 97 (stolen bases) last year. That's just something we're not going to do again, essentially giving up a double every time somebody gets on."
After a rocky start, the Miners have plenty of time to get things back in order prior to the start of conference play. A good showing in the Wilson/DeMarini Desert Classic would go a long way toward rebuilding some of the team's confidence.
Echo-Hawk has seen where her team is lacking and is already back to work at the Helen of Troy Softball Complex ironing out some of the wrinkles. The Miners' bats are still looking very good and when the pitching comes around, this team will be a formidable foe–perhaps as soon as this coming weekend in Vegas.
Jason Green may be reached at [email protected]