Local wrestler carries on the Guerrero legacy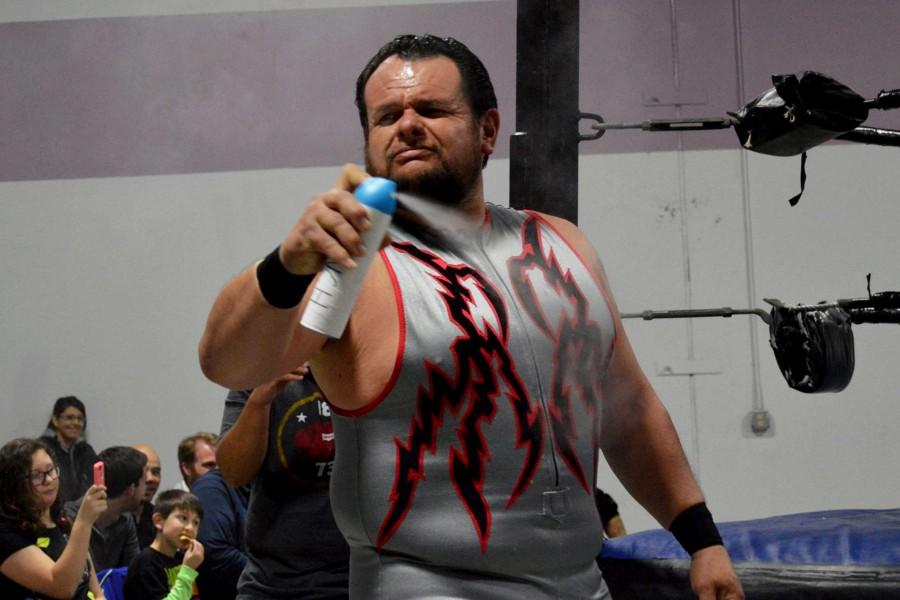 Hector was sitting on the toilet when he got the call.
He still chuckles when he thinks about Mando asking him if he was sitting down.
Then he wipes a tear from his eye.
He had lost a high school teammate—a training partner—a sometimes tag team partner.
He and the wrestling world had lost Eddie Guerrero.
Ask any pro-wrestling fan where they were when they heard the news and they can probably tell you. It was a lot more than just news for "Hurricane" Hector Rincon.
Hector had known Eddie since they wrestled together at Jefferson High School under the watchful eye of coach Grayson Gwynn III. It was there that Hector asked Eddie if he was one of "The Guerreros." It was from that question that a lifelong passion to learn the art of professional wrestling would began in Hector.
Not long after a simple conversation on the practice mats, Hector would find himself in a backyard ring with "The Gory Guerrero."
Guerrero was a legend in El Paso and before that he was an even bigger legend in Mexico. Gory had a distinguished pro-wrestling career that spanned four decades.
Hector would train with the best and be trained by the best.
It was not long before he and Eddie were wrestling on both sides of the border­—sometimes with each other, sometimes against each other.
Hector's dad was not too keen on his desire to become a pro wrestler. Hector's mom was almost completely scared off when he came home with a nose that had just been popped back into place while he was regaining consciousness in the ring—the result of letting Eddie Guerrero practice a new dive off of the top turnbuckle onto him.
Hector attended UTEP mainly to appease his father, whose dream it was for Hector to be a civil engineer. It wasn't long before the booing crowds—Hurricane's been a heel, rudo or just plain bad guy almost from the start—began calling him back to the ring.
He left UTEP after telling his father that he would prefer being a wrestling coach at the high school level. His father would no longer support him financially if he pursued his own dream.
"We agreed to disagree," Hector said. "He didn't want to pay for anything but college and I didn't want to be a civil engineer."
He chuckles as he says it, but one gets the sense that somewhere inside, young Hector longed for his father's approval. He found his approval in the teaching and support of the Guerrero family.
Alhough Gory would never compliment him on his abilities, Hector knew when he had done well—mainly because Gory would not allow him to wrestle in public until he was sufficiently trained.
Hector suddenly found himself out of college and working at Orange Julius. He continued to train with the Guerreros. Hector and the gang would train after school—for those who were still in school—and every Saturday from 8 a.m. to noon.
Eddie and Hector began working in Juárez when Gory felt they were ready. Despite the fact that Eddie was a "Guerrero," Hector felt that he may have had it even harder in Mexico than he himself did.
"Eddie had his work cut out for him. Guerrero is already known—his last name—when he went to Juárez he got booked pretty much automatically. But, he had to live up to the expectations of his brothers and his dad," said Hector. "It wasn't 'hey look, I'm Eddie Guerrero'—it wasn't that easy."
It was not long before Eddie had earned his stripes in Juárez and headed down to Mexico City to continue his career. Soon Eddie would forge his own way and head to Japan and then Florida to begin work with World Championship Wrestling—what some would consider "the big time."
Meanwhile, Hector was still working in El Paso—in and outside of the ring. Having left college and the financial support of his father, Hector worked several jobs at a local mall.
Inside the ring, he found his own measure of success by wrestling at Gimnasio Municipal and other venues around Juárez and El Paso. Hector was torn between trying to follow in Eddie's footsteps or staying in El Paso to forge his own way.
"My procrastination—I won't say it was my demise—it's what kept me from going anywhere. Eddie was always there and saying 'come on bro, I'll take you to Japan,'" Hector said. "I went to visit him one time when he was wrestling with WCW. He said 'bring your stuff, I'll introduce you to the promoter down here, we'll give you a dark match.' It was me—it was me more than anything else. When we were in Florida, I was already married and had a family."
"Hurricane" Hector has never blamed his family. The decision for him simply came down to the fact that following Eddie meant wrestling and leaving his family behind for long periods of time.
He does not regret his decision. He laughs when he says that his wife gets angry when he is gone too much on the weekends, but Hector knows that it could have been a lot worse.
When he talks about his wife and kids, Hector's face lights up even more than it does when he talks about the good old days of traveling around the borderland with the Guerreros.
Hector has found his niche. He is not an engineer like his father desired. He is not a wrestling coach at a high school like he had desired at one time. He is a professional wrestler—locally, not necessarily what Eddie Guerrero desired for him.
He is a man who has made a good living with an elevator repair company for 24 years. He is a loving father and husband. He is even a wrestling teacher—albeit in a backyard ring much like Gory Guerrero's.
Hector is a man who has walked his own path and made the tough decisions along the way. He may have never felt the spotlight of the big time, but he still enjoys the booing that he receives most weekends.
"I do it for the love of the sport," he said. "It's kinda like a drug, it's very addictive. If you actually love the sport."
Like any proud father, he is happy to see his trainees perform in the ring—as a conduit of lessons learned from one of the greatest of all time.
More importantly than any of that, Hector is being there for his own children almost every evening. He has lost friends and mentors along the way, but "Hurricane" Hector Rincon would not change a thing.
Jason Green may be reached at [email protected]