Softball kicks off season at the Kajikawa Tournament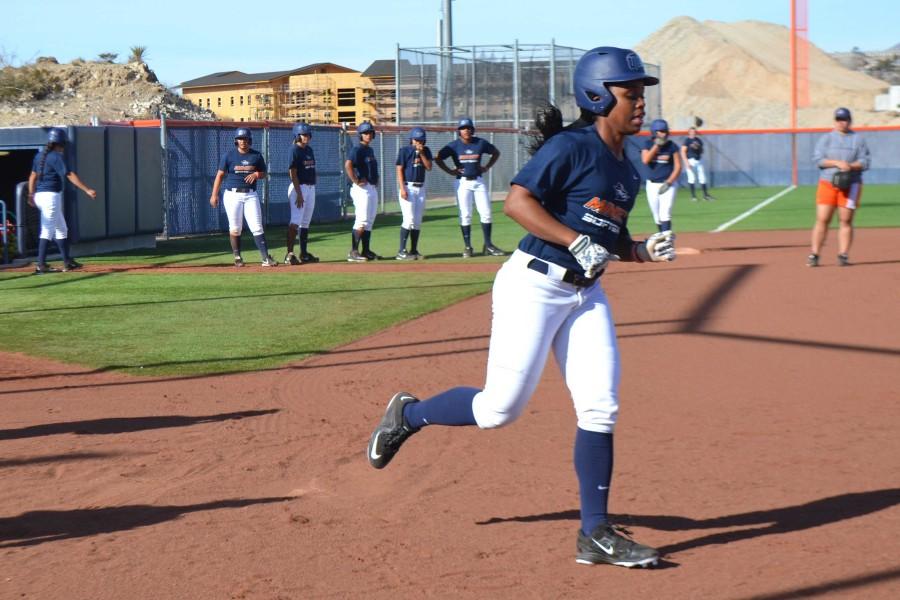 The UTEP softball team will begin their 2015 campaign when they travel to Tempe, Arizona, for the Kajikawa Tournament at Arizona State University.
Last season the team struggled in their first 10 early-season tournament games—winning only one against St. Mary's College of California.
The Miners eventually ended up with a 17-34 record, 9-15 in conference, during head coach Tobin Echo-Hawk's first season.
The 2015 version of UTEP softball is very different from that of 2014. Gone are several seniors, including 2014 All-Conference USA outfielder Erika Arcuri.
This season, Echo-Hawk and staff welcome two transfers, seven freshmen and the inclusion of red-shirt freshman utility player Summer Palipti. Coach Echo-Hawk said her team should have no problem making up for the loss of Arcuri.
"Offensively, we've brought in a couple of kids who probably could be just as good, if not better than her, right away," Echo-Hawk said. "It's just a game of recruiting and making sure that you fill the gaps that you lose—I think we've done a good job of doing that."
Last season, Echo-Hawk worked with the previous administration's players and still managed to win more games than any UTEP softball team in the previous four seasons.
With the influx of new players, Echo-Hawk and staff are hopeful that the team will see improvement in several key areas.
In 2014, UTEP finished dead last in the conference, with a team-earned run average of 6.25.
The team brought in a new pitcher, freshman Dani Fincham, and has since seen several pitchers from last year's team improve drastically.
Echo-Hawk said the improvement to the pitching staff across the board has led to some strong competition for  incumbent number one starter, junior Danielle Pearson.
"It's funny because you would think that she's our go-to, but at this point, it's a pretty dead-even race," Echo-Hawk said. "We're going to try to do it more of a pitch by committee."
The improvement to the pitching staff is undoubtedly due in part to the hiring of new pitching coach Sara Plourde, who ended her college career at the University of Massachusetts ranking eighth All-Time in Division I softball with 1,662 strikeouts.
Plourde  also pitched professionally and at the international level. Pearson said Plourde has worked as much on mechanics as she has on the mental aspects of the pitchers' game.
"In the past, we've had some shakiness on the mound—when we'd get behind, we'd get down a little bit," Pearson said. "I think coach Plourde has really helped us with just focusing on our next pitch."
Senior outfielder and All Conference-USA Pre-season Team member Ashley Eldridge has seen mental improvement in the pitchers as well during intra-squad scrimmages.
"They look a lot more mentally strong—which is cool, but we still have a lot to work on as a pitching staff," Eldridge said. "I think it will come around. It's going to take some game experience."
Last season, the Miners finished fourth in C-USA's team batting average. Eldridge finished the season batting .348. Several of the incoming freshmen batted over .400 as seniors in high school.
With hitting not being too big of an issue, Echo-Hawk is busy trying to find the perfect fit on the field.
"I think we're pretty solid in a lot of positions and they've been decided, but there are a couple of positions that are still kind of up for grabs," Echo-Hawk said. "We have a lot of kids that are fighting for those spots."
Who will don the tools of ignorance and take their position behind the plate?, is a question Echo-Hawk is still looking to answer.
Last season, the Miners allowed 97 stolen bases and ranked last in C-USA in stolen bases allowed percentage with .924. Echo-Hawk knows that her team will need to improve here in order to compete in C-USA.
"We have four great catchers that have good arms," Echo-Hawk said. "That's going to be our determining factor in who starts and who doesn't—who can throw out runners."
The entire Kajikawa Tournament list of UTEP opponents had a combined record of 106-145. UTEP did not face any of the tournament teams last season as a squad. However, junior infielder and transfer from Oregon State, Kiki Pepi, did face Stanford last season.
The Miners are hoping that Pepi can repeat her performance against Pac-12 All-Freshman team pitcher Madi Schreyer. On the last day of the season, Pepi was 4 for 4, with five runs batted in and her first career home run.
Echo-Hawk said she feels very good about their chances this weekend.
"Stanford should be interesting. They've got a new coach so you don't know how good they're going to be. Portland State—obviously I coached there. I know what to expect with them," Echo-Hawk said. "The other ones, we're all kind of in the same boat…I think we can go out and compete—it's just a matter of what team shows up."
After several tournaments away from home, the Miners will be back at Helen of Troy field March 7 to begin a three-game series with C-USA for Middle Tennessee State.
Jason Green may be reached at [email protected]