Miners come back, beat UAB
[youtube id="rQYGrwvKdl0&list=UUNxszVW4WLijFuckOuLc2Lg" autoplay="yes"]
UTEP caught up, got a comfortable lead and then hung on to win, all in the final five minutes of play as they beat UAB on the floor of the Don Haskins Center by a final of 71-69. Sophomore forward Vince Hunter scored 22 points and the Miners avoided losing a third game in row.
"That's a good basketball team that we beat," said Miner head coach Tim Floyd. "I feel very fortunate to get the win."
The slow starts that are becoming as much of a staple of this Miner team as their tough defensive play was present once gain tonight. The Blazers had as many offensive rebounds as the Miners had defensive and UTEP did lead at any point of the first 20 minutes of play. The struggles at the line also continued in the first half, with the Miners making just eight of 17 free throws. Still, UTEP finished the half on a 12-6 run that had them just three points behind on the scoreboard at the break.
"They kicked our butts on the offensive glass…in the first half," said senior guard Julian Washburn.
The two teams traded blows for most of the second half until UTEP went on a 13-0 run that put the Miners ahead by seven with just over a minute left to go in the game. With less than a minute to play Hunter slammed the ball with two hands to give UTEP its' largest lead of the night and seemingly put the game away.
Some missed free throws and four straight UAB three-point shots to finish the game had the Miners in position to lose when UAB's William Lee just missed the go ahead shot at the buzzer.
"I was holding my breath, I thought for a second he was going to make that shot," said senior guard C.J. Cooper. "I was just praying he didn't make that shot."
Hunter scored 12 of his game-high 22 points from the free throw line and was one rebound short of another double-double performance. Hunter, who has been dealing with a hurt knee for the past couple of weeks, had to also navigate through early foul trouble in both halves.
"We were down and it looked bleak," Floyd said. "Eventually checked him (Hunter) in…and he got us going. He did a lot of things for us."
The Miners are now two games out of first place and tied for fourth with Middle Tennessee and Old Dominion. Middle Tennessee comes to town on Saturday after losing at UTSA earlier today.
After a disappointing road stretch UTEP could not afford to lose a third consecutive game and still remain in the hunt for the regular season conference championship.
"When you lose a couple in a row, it doesn't matter how you win," Floyd said. "Just win."
Luis Gonzalez may be reached at [email protected]
About the Contributor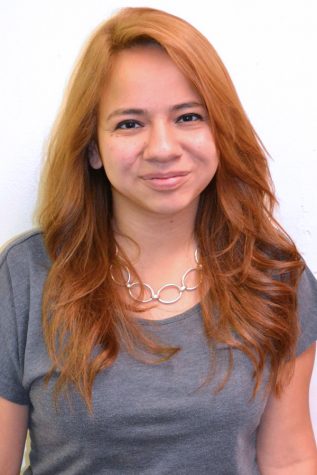 Michaela Roman, Editor-in-Chief
Michaela is a Senior Digital Media Production major at The University of Texas at El Paso. As the Editor-in-Chief, and former Photo Editor of The Prospector,...