Lady Miners look to get back on track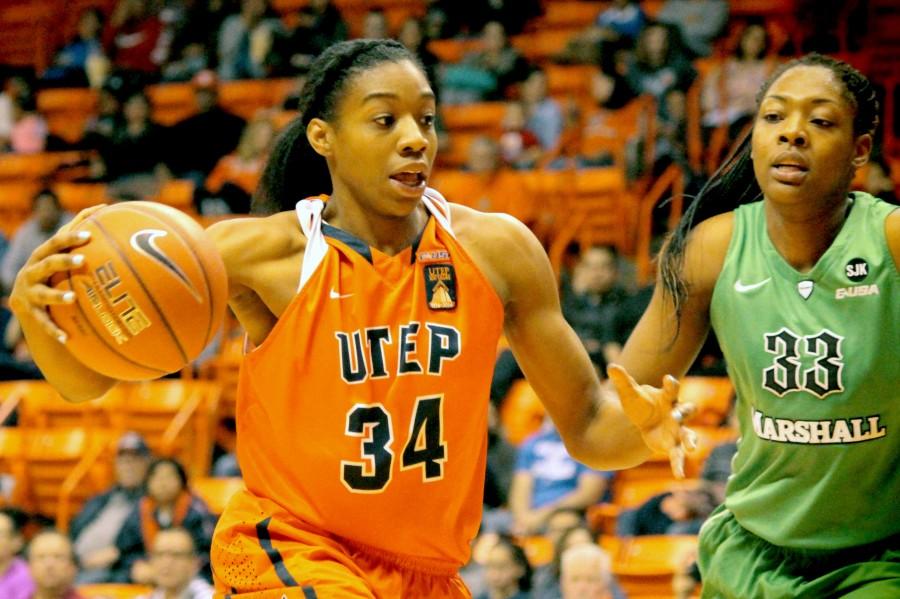 The women's basketball team will hit the road this week to face the University of Alabama-Birmingham on Thursday, Jan. 29, and Middle Tennessee State on Saturday, Jan. 31.
Winning on the road in Conference USA is never easy. Winning on the road can be even harder when your team lost three senior starters to graduation, the 2014 C-USA Sixth Player of the Year to pregnancy and, more recently, the team's leading rebounder and one of two senior starters to concussions.
A team could definitely get down on itself after losing three in a row at home. However, there were plenty of bright spots for head coach Keitha Adams to convey to her young team. The three losses, to UT-San Antonio, No. 24 Western Kentucky and Marshall, were by a combined 11 points. The high-pressure games saw several players who had yet to fully find their role on the team, step up.
Freshman guard Lulu McKinney had a few very good games during the home stand that ended with her scoring a career-high 16 points against Western Kentucky on Thursday and against Marshall on Saturday. As the team fought valiantly against nationally ranked WKU, junior guard Anete Kirsteine dropped in a career-high 15 points. The team has also been able to remain ranked in the middle of the pack when it comes to offensive rebounds—13.1 per game, ninth in C-USA—and defensive rebounds—26.5 per game – sixth in C-USA.
Coach Adams is hoping that her  team will find a way to bounce back on the road this week.
"We're going to find out what we're made of," Adams said following her team's loss to Marshall. "We've got to be resilient."
The first stop for the Miners is in Birmingham to face the UAB Blazers. The Blazers are currently eigth in C-USA—two spots ahead of the Miners—with a conference record of 3-3 and overall record of 9-9. The Blazers rank near the middle of almost every statistical category, much like the Miners do. Where UAB excels is in 3-point field goal percentage and defensive rebound percentage—they rank second in the conference in both categories.
The Miners have been streaky from beyond the arc, shooting 1-6 against UTSA, 11-24 against WKU and 9-26 against Marshall. It may take a performance like the team had against WKU to keep up with a hot shooting UAB team. While UTEP has struggled at times on the offensive glass, any advantage that UAB may have, thanks to their defensive rebounding percentage, could be negated by their league-low 10.4 offensive rebounds per game.
UAB is led by senior forward Janae Smith, who averages 17.2 points per game to go along with 7.2 rebounds. Smith is a transfer from Illinois State University and has the ability to dominate the paint with her 6-foot-2-inch frame.
UTEP's second stop on the road trip will be at C-USA leading Middle Tennessee. The Blue Raiders have an overall record of 12-5 and are 6-1 in Conference USA. Where UAB may only have one major threat to contend with in Smith, MTSU has a combination of threatening players. Sophomore guard Olivia Jones and senior forward Cheyenne Parker are ranked as the top two scorers in C-USA at 21.3 and 17.4 points per game, respectively.
Jones is an outside threat, shooting 37 percent from beyond the arc, and an inside threat, averaging 9.2 rebounds per game. Parker, much like Smith at UAB, gets most of her points in the paint. The Blue Raiders have a very formidable inside-outside threat that could very likely prove to be too much for the young Miners.
On the season, UTEP is four for five away from home. To make matters worse, MTSU leads the conference in home attendance, with a 5,055 average. Both games will be a tremendous test for the inexperienced Miners.
The Miners will need to hit on all cylinders to keep pace with two very good offenses. Senior guard Stacie Telles, averaging 6.8 points per game, will be needed to hit big 3s, junior guard Cameasha Turner, averaging 14.1 points per game, will need to slash and drive her way to the basket and McKinney, averaging 8.6 points per game, will need to continue her development into a reliable scorer from inside and outside.
Perhaps more important than any of this—coach Adams will need her team to be resilient.
Jason Green may be reached at [email protected]