The Playoff worked, so what?
The 2014-15 college football season came to a close last week and it ended on a historical high note with the first-ever College Football Playoff determining the best team in college football.
I say this grudgingly, but the CFP in one year is better than the BCS was in 16 years. I loved the BCS and almost everything about it, but what it got it wrong, was wrong in a huge way.
Out of the 16 years, there were four years that proved the BCS had major flaws: 2001, 2003, 2004 and 2009. The problem in each of those years was that there were more than two teams deserving to play in the national championship game.
A playoff for the college football national championship was going to come sooner or later, whether the BCS was good or bad. As long as college football keeps expanding and adding more teams to Division I, then a playoff would be needed.
That's the problem with college football though, it keeps expanding when it shouldn't. Eventually four teams will not be enough, then it will be six, eight, 10, 12 and so on. The bigger the playoff gets, the more changes that come within college football.
If you are a college football fan that does not like change, well then you need to find a new sport. Teams changing conferences, conferences disbanding and history being lost will keep happening as long as Division I football keeps expanding.
The biggest problem with college football is that the vast majority of teams do not matter. There are 125 teams and only 35 of those teams have an actual chance at playing for something meaningful in December and January.
If you can't do the math, more than 70 percent of the teams playing in college football will either have a losing season or play in a consolation bowl that nobody watches or goes to.
The change from the BCS to the CFP was the better move but ultimately a bigger mistake. As time goes on and the playoff becomes bigger and bigger, 70 percent of teams will turn into 75 percent, then 80 percent and so on.
A solution, that probably won't happen because more teams playing more games equals more money, is a relegation system. A relegation system would weed out teams that have no business playing Division I college football, while leaving the very best.
And let's be honest­—that's all we want to see.
As much as people would love to say they want to see everyone have a shot at the title and root for underdogs, that's simply not true. At the end of the day, people would rather see Texas and Florida play for a National Championship instead of Boise State and Baylor.
Now, the problem that I have addressed with college football is still dormant and it's going to take some time before it rears its ugly head. It's like climate change—most of the people alive today know it's a problem, but the fact that it won't affect our generation down the road doesn't make us take the initiative.
The next generations to come are screwed, both in their living experience and in their college football viewings.
At the end of the day, I feel conflicted. I love college football, but I can't stand the path it's going down. In more ways than one I would like to consider myself a realist, but in this case, I am simply pessimistic. College football is going to get worse and worse.
Javier Cortez may be reached at [email protected]
About the Writer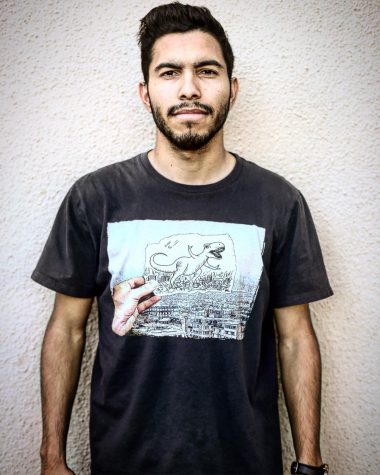 Javier Cortez, Staff Reporter
Javier Cortez is a staff reporter for The Prospector. He is a senior multimedia journalism major, with a minor in English Rhetoric.

Javier was born...