Overcoming injuries for the love of the game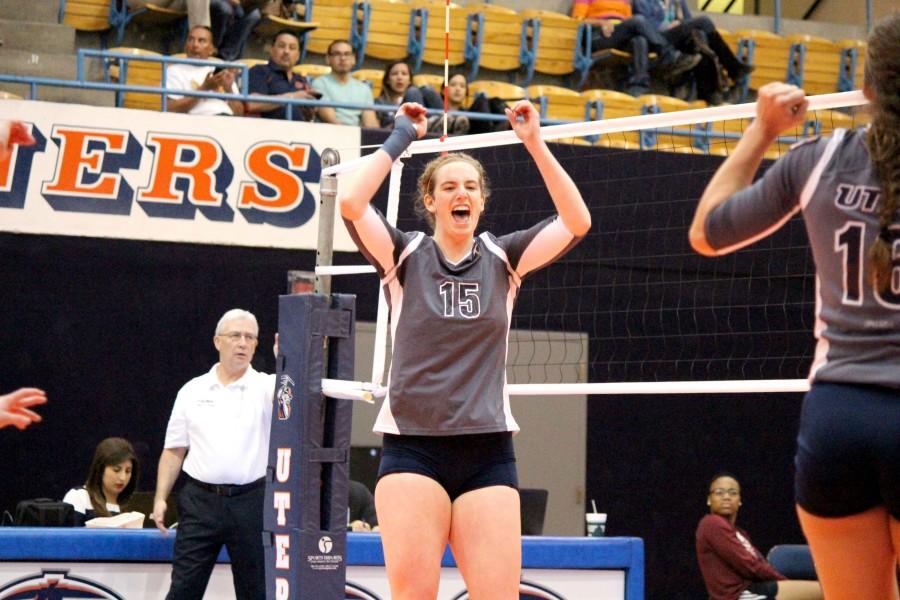 It's a given, in sports you are going to get hurt. Any athlete in any sport knows this, and they take their daily dose of bumps and bruises in their respective sports. Senior volleyball player Jacqueline Cason knows all about the bumps and bruises, in fact most of her collegiate career has not been about her success on the court, but her resiliency to get back on it.
"I can describe it as being seen as an athlete, but not feeling like an athlete," Cason said in reference to being injured. "You look like you're part of the team, but you don't feel part of it because you're not experiencing everything that everyone else is doing. You're sitting and watching as a third party because you can't help out."
The third-party feeling was something Cason felt all too much, and very frequently. Her list of injuries would make you think she played a contact sport. Since Cason has been at UTEP she has dislocated her left shoulder three times (which led to surgery), separated and dislocated her right shoulder, broken two toes, sprained her ankles, suffered concussions, as well as all of the aches and pains that a volleyball player feels.
As horrible as the laundry list of injuries might sound, Cason has been able to take them in stride, and during her times off the court she has found ways to improve as a player.
"I wouldn't be able to work on volleyball, but I could work on my body," Cason said. "I could work on being fitter, leaner, stronger in that concept. It was nice that I was able to refocus on what I needed to do and it's made a huge difference."
Luckily, the biggest difference this season for Cason has been made on the court. One of only two seniors on a young and inexperienced 2014 Miner squad, Cason was a key contributor to the Miners' success, even though the season didn't go as planned. Head coach Holly Watts spent most of the season finding players that could make a difference and Cason was one of them.
"She's willing to do whatever the teams needs on any given day," Watts said. "She's a really bright girl and intelligent, so she can see what the team needs and what to do to give our team a chance. She's been able to go out and fill that role."
When Cason is on the court she stands out, not because she is a 6-foot-2-inch outside hitter who can finish a point at any moment, but because she has great energy. Volleyball is unique in the way that success happens; a good team has great energy–they're loud, jovial and overall positive. Cason has these distinct qualities that are too obvious to miss when watching her.
"I would describe her as very enthusiastic," said junior outside hitter Talia Jones. "She loves the game, and when you get to those points where you're down, Jacky is that person that is saying we can still do it. Having her on the court when everyone is down, she is always that person that has that little spark going."
If there were a statistic that measured enthusiasm and intensity there would be few players that could match Cason.
"Volleyball is a very energy-driven sport," Watts said. "Momentum is big and if you can get it on your side, that's good. Her (Jacqueline) team rallies around her when she is able to do that, and when things aren't going well you have to find a place for energy. We're always looking for that person to be able to do that and she does a great job of that."
If you only knew Cason by her on-court demeanor it would seem like she was always an outgoing people person, but in reality she was shy and introverted before volleyball. The court just happened to be the place where she found a different side of herself. 
"I was a shy kid," Cason said. "I got out of my comfort zone when I was playing and I became more vocal, more of a leader and more energetic on the court. Enthusiasm is pretty much my personality and it comes out on the court."
Cason's enthusiasm on the court hints at the big picture—she loves the sport. Only a love for something could make someone comeback from shoulder dislocations, broken bones, concussions and season-ending surgeries. Cason's love for the game is why she is who she is on the court.
"Volleyball has gotten me through a lot of hard times," Cason said. "Being able to go on the court and forget what's happening in the rest of my life has been really nice. It's always been a constant in my life, and it's definitely a love and passion."
In some ways Cason's story can been seen as a tragedy— a player who never had luck on her side, a player with talent who never reached her full potential because injuries sidelined her playing career. But in reality, Cason's story is a success—she battled back, injury after injury, whereas most would have taken the easy way out and quit. You won't be able to find Cason in the record book, but that's fine with her.
"Unfortunately, I won't get to leave a stats legacy, but that's something that's totally off the books," Cason said. "The legacy I want to leave is the love of the game, the love of your teammates and just the joy of playing."
Javier Cortez may be reached at [email protected]