Home grown talent showing hard work pays off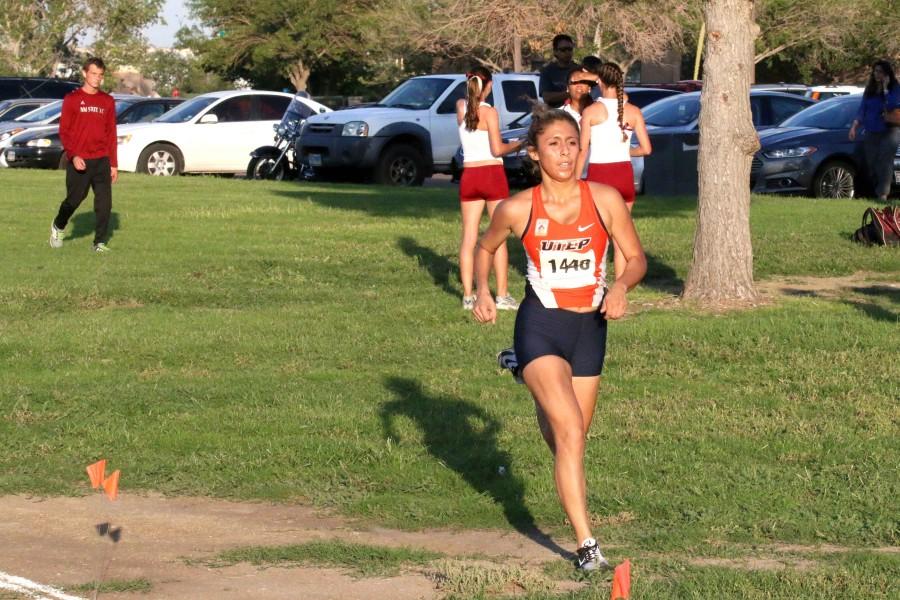 Senior cross country/track and field member Laura Delgado knows all about hard work. It's done in the wee hours of the day, when everyone is tired, when no one wants to put in the work. You will never meet you're goals and aspirations without hard work, and Delagdo knows that.
As hard as it can be though, Delgado knows running is always there for her.
"I'll do it even when I'm not practicing," Delgado said. "When I'm stressed, I just go for a night run, or when it's a beautiful morning I go for a run. When I'm studying and tired, I just need to wake up, de-stress and go run. I know running is always going to be there for me."
Whereas most sports are contingent on playing together, having team unity and synchronicity, running is a sport where independence and singularity must be embraced. A runner without a clear mind and a single focus on themselves is not a strong runner.
The mental focus is just as draining as the physical toll that the body takes. A mentally strong runner is just as good as a physically strong runner. Delgado believes a lack of mental toughness can affect a runner physically.
"Running is a mental game," Delgado said. "You have to learn how to zone yourself out. I just focus on me. I don't focus on the girl next to me or the girl behind me. Confidence is a big key, especially because you are out there by yourself."
Now in her senior year, Delgado has mastered the art of zoning out. In the midst of finishing out her college career, Delgado has become a key contributor to the Miners' success in cross country and track and field. But in the beginning it was not that easy.
"There were points where I just didn't know if should keep running," Delgado said. "My first race, I was never used to coming in towards the end. I used to place top 10, worse would be top five. When I went there, it was shocking. Coach pulled me aside and told me that these girls run for a living, and you need to make running your living too."
Delgado did just that, acclimating herself to the prestigious program and becoming a consistent performer for the women's cross country and track and field team. Unknown by most, UTEP has one of the best track programs in the nation.
Since the inception of the women's program in 1978, the women's team has produced 17 NCAA champions, 167 All-Americans and a plethora of Olympians. Prior to her time at UTEP, Delgado was aware of the program's great history, and like most she was overwhelmed.
"I never thought I was going to be good enough," Delgado said. "I always thought; I need to get better, I need to get better. I saw it as a challenge and I was not going to back down. I wanted to be there and I would do what it takes."
Delgado saw the challenge in high school to get better and she took it. Whereas most high school athletes rely on their sheer athleticism to get by, Delgado worked hard.
"She's one of the hardest-working students that I have had," said John Thomas, Delgado's high school coach. "And I have had some very motivated students. I know she works super hard in her academics as well as her athletics and it was a pleasure having her be one of my athletes."
John Thomas, or coach Thomas as Delgado likes to call him, coached Delgado at Andress High School and has been coaching track and field in El Paso for the past 25 years. Thomas holds Delgado in high regard as one of the best student athletes he has ever had.
"She's willing to put in the time and do the work to become successful," Thomas said. "We always have the kids that have that dream and some of them never compete when they get to college. But I think she used that as a vehicle to continue her dream of running."
With her collegiate career winding down, things have come full circle. There was a time when Delgado was a freshman looking for motivation or someone to give her the feeling that she belonged amongst her fellow teammates, and now she herself has now become the source of inspiration and motivation.
Freshman Lilliana Valdespino is going through many of the same experiences as Delgado. Also an El Paso native and once a high school standout at El Paso high is learning how to adapt to the college level, Valdespino calls Delgado her motivation.
"She's a real motivation for me," Valdespino said. "There's are lot of leadership on her part, being that she is team captain. She pushes me through the workouts and throughout the meets. Just knowing that she has already been through it and she tells me her past, it helps me know that I can achieve what she has achieved as well."
It's no doubt that Delgado has evolved throughout her four-year career at UTEP. Once a lowly freshman looking for motivation finishing at the bottom of the pack, she is now a team captain of a heralded program motivating her teammates. The old adage might sound cliché, but hard work really does pay off.
"I won't be remembered as the fastest or the strongest," Delgado said. "I want to be remembered as the girl with good character, a motivator and a good teammate. That's more important to me."
Javier Cortez may be reached at [email protected]