Five athletes you need to see in 2015
UTEP has garnered many great athletes throughout the years, and that is no different today. Everyone knows about the top athletes on campus now, but this list is comprised of athletes who are returning next year and are no doubt ready to showcase their talents. Anyone who loves to watch great athletes at their best will want to see these five athletes in 2015.
5. Colline Coessens, outside hitter, volleyball
Who is Coessens? One of the few international athletes on the UTEP volleyball team, Coessens is a Brussels, Belgium native. She plays as an outside hitter for the Miners, which is a position that is for an all-around solid player. In her debut season for the Miners this year, second-year head coach has taken full advantage of Coessens' versatility.
Why she stands out? Although the UTEP volleyball team has gone through a tumultuous 6-23 season, Coessens has been a bright spot within the team. She led the team in kills and is the first freshman in school history to lead the team in blocks. Coessens also led the team in points and services aces, and for that she was awarded with a Conference USA All-Freshman Selection.
What you can expect? Racking up a ton of experience in her freshman year, Coessens will be a major player for UTEP volleyball over the next three years. Her ability to finish points is a commodity that the volleyball team sorely needs. By the time she finishes out her career at UTEP, Coessens should be at the top of the record books in kills.
4. Omega Harris, combo guard, men's basketball
Who is Harris? The undersized Harris is what you would call a combo guard—he has the ability to play as a traditional pass-first point guard or he can play off the ball as a scoring guard. Harris comes to UTEP with an impressive high school resume—the Bethany, Oklahoma, native had a stellar senior year, where he was runner up for the Oklahoma player of the year, and was named a three-star recruit by 247sports, Scouts and Rivals.com.
Why he stands out? It's early in the season, but Harris has already made his name known. In the men's annual Orange & White scrimmage, Harris caused jaws to drop when he jumped over 6-foot-7-inch Terry Winn in the dunk contest. He also played a major role in the Miners' comeback win against New Mexico State in the Battle of I-10, scoring 13 points.
What you can expect? By the time Harris leaves UTEP, he will probably be one of the best guards to have played at UTEP in the past 15 years. His combination of speed, ball handling skills and jumping ability makes him a one-of-a-kind athlete. But the praise he has gotten from head coach Tim Floyd shows that good things are to come. On multiple occasions Floyd has compared Harris to Miner great Hernell "Jeep" Jackson, who happens to be one of the greatest players to ever put on a UTEP jersey.
3. Angela Cutaia, forward, women's soccer
Who is Cutaia? Now in her junior year, Angela Cutaia is a major contributor for the women's soccer team. Playing as an attacking midfielder or forward, Cutaia was the leading goal scorer for the Miners in their 2014 season. The Canadian has been a major contributor to the team since her freshman year and as each year has gone by she has played a bigger role.
Why she stands out? Every team needs a player they can rely on, and Cutaia is just that for the Miners. When it comes to scoring she is the top dog on the team. Her junior year was a breakout year, leading the team in four offensive categories—goals, points, shots and shots on goal. Much of the Miner success came through Cutaia and that shouldn't change going forward.
What you can expect? The Miners are losing four seniors who played a big role in 2014. With Cutaia being one of the few players to play a big role, she will have to shoulder the load come 2015. The Miners failed to advance deep into the Conference USA tournament, but Cutaia and company will look to make up for the Miners' 2014 failure in a big way. And if Cutaia continues to improve off her past success, then she will leave UTEP as a top 10 all-time point and goal scorer.
2. Aaron Jones, running back, football
Who is Jones? A homegrown talent, Aaron Jones was blazing the gridiron at Burges High School before making his name known as a Miner. Undersized and under recruited, Jones was thought to be an afterthought when he came in as a freshman for the Miners. On no one's radar, Jones quickly made his name known in the Miners 2013 home opener against New Mexico, and since then has been the Miners' best asset since his arrival.
Why he stands out? There is a trend that keeps continuing with UTEP football, when Jones gets the ball, good things happens. Before having his freshman season end with bruised ribs and a bruised sternum, Jones was on pace to rush for 1,000 yards and to finish among the nation's elite for freshman running backs. This year, Jones has come back healthier and stronger in his sophomore year. With one game left in the season, Jones has had a stellar season, racking up 1,233 rushing yards and 11 rushing touchdowns.
What you can expect? The best thing about UTEP's future is that they have Aaron Jones for two more years. It's weird to think that a sophomore could play such an integral part on a winning team, but that happens to be the case. Jones could very well leave UTEP as the program's all-time leading rusher and scorer. As long as he stays on the field, great things will come for the El Pasoan.
1. Anthony Rotich, long distance runner, cross country/track and field
Who is Rotich? Everyone who goes to UTEP should know who Anthony Rotich is, and if not then they must live under the proverbial rock. One of many UTEP track and field athletes who come from Kenya, Rotich is one of the best runners the Miners have had over the past decade, and that is saying something considering UTEP's history.
Why he stands out? There is one word to describe Rotich—dominate. In the Miners' 2014 cross country season, Rotich took first in the Miners' first four meets, and became an All-American in cross country for the third time in his collegiate career. In track and field, Rotich is somehow even more impressive. In June, he won his third individual national championship at the NCAA championships.
What you can expect? Only great things are to come for Rotich. The seven-time All-American has one year left before he moves on to bigger and better things, so anyone who wants to see greatness in action needs to head down to Kidd Field in April and May of next year. After that, Rotich fans will have to watch him on TV like the rest of the world. In 2016, Rotich will join the long list of Miners to compete in the Summer Olympics.
Javier Cortez may be reached at [email protected] 
About the Writer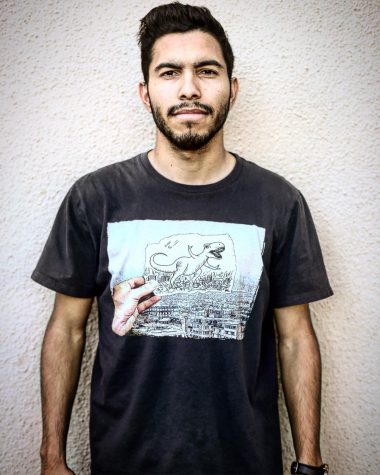 Javier Cortez, Staff Reporter
Javier Cortez is a staff reporter for The Prospector. He is a senior multimedia journalism major, with a minor in English Rhetoric.

Javier was born...