Two Teams Two Different Paths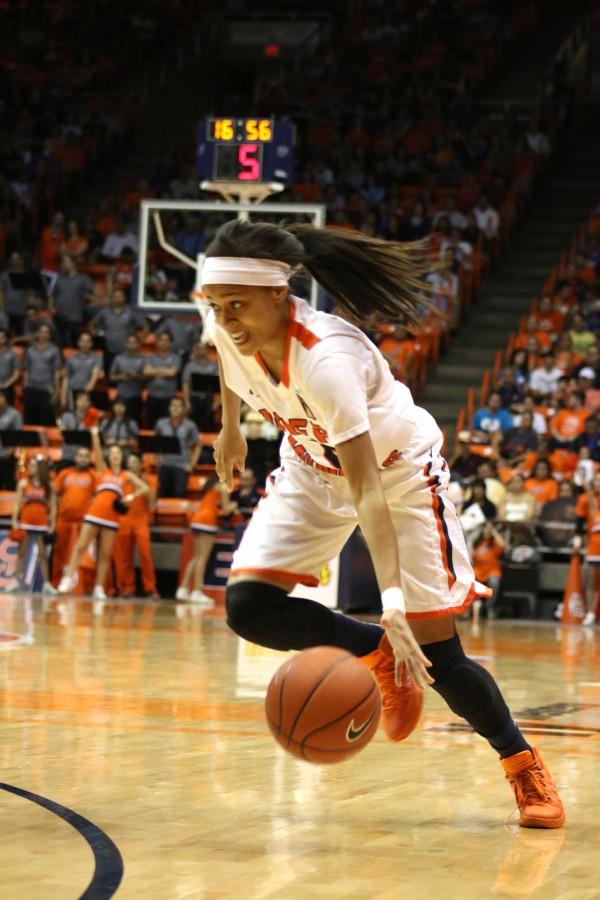 After a historic season that saw the UTEP women's basketball team soar to new heights, the 2014-15 squad will be drastically different in terms of players, excitement, fan support and on-court success.
There is a massive hole left once the season ended last April. The Miners lost three seniors, but not your three run-of-the-mill seniors; they lost the winningest senior class in the history of the program—Kayla Thornton, Kelli Willingham and Kristine Vitola
Thornton was arguably the best female player to ever wear the orange and blue, Willingham is the program's all-time leader in 3-point field goals made, and Vitola is the all-time leader in games played and third all-time in blocks. Then an even bigger blow came, junior guard Jenzel Nash, who was second on the team in points per game last season is out for the season as she is expecting her
first child.
To recap, the Lady Miners lost their four best scorers, two best rebounders, best-shot blocker and their best long-range shooter. Although the fan support is usually scarce for the women's team, the few loyal fans that do support the team have become accustomed to winning season after winning season under head coach
Keitha Adams.
When three seniors graduated that means that leadership has left as well. Senior guard Stacie Telles said she is willing to fill that void along with fellow senior Chrishauna Parker.
"As a senior point guard, I have to try to step up and lead this team," Telles said. "CP (Chrishauna Parker) is also helping me with that. When us two get together we just try to keep everyone focused and ready to go."
Like the men's basketball head coach Tim Floyd, coach Adams does not have it easy before the conference schedule to start the season. The Miners' resolve will be tested early and often, and for the returning players the adjustment will be from playing on a great team to playing on a young and inexperienced team.
Regardless of the level of talent or depth, coach Adams has never put forth a number of wins or set expectations, and she is not going to start.
"What I am looking at right now is our growth," Adams said. "We got a lot of young and new players. At the end of each week and at the end of each month, were we're at. That's what I am looking at."
Whereas last year's team had great experience, this team is going through a learning curve, in which many players are getting acclimated to playing college basketball.
"We're starting from the beginning and we're doing a lot of learning," said Cameasha Turner, junior guard. "It's different; we're young, we have to start from scratch. It's a learning process and there is a learning curve, but we're getting better each day."
In the preseason conference rankings, the Miners were predicted to finish fourth. Finishing fourth is a respectable place in a conference of 14 teams, but a fourth-place finish might not be realistic to what this year's team can actually achieve.
The Miners' lack of depth will mean that the returning players will have to step up and play a bigger role.
"All of our returners will be expected to do more," Adams said. "Our newcomers are learning our system and just trying to figure one another out. The returners are going to have to do more."
Whether the Miners win more or less games, the fans can expect a group that goes out every night and plays hard.
"We're going to play hard," Turner said. "That's all we can promise and we'll let the stats speak for itself. Just at the end of the day, we're going to play hard and bring intensity."
Javier Cortez may be reached at [email protected]