Two Teams Two Different Paths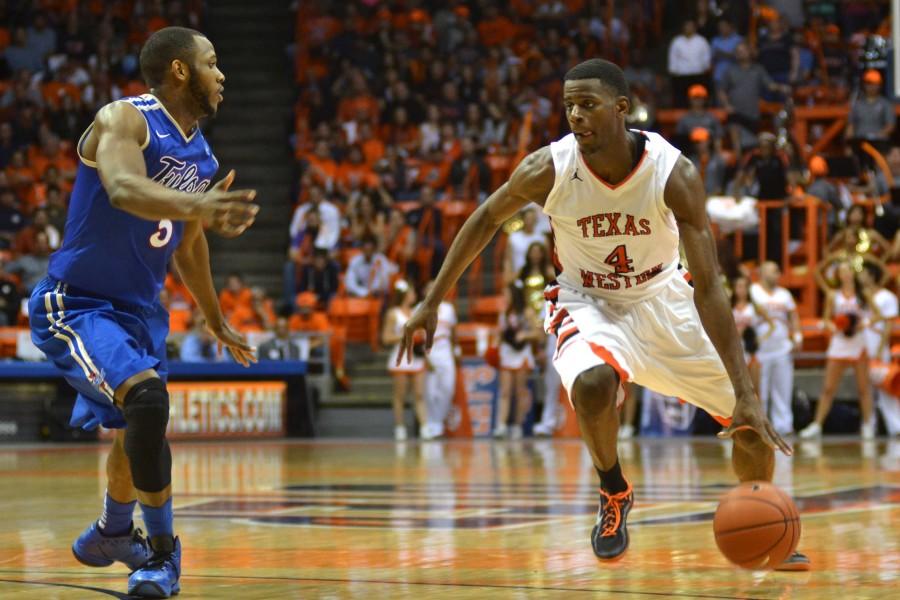 Basketball season has rolled around again and the mounting expectations are looming for the 2014-15 UTEP men's basketball team. Coming off a 23-11 season and with only one player departing from last year's squad, head coach Tim Floyd's Miners have the decks stacked in their favor.
In the offseason coach Floyd addressed the Miners biggest problem from the 2013-14 season—lack of depth in the backcourt. Instead of looking for a single backup for senior point guard C.J. Cooper, Floyd signed three guards with impressive high school resumes—Trey Touchet, Omega Harris, and Lew Stallworth. Floyd remarked in early October that the heavy recruitment of guards pertains to his theory of life.
"One of my theories in life—everything in excess," Floyd said. "We don't have point guards, so we said let's go sign four of them. We got a lot of guys that are capable of playing in the backcourt this year."
In the Orange & White scrimmage this past Saturday on Nov. 1, freshman guards Harris and Stallworth showed that there wouldn't be any backcourt problems to come in the next four years. The combination of Harris and Stallworth can prove to be lethal but more importantly prototypical.
Whereas Stallworth plays the classic role of a pass first, vocal, point guard who doesn't turn the ball over, Harris plays perfectly off Stallworth as a great off the ball guard who can score from outside or get to the basket off the dribble.
The immediate comparison that fans will attribute to Harris is that of Randy Culpepper—an undersized scoring guard who could score from long range, get to the basket, and dazzle the fans with fast break dunks. Coach Floyd went a step further and compared Harris to UTEP legend Hernell "Jeep" Jackson—a defensive stalwart during his four years in El Paso and a fan favorite.
"I've compared him to Jeep Jackson," Floyd said. "I think we're looking at a lot of that same kind of speed and flare. He has a chance to be a great player here one day. I don't know when it will happen, but some day he has a chance."
As the season progresses Harris and Stallworth will be key contributors to a once lonely backcourt of one, in C.J. Cooper. In the frontcourt the Miners have seemed to improve, despite losing senior center John Bohannon the returning trio of Matt Willms, Hooper Vint, and Cedric Lang
will do.
"We feel like we're a lot deeper this year," Lang said. "We're gonna have guys that can come off the bench and really help us. We feel like we're going to be really deep in post play even though we lost Bohannon."
There is no doubt the Miners have depth at every position and have their best chance of finishing first in Conference USA. But before the Miners make their way into conference play they have a tough road ahead in the first two months of regular
season play.
In the Miners will host the likes of Washington State, No.2 Arizona, New Mexico State, and on the road they travel to Colorado State, the Wooden Legacy tournament, and New Mexico State. The Miners are not doing themselves any favors with their out of conference schedule. Their record after the first two months of basketball might not be as favorable as their C-USA foes, but the Miners are banking on success in conference play.
The Miners biggest challenge in C-USA is co-regular season champion Louisiana Tech. The Bulldogs lost to the Miners in El Paso by nine points last season, but advanced further than the Miners in the conference tournament nearly securing an NCAA tournament bid.
This season the Miners should not have any problems meeting their expectations, baring any bumps in the road. They have depth, experience, great coaching, and a good home crowd. Anything short of a top two finish in conference play and NCAA tournament bid would be a disappointing for the 2014-15 squad. The pressure of succeeding when there are no excuses to fall back on is the biggest challenge for this group.
Javier Cortez may be reached at [email protected]