Sexy is the new black for women on Halloween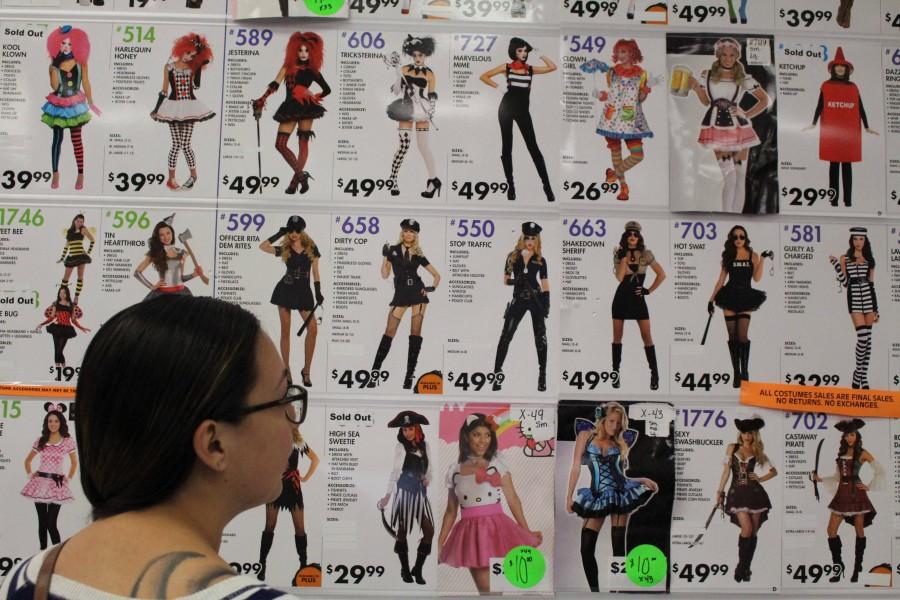 Maria Esquinca, Staff Reporter
October 28, 2014
Halloween has become notorious for being the time of the year when women dress up in revealing costumes.
Sheila Alves, senior graphic design major and vice president of the Women's Honor Studies Society, believes costume options for women are limited.
"I think there is a good number of women that like wearing revealing costumes, which is fine, but I think there's also a number of women who genuinely want to dress up and have cool costumes and are just stuck with a sexy costume," Alves said.
Crystal Herman, associate professor of theater and dance, will be making her own costume of Anna, a character from the movie Frozen.
"All the adult costumes on Anna are either the mini-skirt version or they cost a ridiculous amount, so I'm making my own costume," Herman said.
Herman believes the scarcity of costume choices is due to a simple law of economics–supply and demand.
"They wouldn't have them if there wasn't a demand for them," Herman said. "What a large portion of society wants is to be sexy and they want to be sexually attractive."
According to Statista, a statistics database, U.S. expenditures in 2014 for Halloween costumes will be an estimated $2.74 billion.
A 2014 Consumer Spending Survey by the National Retail Federation's Halloween revealed an increase in adult costume spending. The average person will spend $77.52 on a costume, an increase from $75.03 in 2013.
Total spending on adult costumes is estimated to be $1.4 billion.
Veronica Sanchez, assistant manager for ABC Party World in El Paso, expects the store will make earnings from $10,000 to $12,000 the weekend before Halloween.
Sanchez said there should be a greater variety of costumes for women, however stores are stuck selling the costumes vendors provide.
"Most of them are very revealing and provocative, that's the costumes that they make. It's not the buyer's fault, it's the people that make them," Sanchez said. "If it's not on demand, they're not going to bring them and they're not going to sell them."
The lack of selection has left women who don't want to be a sexy cop for Halloween resorting to their own creative methods.
"Making your own costumes is an option," Herman said. "You can often cobble your own costumes together without much sewing if you're a good thrift store shopper."
However, Alves said that might not be a feasible option for all women.
"A lot of times costumes are very last minute, they just go to the store and pick up whatever is there, and if whatever is there is a barely-there butterfly princess, then that's what they're going to wear," Alves said. "Being able to put a costume together on your own requires time and money, which sometimes you just don't have."
Herman said that women have the power to make their own options.
"If you want to be sexy, more power to you, do it and don't let anyone judge you for it, but if you don't want to, same thing," Herman said. "Make your own decisions with your own life."
Maria Esquinca may be reached at [email protected]