New pitching coach brings wealth of experience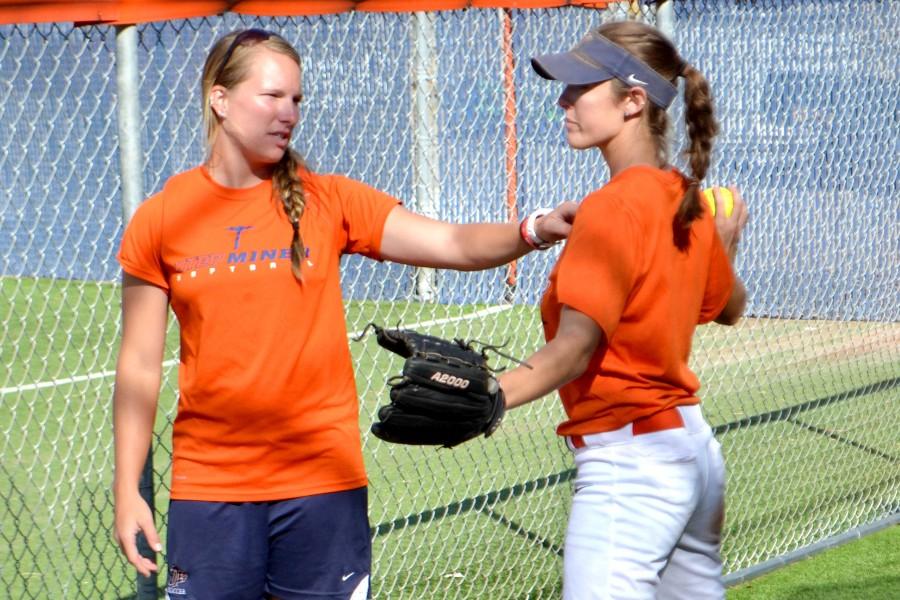 he Prospector
It probably goes without saying, but it is a long way from Bristol, Connecticut, to El Paso, Texas.
The move to El Paso is just the latest in a journey that Sara Plourde has traveled to reach the top of the NCAA record books and around the world.
On July 15, Plourde joined UTEP softball head coach Tobin Echo-Hawk's staff as the team's new pitching coach.
Originally from Bristol, Plourde attended college at the University of Massachusetts–Amherst, where she finished her career 8th all-time on the NCAA strikeout list during her five-time All-American career. After being drafted to play professionally for the Carolina Diamonds in 2012 and then playing with the New York/New Jersey Comets, Plourde took the first assistant/pitching coach position at Lafayette College in
Easton, Pennsylvania.
The two-time member of the Canadian national softball team soon realized that she wanted to coach pitchers who wanted to work as hard at their craft as they do at their studies.
"I really wanted to work with athletes who wanted to work as hard on the field as they do in the classroom," Plourde said. "Then I heard about this opportunity and then I saw the beautiful field. Tobin (Echo-Hawk) is actually pretty well-respected in the softball community."
Plourde was convinced to apply for the position by a friend who was also a friend of Echo-Hawk's.
"I said why not and I did. I'm very happy that I did. They're awesome," Plourde said.
Despite her standing in the NCAA record books and her pristine resume, head coach Echo-Hawk had actually only heard about her through a mutual friend due to being on
opposite coasts.
"A friend of mine, who was also a friend of hers, said you should look at her," Echo-Hawk said. "She's got a great resume. The more research I did, the better she seemed."
When you consider that the Miners were by far the worst pitching team in Conference USA last season, her application may have arrived on Echo-Hawk's desk at just the right time.
"We went through a couple of rounds and I just wasn't thrilled with anyone we brought on campus. She was kind of the last one that we brought in," Echo-Hawk said. "I was looking for somebody who knew pitching, but also fit with my style of coaching and what my philosophy is."
Plourde arrived in time for the fall exhibition season, and the pitching numbers during a very small sample size already seem improved. Pitchers such as junior Danielle Pearson saw a decent jump in strikeout numbers during the few fall games. Pearson's relationship with her new coach may have played a part in the perceived improvement.
"I really liked her right away," Pearson said. "She has a really cool personality. I'm the type that really wants to talk to my pitching coach a lot and feel comfortable with her. That's something that I felt right
away with her."
For freshmen pitcher Dani Fincham, just having a pitching coach is something new altogether. Fincham is enjoying interacting with her new coach between innings.
"I'll get done pitching an inning and come back and we'll talk about what happened on this pitch or how do you feel like this is working," Fincham said. "We're always communicating back and forth all the time."
The Miners' hitting statistics, under the new coaching staff installed last season, have remained consistently at the top of the league. Echo-Hawk hopes that with the added confidence from working with Plourde, her pitchers will be able to do their best and count on their
team's hitting.
"With the hitting, it kind of takes the pressure off the pitchers to be so perfect," Echo-Hawk said. "Whereas last year, I think that they thought they had to be perfect and go out there and hold the other team to one or two runs. Where this year, I think that they realize—hey, as long as I keep it reasonable, give up maybe two or three runs, the offense will still support me."
Now that the pitchers are seemingly more relaxed, Plourde has gotten down to the business of working on improvement. This is something that the new pitching coach has been focused on, even before day one.
"When I came here on my interview I asked all of the pitchers that were here what they want to work on, what their goals are, stuff that they want to learn—new spins and new pitches. To know how to throw a pitch, you have to know how to spin it," Plourde said.
Just like the entire process of becoming the newest member of the coaching staff, here again Plourde's resume and experience are her
key to success.
"My pitching coach in college was phenomenal at teaching spin," Plourde said. "She would not let me move farther than five feet from the batter until my spin was perfect. It had to be—it was so frustrating, but I'm thankful for that now. I can teach someone else how to spin it, because I've been there. I've felt the frustration of figuring out how to do it. So when they said spins, I said okay, I can teach you that. I can do that."
Plourde will continue to develop relationships with her new pitchers through the rest of the semester before taking a break to visit home for the holidays. Then the team returns to practice prior to the beginning of the season—towards the end of the winter. While outside observers are excited to see what Plourde can do with the pitching staff, Plourde is excited about the team as a whole.
"I'm looking forward to seeing our hitters adjust to different pitchers and our pitchers adjust to different batters. We'll see what happens. I think there will be a good outcome," Plourde said.
Jason Green may be reached at [email protected]