Protesters voice opinion on 43 missing Mexican students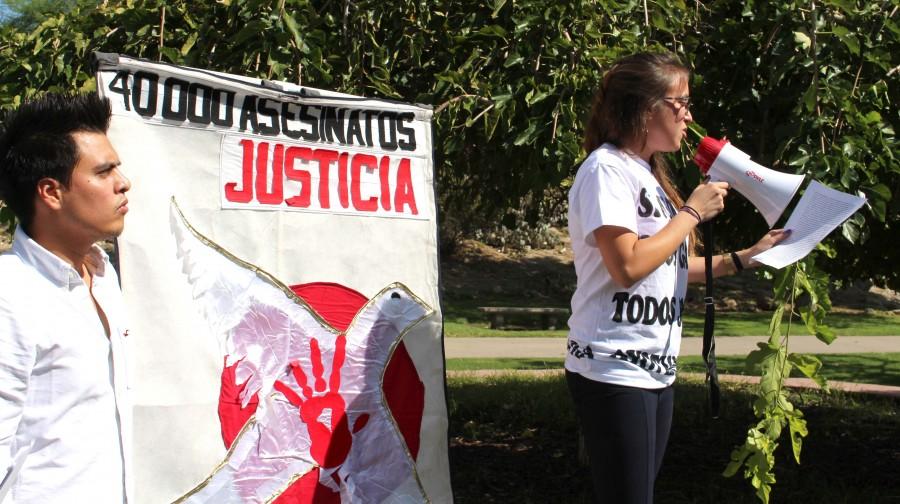 Amanda Guillen, Jose Soto and Kimberly Valle, Staff reporters
October 22, 2014
"Esta presente!" The crowd shouted as the names of 43 kidnapped Mexican college students were read out loud by graduate sociology major, Giovanni Acosta.
A group of roughly 40 individuals gathered Wednesday afternoon at Leech Grove to demonstrate against attacks that occurred in Iguala, in the southern part of the state of Guerrero. It is believed that the students are being held captive by either the national police force in Mexico or by organized crime groups.
This event was held as a part of a global action day that was held all over the world in observance of the missing students.
Twenty-eight bodies were recently found in a mass grave in Mexico. Although Mexican officials say that none of the bodies belong to the 43 missing students, some continue to question these claims.
Students like Sharon Murillo, graduate philosophy major, said that they are demanding justice for the missing college students.
"We are demanding that the government find them alive, because they have found around 28 bodies but they don't know who these bodies belong to, and we are expressing our voice and telling the people that we are privileged to live in the United States, because we can express our ideas without being oppressed like they were oppressed," she said.
Visiting Assistant History Professor Selfa Smithart-Chew was among the crowd of demonstrators.
"The magnitude of these crimes and the dehumanization of our social system has reached a level of that goes beyond any horror that we could have ever imagined in the past," Smithart-Chew said in Spanish.
Cassandra Reyes, a senior organizational and corporate communication major, helped congregate students from Juárez who commute to UTEP.
"I am fortunate enough to have worked with some student organizations here at the university," Reyes said in Spanish. "I was senator of Liberal Arts and I've had the opportunity to get to know many Mexican students. It was the perfect moment to get the leaders of different departments to help organize this event."
Cassandra attributes the idea for Wednesday's protest to several similar demonstrations held by Mexican students across the border.
"They are many students and young people who have not had the chance to voice their opinion, either because they have been killed or silenced by violent groups, or simply because they are afraid to," she said. "How can we see what is happening across the border and not do anything about it?"
Cassandra said that this event was held at UTEP to remind the student body that incidents like these also affect them even if they are not in Mexico.
"Because we are on this side of the border, it is easy to forget what is happening in Mexico," Reyes said. "We have more power and more resources to help make this a unified movement instead of having it only take place in Mexico. We are ultimately one."
At the demonstration, a table with a petition was set up for attendees to sign.
"The petition is for the Mexican consulate here in El Paso. (Jacob Prado, consul general) has supported UTEP and its Mexican students a lot," Reyes said. "It's both an invitation for him to showcase his solidarity with the Mexican student body and also a demand for him to fight for justice, to bring the proper punishment for the responsible parties for this crime. After all, that is why laws exists."
Acosta remains shocked with the lack of concern that Mexican officials have towards this case.
"The events that occurred over there have to be known throughout every corner of the world without concern of where you are," Acosta said in Spanish. "Basically this news left it clear for me that the Mexican politicians are massacring their own citizens."
Amanda Guillen, Jose Soto and Kimberly Valle may be reached at [email protected]