It Doesn't Matter What Other Coaches Think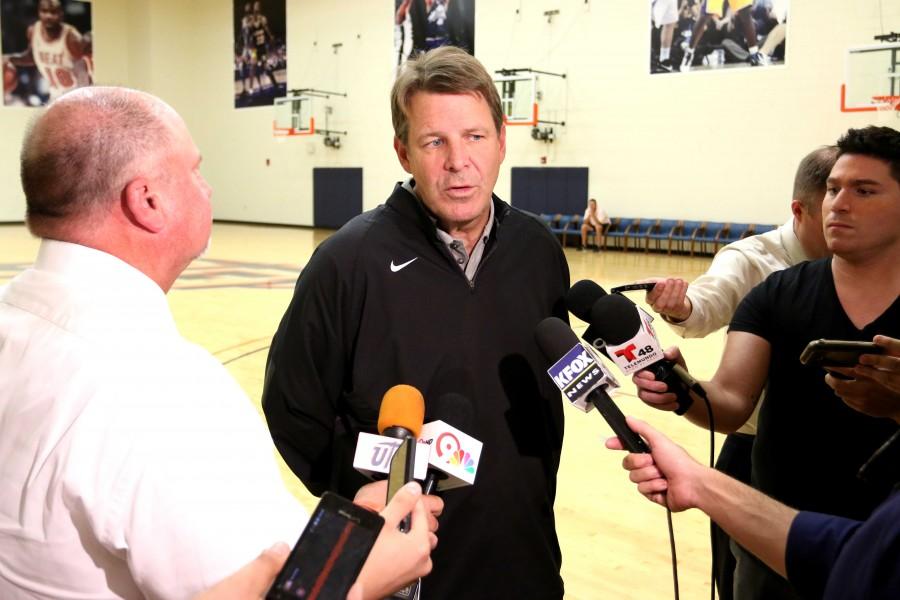 Conference USA released the league's preseason rankings last week. Voted on by the league's coaches, the UTEP men's basketball team was picked to finish second, behind Louisiana Tech.
I understand that coach Tim Floyd gets to submit his preseason rankings as well, but really, who cares what the other coaches think about our team? All of the league's coaches, with the possible exception of Western Kentucky's head coach Ray Harper (because this is WKU's first season in the league), should know how the other teams did last year and what they lost in the offseason.
That would be great if this was the only knowledge needed to guesstimate who was going to win the conference. Chances are that Ray Harper, or any of the other coaches including coach Floyd, know just as much about the other teams' incoming freshmen and transfers as any other coach. Coach Floyd may have recruited a few of the other teams' freshmen, but C-USA is too broad geographically for anyone to have scouted all of the newcomers in the league.
How were coaches supposed to decide who is going to win the league with such limited knowledge? We would have to assume that each coach voted for his own team to finish first out of those top four—Louisiana Tech, UTEP, Charlotte and Old Dominion. Then the bottom-tier teams in C-USA are left to decide which of the top four they like best.
So, when you know nothing about the freshmen that are coming in, how do you go about voting when you are a busy college basketball head coach? This is how I envisioned it happening.
Coach's door swings open and he yells into the hallway, "Hey, what team in our conference has the most starters coming back?" "Louisiana Tech, sir," the lackey yells back. "Hey, they finished first in the conference last year, huh?" "Yes sir, they were in a four-way tie for first," the lackey blabbers. Coach turns around to his email and writes Louisiana Tech in first place.
So, why is this so wrong? I'll tell you what the lackey didn't tell his boss. Louisiana Tech's recruiting class was ranked fourth in the conference, while UTEP's was second. These rankings also don't take into account the transfer of Earvin Morris, coming to UTEP from Tallahassee Community College, who was considered a three-star prospect by most recruiting services.
One more thing that the lackey may have neglected to mention is that Louisiana Tech had three of the top 40 scorers in C-USA last year and that two of the three are gone. UTEP, on the other hand, had three as well ,but only lost John Bohannon.
In my rankings, UTEP is in first. Who cares what the other coaches think¿ I don't and you shouldn't either. Our players most definitely shouldn't. It's a very long season that just began on Monday. We still have almost a full month until we get an actual look at our team during the Orange and White scrimmage.
As we saw last season, anything can happen in college basketball.
I wouldn't bet against this year's team. The team that finished one game out of first has only gotten better.. That does not mean Louisiana Tech isn't good, they should get an at-large bid to the NCAA tournament, and that can only be a good thing for all of C-USA.
The women's basketball preseason rankings came out at the same time as the men's. The UTEP women were picked to finish fourth, with Middle Tennessee, Western Kentucky and Southern Miss ahead of them. In all honesty, it's hard to disagree with these rankings. We all remember the UTEP women's amazing run at the end of last season, losing in the finals of the women's NIT. But, the stars of that team are now playing professionally in Europe and Jenzel Nash will sit out this season as she is expecting her first child.
Unlike the men's team, the newcomer to the league—Western Kentucky's team is very good. They made the NCAA tournament last season. Middle Tennessee is the returning regular season and conference tournament champion.
As I said, it's hard to argue with these rankings, but it also hard to argue with one very important fact that rings true for both of our teams–our coaches are outstanding.
Whatever coach Keitha Adams has to work with, she will make the most of it. The same goes for coach Floyd. Another thing that is true about both of them (and all of the coaches in C-USA) is that nobody knows how this season will shake out. If we, the student body, pack the Don—anything can happen. Just ask coach Adams.
Jason Green may be reached at [email protected]