Hannah Asuchak—Toughness personified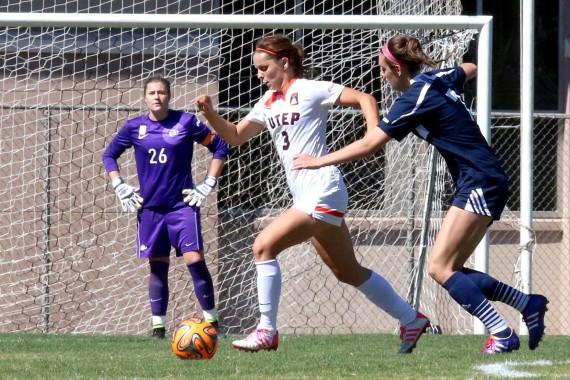 Luis Gonzalez, Copy Editor
October 7, 2014
In every sport, there are certain positions that are crucial to a team's success. In Hannah Asuchak's case, UTEP soccer has a center back that provides security and stability to its back four. A starter right from the start of her freshman year, Asuchak has been the center back that has anchored UTEP's defense for the past four years. A combination of talent, toughness, dedication and love for the game has helped UTEP's number three stay on the field even through
a torn ACL.
Asuchak was born in Calgary, Alberta, Canada, and she has been playing defense ever since she got involved with soccer, back when she was playing with the Purple People Eaters. Although she is a native to it, she has never been a fan of the cold and constant snow, which played a role in her decision to come to UTEP.
"I'm a little bit of a baby with the cold," Asuchak joked. "I wanted heat when I picked a university."
Rarely off the field, Asuchak started every game of her freshman season, playing at least 90 minutes in all but one game. She played the second-most minutes among all UTEP players, with over 2,000 minutes logged on a team that achieved a second-place finish at the conference tournament.
That spring she suffered what, at first, appeared to be a setback when she tore her ACL in practice. For any normal athlete that would have shut them down for a significant amount of time, but as she has shown throughout her career at UTEP, Hannah Asuchak is anything but normal.
"I don't know anybody that would have enough ability to play through a torn ACL," said head coach Kevin Cross. "That's how athletic she is, how strong her muscles were."
After the second-place finish a year before, missing her sophomore season was not an option. Asuchak remembers the pain of playing through an injury as significant as the one she had, to the point of crying as she defended the Miner goal.
"During it was painful, but I'd get a little adrenaline," Asuchak said. "After, it'd be so sore, I was in the training room two to three times a day."
An athlete tearing their ACL has become commonplace in sports, but playing through a tear is another thing. With surgery and rehabilitation, a recovery from an ACL tear takes six to nine months, Asuchak played all of her sophomore season and an offseason knee surgery didn't stop her going into the
2013-14 season.
Once again, Asuchak played in all games her junior season, starting in 18 of the 19 games the Miners played and logging more than 1,600 minutes on the field.
Entering this year, she had a total of 4,778 minutes played and has now gone well past 5,000 and has started in every game this season.
Asuchak rarely crosses midfield during a game, making her offensive statistics nearly nonexistent, but her role on the team goes beyond the stat sheet. Her positioning on the field, timing of tackles and leadership have helped the Miners become one of the most solid defensive teams in the conference this year.
"From my position I see everything, I really try to control the defense and be a big communicator," Asuchak said.
Coach Cross is more than aware and does not underplay the importance of having a player such as Asuchak on the squad, especially at that position and for the length of time she has been there.
"She gives me job security," Cross said. "That's the person, her and the keeper, that keep the ball out of the net. We have to know that if there is a defensive breakdown, if she can save us and she doesn't let us down."
Asuchak is working on a bachelor's degree in human resource management, and although she does not anticipate playing soccer after UTEP—saying that playing in college was her main goal in the sport—her aspirations for this, her last season in the orange and blue, are simple.
"I would love to get a ring," Asuchak said, referring to a conference championship.
Luis Gonzalez may be reached at [email protected]