Miners fail to finish, lose to North Texas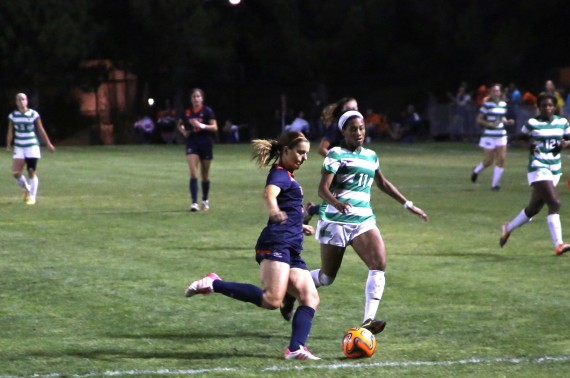 Luis Gonzalez, Copy Editor
October 4, 2014
The UTEP Women's Soccer team gave up a penalty kick in overtime and North Texas narrowly edged the Miners last night at University Field. Karla Pineda scored in the 95th minute and spoiled what could have been the best night of the season for UTEP.
In a game in which UTEP controlled most of the action on the field, outshooting its opponent 10-5, the Miners missed the opportunity to make a statement against the conference leader.
"We played a great game, we played better than them," said UTEP forward Bri Barreiro. "We were unlucky when finishing some chances."
The North Texas Mean Green came to El Paso undefeated in conference play after scoring a combined five goals in their first two matches to beat Southern Miss and Louisiana Tech at home. The dangerous Mean Green attack was neutralized for most of the game managing to only  3 shots on target throughout the 90 plus minutes played.
Playing with a peculiar 4-3-3 formation, North Texas had multiple crosses in the first half, but never really put Miner Head Coach Kevin Cross' team under too much danger thanks to the timely interventions of both keeper and defenders.
"That's their style that they always play, the 4-3-3," Cross said. "We were ready for it, we practiced for it and the defense did very good against it."
UTEP created the most important chances of the game consistently, putting the visiting goal under plenty of duress.
In the first half a mishap between the visiting goalkeeper and one of her defenders left UTEP midfielder Angela Katada scrambling to get the ball left in front of an open goal, but her attempt went wide right. Just minutes later, a long bending UTEP corner kick flirted with the net but struck the post instead, keeping the game scoreless.
The Miner control only increased in the second half.  The Miners began to find success down the right flank, starting with senior midfielder Mackenzie German getting to the end line after beating her marker one-on-one. German's low cross found Nicole Lindsay coming into the box from behind, however Lindsay's shot went straight into North Texas keeper Jackie Kerestine.
UTEP's most important opportunity came in the 74 minute when German had the ultimate chance to put the Miners on the scoreboard through a penalty kick.  The shot missed just left of the post and the game continued tied.
Finishing in front of goal has been a problem for the Miners in the recent weeks, scoring just a goal in the last five games.  Still, and despite the loss, the performance left sophomore Aleah Davis feeling good and looking forward to Sunday when the Miners host Rice at 1 p.m.