Volleyball looking for success on the road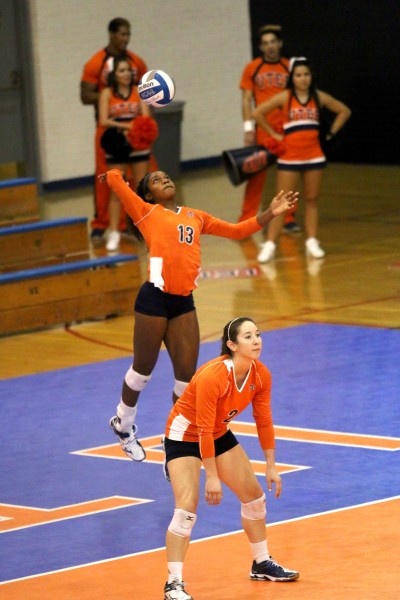 Luis Gonzalez, Copy Editor
September 30, 2014
The UTEP women's volleyball team will go on a four-game road trip as they continue their Conference USA schedule. In the midst of a five-game losing streak, the Miners will visit Rice, UTSA, UAB and Middle Tennessee State in the next
couple of weeks.
The Miners started conference play with three home games that ended in a disappointing fashion. The team lost all three matches against UTSA, North Texas and Florida Atlantic, and won just two combined sets. The losses leave UTEP's record at a troubling 2-12. With that being said, second-year coach Holly Watts is not panicking over the results.
"A lot of it goes back to how young we are and how many young players we have," Watts said. "It's still a building process and we're still growing. Overall, I still think we're
getting better."
With five freshmen on the roster and just two seniors, the Miners are struggling to find balance and consistency from set to set. The tough opposition faced to this point—playing three nationally ranked teams—has also played a part in magnifying the growing pains the team is
currently experiencing.
Still, with so much room to improve, the positives shown by the Miners are not lost on senior Jacqueline Cason. The 6-foot, 2-inch outside hitter is coming off a medically red-shirted season, and she has started in 11 of the 13 matches in which she has participated this season.
"The record doesn't show how good we're doing. We're playing tough teams," Cason said. "Because we have a lot people, they're just learning the system and each match we're working on something. We might be messing up on a few things, but there's a lot of good things happening because we're working really hard as a team."
UTEP will be in Houston on Friday, Oct. 3, to play the Rice Owls. Picked to finish third in the conference, the Owls are led by preseason all-conference USA selection Sara Blasier. Rice has started the season off with an 11-5 record and 1-1 in conference. The Owls will play at North Texas in their third conference game before hosting the Miners.
After Rice, the Miners will head to San Antonio for their second meeting against last year's conference champions. The UTSA Roadrunners only lost one regular-season conference game in 2013 and were picked to repeat this season. In their first meeting, the Roadrunners swept UTEP in El Paso, 3-0.
The Miners will visit UAB for their third-straight game on the road.  The Blazers were tied with Southern Mississippi in the preseason rankings, both picked to finish fifth. Like UTEP, UAB has gotten off to a rough start, with only four wins thus far. The Blazers just snapped a five-game losing streak by beating Louisiana Tech at home. They will now go on a three-game road trip before returning home to host the Miners on Friday, Oct. 10.
To finish the long stretch of road games, the Miners will be in Murfreesboro, Tennessee, to face Middle Tennessee State on Sunday, Oct. 12. Another team that was picked to finish ahead of the 10th-ranked Miners, the Blue Raiders are 5-10 for the year and 1-1 in conference. Middle Tennessee just started a stretch where they will play five conference games in a row, all at home.
Junior Talia Jones has played in 46 of the 49 sets that UTEP has played so far this season. Last year's leader in service aces, Jones puts her emphasis on having the right mindset over this stretch of road games.
"Mindset-wise we got to be prepared to go on the road," Jones said.  "Traveling to play in different gyms and different atmospheres with a
positive attitude."
Coach Watts is looking forward to the team going on the road, where she believes the team has provided some of its better performances of the season.
"We'll just have to make it work in our favor. Sometimes when you can sleep in a hotel bed, you don't have all the distractions of home," Watts said. "It's great to be home in front of our home fans, but I don't know if we are as focused at home as we can be on the road."
Luis Gonzalez may be reached at [email protected]
About the Contributor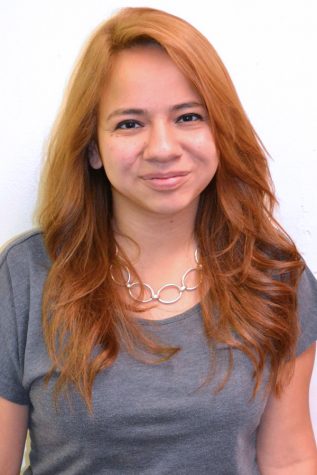 Michaela Roman, Editor-in-Chief
Michaela is a Senior Digital Media Production major at The University of Texas at El Paso. As the Editor-in-Chief, and former Photo Editor of The Prospector,...