Students with disabilities struggle to find work
The university is celebrating Ability Awareness Week from Oct. 13-17 with educational seminars a symposium and a resource fair aimed at bringing awareness about disabilities and how they may impact students. What some people may not know is that students with disabilities suffer from a higher unemployment rate than others.
According to the National Council on Disability, only 49 percent of people with disabilities are employed, compared to 79 percent of those without disabilities. Out of young people with disabilities, 67 percent with a bachelor's degree are working full time, compared with 73 percent of youth without disabilities with the same education. Of those individuals with disabilities who are employed, less than one half of 1
percent are professionals.
Brett Conerly-Hartmann, a recent UTEP student now living in California, has epilepsy.  Hartmann knows firsthand the hardship of trying to land a job. 
"Most people do not understand why I need the use of a service dog, or assume that I am visually impaired," he said. "After dialogue about my condition, I am able to clear up any misunderstandings about epilepsy with whomever is interviewing me."
At UTEP, students with disabilities can find help and assistance with obtaining a job at the Center for Accommodations and Support Services.
Bill Dethlefs, CASS director, said that the center has recently changed its vision and mission statements to include employment of students as a goal, not just degree completion. Part of this begins with training different groups on campus regarding relevant legislation and UTEP policy."
Dethlefs said that the situation with disabled individuals who are looking for employment is an issue that reflects an ongoing societal change, where people with disabilities are subject to discrimination and harassment by the general population.
 "Only with changes to legal requirements for equal education and equal opportunities for employment was there a big difference for people with disabilities," Dethlefs said.
Nichole Coleman, a senior psychology major, said her disability has hindered her from working.
"I had a difficult time finding a job due to the fact that I have two disabilities, a physical and visual one," Coleman said.  "When I did finally find a job, the management did not want to spend a few hundred dollars for adaptive aids so I could do my workload."
Coleman currently works as a financial management service adviser for In-Home Attendance Services and plans to continue holding the position while she obtains her master's degree in psychology.
The Americans with Disabilities Act requires that people with disabilities be provided reasonable accommodations in the workplace. For employers, some claim undue hardship, usually associated with the cost of providing reasonable accommodations for employees with disabilities.
"Many employers believe the cost of providing accommodations will be excessive in terms of an undue hardship, so they refuse to hire the person," Dethlefs said.
Hartmann said he isn't required to divulge his disability, but feels it is necessary because it would be rude not to explain why he requires a service dog.
"I usually do not go into intense detail about my disability, and redirect the interview process back to the position I am applying for," he said. "I do speak to the interviewer on how this might not be a conventional situation, but that I am a productive employee that strives to do my best every time."
 Hartmann said he feels that the UTEP CASS office is one of the "most amazing and under-utilized departments on campus at UTEP."
Both Hartmann and Dethlefs said students with disabilities should volunteer and intern as much as they can during their time at the university to expand their knowledge and skills in order to appeal more to possible employers.
 "The CASS staff also work closely with the staff in the Career Center, primarily with Nick Zweig," Dethlefs said. "He is the UTEP coordinator for the federal Workforce Recruitment Program that provides federal internship opportunities for students with disabilities. I would encourage all disabled students to seek his assistance in adding this to their resume as it will definitely be of assistance while trying to find work."
Hartmann said that students should learn to be their own advocates in order to find the confidence companies look for in applicants.
"Being able to represent yourself in an honest and respectful manner is one of the most important assets for your future career goals," Hartmann said. "Students and individuals with disabilities are going to deal with some form of discrimination and judgment during their life, but it is our inner strength and determination that helps us overcome these obstacles. Stay strong, never lose your desire to learn, and always have goals."
For more information on Ability Awareness Week events, visit www.sa.utep.edu/cass or call 915-747-5148.
Jose Soto may be reached at [email protected]
About the Writer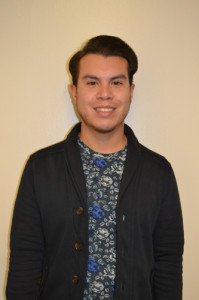 Jose Soto, Staff Reporter
Jose Soto is a multimedia journalism major with a minor in creative writing. He joined The Prospector team in November of 2013 as an entertainment reporter....