Glowing your way through campus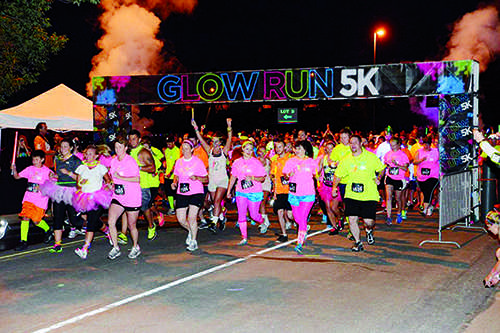 The university will continue its centennial celebration by hosting the Glory Road Glow Run on
Sept. 27 at 7 p.m.
Gina Roe-Davis, the event director from Rave Marketing, decided it would be a great idea to bring this event to the university and include it as part of the centennial celebration. Participants will have the chance to observe the campus transformation and enjoy its architecture.
"It's important for the university to include everyone in the celebration, I think this glow run allows everyone to be a part of it," Roe-Davis said. "We thought to make this a
one-of-a-kind event."
Expected to draw more than 25,000 participants, the run will not be timed and is geared towards the runners' enjoyment of the route. Students may walk, jog or run and glow gear will be provided at the event. Students are also encouraged to get creative and bring their own gear.
"There will be glow stations along the way giving out glow accessories and water so runners can get entertained along their run,"
Roe-Davis said.
Live music  will also be a part of the entertainment. Students will be able to enjoy DJ Bobby Keys' mixes while running.  Participants will also be able to compete in contests for prizes, a Zumba warm up and an after party after the run. Awards will be given for the best individual outfit award, individual dance and teams with the most glow in the dark accessories—all presented by Government Employees Credit Union.
Christopher Clark, junior mechanical engineering major, is thrilled to be able to experience this event on campus. He said this would be a unique way to network with other students and friends.
"I think it's awesome, it's something different," Clark said.
Mayra Perales, junior psychology major is looking forward to changing up her work-out routine and said she is enthusiastic about El Paso bringing entertainment for residents.
"It's interesting, I'm into sports, so it's perfect,"  she said. "It's a good step up for the city to have this event."
Danielle Chambers, a sophomore biology major, who is originally from Atlanta, Georgia, said she will attend the event to experience the community and become acquainted with people.
"It will be fun, I probably won't be the first one to finish," Chambers said. "I will go with friends so we can have some bonding time together."
All ages are welcomed to attend the Glow Run and students may invite families and friends.
"It's about enjoying a beautiful night in the city," Roe-Davis said. "It's a big thing to El Paso, a lot of people to have a great time celebrating El Paso."
Depending on the event's turn out, the organizers of the Glory Road Glow Run plan to donate some of the proceeds to benefit the university.
The run will begin on Glory Road and will finish at the Sun Bowl stadium at parking lot P-9. If students lose track of the route, the Technology Support Center and director of Academic Technologies, Michael Pitcher, have created a map for the route that may be downloaded as an app to cell phones.
Roe-Davis advises the public to join the run in teams to save some money. Prices for indiviuals are $40 and $35 for teams of four or more. Slots are still available. There will be packages with glow gear and passes, early packet pick up is on Friday, Sept. 26 from11 a.m.-6 p.m. and on the day of the event, Saturday, Sept. 27 from 4-6 p.m. Parking will be available at lots R-2 and R-3 on the day of the event and will be free for the people who are participating.
For more information, and to register visit www.gloryroadglowrun.com.
Kimberly Valle may be reached at [email protected].