Debate recap: Gubernatorial candidates differ drastically on abortion, health care and more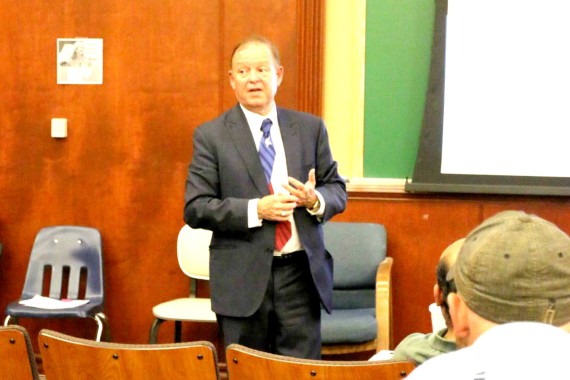 Maria Esquinca, Staff Reporter
September 19, 2014
Gubernatorial candidates Democratic Sen. Wendy Davis and Republican Attorney General Greg Abbott squared off in their first debate Friday afternoon before the upcoming Nov. 4 election. Many students watched the debate at viewing parties on campus.
Davis had many cutting remarks for Abbott, leaving her running out of time to speak more than once.
"I think she attacked him too much," said Joshua Acevedo graduate political science major and president of the University Democrats. "Instead of projecting herself to the audience and selling Wendy Davis, she was attacking Greg Abbott.
The two gubernatorial candidates had stark differences on more than one issue.
"Davis did an astounding job in demonstrating the stark differences between the Democratic and Republican vision for Texas," said County Judge William Moody, who is running for Chief Justice on Nov. 4 and attended the University Democrat's debate watch party.
On abortion, a topic which brought Davis to the national spotlight after she conducted a 13 hour filibustered against Texas HB 2,which passed restrictive requirements on abortion clinics, Davis said women should be free to make the decision to have an abortion guided by their faith and a doctor.
Davis also called out Abbott for campaigning with Ted Nugent, a known sexual predator and for paying the women in his office less than the men.
Abbott asserted he was was pro-life and that as governor he would develop a culture of pro-life.
On education, an issue that has been central to Davis's platform, she criticized Abbott for defending 5.4 billion dollars in education cuts to public schools in the court.
"That is not liberal, that is not conservative, that's dumb and it's shortchanging our children," Davis said.
Abbott was asked about a speech in which he compared corruption in the Rio Grande valley, one of the poorest regions in Texas, to a "third world country." Abbott claimed he made that statement across the state of Texas, not targeting the Rio Grande valley. He also said he prosecuted more than 100 instances of public corruption as Attornery General, and as governor he would pass an ethics reform.
On Medicaid, Davis attacked Abbott on his plan to send 100 billion dollars to California and New York and said she would keep the money in Texas.
"Mr.Abbott is California's best friend because he wants to keep sending our tax dollars to them… California already has one governor they do not need two," Davis said.
Abbott refuted by saying he would provide more access to healthcare to more Texans through a plan that he's laid out. It would increase funding for women, veterans, people with disabilities and mental health care but that he will not expand on the Affordable Care Act because he claims it is a failure.
On minimum wage Abbott said, "We do not need these Obama style mandates telling businesses how to run their business… about 94 percent of the jobs in Texas are paid above minimum wage already."
Davis supports an increase in minimum wage and said $7.25 an hour is not enough for families to support for each other.
On voter I.D laws, Abbott defended them by saying voter fraud is real while Davis said the real intention is to suppress the minority vote.
Both candidates supported the death penalty, securing the border and diminishing anti-Hispanic rhetoric.
In their his closing remark Abbott said his focus is on keeping government small and taxes slow, keeping the communities safe and building a better future.
"The place where more freedom and less government still matters," Abbott said.
Davis portrayed herself as the face of all Texans.
"I am you… I will fight for you every single day," she said.
Maria Esquinca may be reached at [email protected]
About the Contributor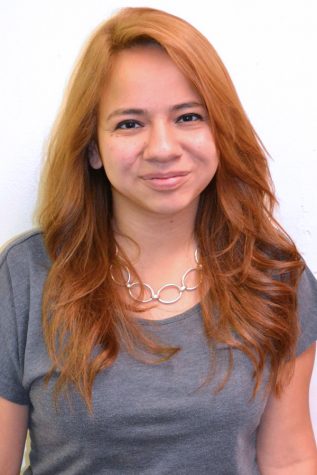 Michaela Roman, Editor-in-Chief
Michaela is a Senior Digital Media Production major at The University of Texas at El Paso. As the Editor-in-Chief, and former Photo Editor of The Prospector,...