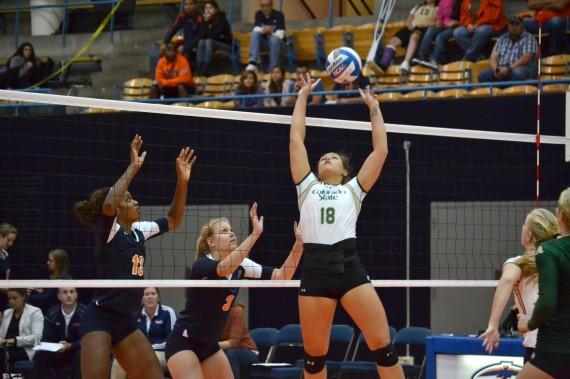 In the final game of the UTEP/NMSU Invitational, the UTEP Miners volleyball team fell to Colorado State 3-0; 25-13, 25-18, 25-23. After a slow start the Miners gradually improved, nearly taking a set of the now 8-1 Rams.
Colorado State got off to a quick start, dominating the first set. Winning 85 percent of their side outs. It didn't take long before the Miners were quickly dismissed in the first set. The Miners kill to error ratio in the first set was their down fall, with six kills to eighth errors.
The Colorado State middle blockers posed problems for the Miners all game. Redshirt sophomore Acacia Andrews, who is listed at six feet, five inches ended points with ease, as she finished the match with an attack percentage of .583 and five kills.
In the second set the Miners looked to have gained some continuity. Down by two points in the middle of the set the Miners were standing toe-to-toe with the Rams. What seemed like a match that might be heading into halftime tied at one set apiece, quickly turned into an exhibition by Colorado State. With the score at 16-14 in favor of Colorado State, the Rams won nine of the next 13 points to go into halftime with a 2-0 lead.
Once the third set started the Miners found them immediately in a whole. Going down 10-5, the Miners somehow found new life to make the third set a nail biting experience for the fans. After saving one match point, the Miners eventually fell in the back-in-forth affair 25-23. Sophomore setter Lindsey Larson attributes the Miners success in the third set to newfound energy.
"It's so much more fun when the crowd gets you going," Larson said. "You feed off of them and they feed off of you, when they cheer it makes it so much more fun."
Although it was another loss for the Miners, there were gradual improvements that will help the Miners in the future. Head coach Holly Watts says sticking to the game plan helped the Miners almost steal the third set.
"I felt like by the third set we were implementing those things really well," Watts said. "We were able to put some pressure on Colorado State and not just hope they would make errors, we were causing some errors. We were doing some good things."
The Miners now fall to 1-6 on the season with their only win coming against Western Illinois back on Sept. 6. The Miners have six days off before they go back on the road to play in The University of Denver Invitational from Sept. 19-20.
Javier Cortez may be reached at [email protected]