UTEP men's basketball dream team
Hang on for a minute...we're trying to find some more stories you might like.
UTEP men's basketball has provided tons of excitement over the years, whether they underachieved, overachieved or just met the expectations. From dazzling fans in Memorial Gym to rocking sellout crowds in the Don Haskins Center, the men's program has done it all. Although the Miners still have an underdog mentality in the national spotlight, they are one of the most respected programs in college basketball. Now that the men's program is celebrating its 68th season, The Prospector has made a UTEP men's basketball centennial team.
There are going to be a lot of past greats and fan favorites left off the team—the 12 players that made the cut are not on the team because of popularity, success professionally or great team success. This team is comprised of 12 players that compliment each other, and are able to play a specific role on a team full of players that can do it all.
GUARDS: Randy Culpepper, Stefon Jackson, Antoine Gillespie, Tim Hardaway, Nate Archibald, Filiberto Rivera
The Miners are a guard-heavy team, consisting of great defenders, scorers and facilitators. Culpepper, Jackson, Gillespie and Archibald all round out the scoring guards for the Miners. All four players, during their time with UTEP, were prolific scorers; and these four give the Miners the ability to score from all over the floor.
Culpepper and Gillespie give the Miners the ability to shoot from the outside with their deadly range. Culpepper led the Miners in 3-pointers made all four years and Gillespie's 40 percent 3-point field goal percentage in the 1993-94 season shows that the Miners' attack from behind the line is a serious one.
Jackson and Archibald round out the scoring guards with a consistent mid-range/attacking game. Both players could get to hole anytime they want to and had the ability to rack up points near the rim or at the free throw line.
The last two guards on the list give the Miners' backcourt a needed consistency, Rivera and Hardaway are on the team to control the tempo and facilitate the ball. Rivera has the highest career assist per game average in school history, and Hardaway ranks second all-time in career assists and would set the tone defensively with his ball-hawking defense.
FORWARDS: Julian Washburn, Julyan Stone, David Van Dyke
These three forwards provide defense, which is a staple of every great UTEP team. Players who don't guard don't play. Still in the midst of his playing career at UTEP, Washburn has been regarded as one of the best defenders in the nation, finishing his junior season with his second Conference USA All-Defensive team honor.
The next forward on the list played as a guard during his four years at UTEP, although he couldn't find a spot in the guard section, Stone was just too good to leave off the team.
Listed as 6'6',' Stone is an oversized guard who can play in the frontcourt as an athletic wing. Stone is UTEP's all-time leader in assists and one of the greatest rebounding guards UTEP has ever seen, most importantly though, Stone earns a spot because of his great on-ball defense and versatility.
Van Dyke is the third and final forward to make the cut simply because his of shot blocking ability. Van Dyke is the greatest shot blocker UTEP has ever seen by a long shot, finishing his career with 199 more blocks than the next highest Miner. In his senior season, Van Dyke, averaged 3.52 blocks per game. With Washburn's great on-ball defense, Stone's ability to play the passing lanes and Van Dyke's shot blocking presence, the Miners are a team full of defensive stalwarts.
CENTERS: Terry White, Harry Flournoy, Jim Barnes
With scoring and defense checked off the list, all that is left is rebounding, and the big-man trio of White, Flournoy and Barnes could all rebound. With Barnes monopolizing most of the minutes due to his impressive scoring rate, White and Flournoy would play the role of invaluable backups.
Both players averaged double-digit rebounds at least once in their career and both rank at the top of every statistical rebounding category. White and Flournoy would do the dirty work for the Miners, grabbing offensive rebounds, diving for loose balls, essentially being the hustle players that every team needs.
With Jim Barnes as the mainstay at center, the Miners become exponentially better, his 19.2 rebounds per game in the 1963-64 season nearly doubles White and Flournoy's best seasons. Barnes was truly a double-double machine, racking up 48 career double-doubles in 54 career games.
Starting Five:
G: Tim Hardaway, G: Nate Archibald, G: Stefon Jackson, F: Julian Washburn, C: Jim Barnes
Sixth Man: Randy Culpepper
Coaching Staff: HC-Don Haskins, AC-Tim Floyd, AC-Russ Bradburd.
Javier Cortez may be reached at [email protected]

About the Writer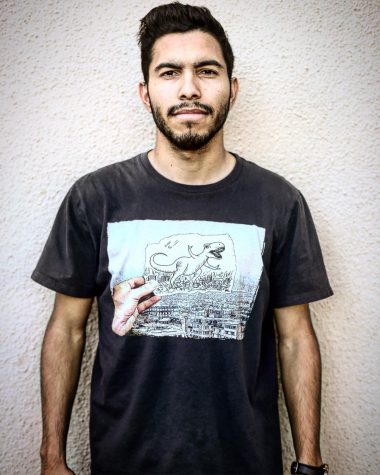 Javier Cortez, Staff Reporter
Javier Cortez is a staff reporter for The Prospector. He is a senior multimedia journalism major, with a minor in English Rhetoric.

Javier was born...