Top 10 male athletes of all time at UTEP
Hang on for a minute...we're trying to find some more stories you might like.
Male athletes have been on campus since the inception of the university in 1914, which makes for a heavily decorated list. Olympians, pro sport Hall of Fame members, All-Stars and Player of the Years have all come through UTEP. Considering that UTEP is now 100 years old, it calls for a countdown of the 10 greatest male athletes in UTEP's history.
Before the top 10 athletes are unveiled, here are some of criteria used to make this list:
• Athletes must have competed at least two years at their respective sport;
• Athletes must have been a major contributor beginning with their incoming year;
• Athletes must have garnered multiple individual accolades, along with team success; and
• Professional achievements do not count, this list is strictly based on the athletes' achievements at UTEP
Honorable Mentions: Tim Hardaway, Randy Culpepper, Nolan Richardson,
Jordan Palmer, Lee Mays, Thomas  Howard, Brian Young, Fred Carr, Mickaël Hanany and Bob Beamon
10.Trevor Vittatoe, Football 2007-10
Trevor Vittatoe came to UTEP at the end of the Mike Price era and took full advantage of Price's high-octane spread offense. From his very first start, Vittatoe's future seemed to be bright. Vittatoe turned in a freshman year for the ages.
The Bedford, Texas, native finished the 2007 season with 25 touchdowns, 3,101 passing yards and 135.9 passing efficiency rating, which are all freshman records. Despite a 4-8 season, the Miners knew they had a gem in Vittatoe.
To no surprise, Vittatoe rewrote the record books with his name at the top of seven passing records. Vittatoe's 97-career touchdown passes and 12,439 passing yards rank first in all-time UTEP history and in the top 25 in NCAA Division I history.
9.Brian Natkin, Football 1997-00
Brian Natkin's dominance at the tight end position goes beyond his years at UTEP— Natkin is one of two UTEP football players to be named a consensus All-American. In 2000, Natkin was selected to eight All-American first teams.
Natkin's 64 receptions, 787 receiving yards and 12.3 yards per catch were all career and program history marks. No other tight end in school history comes close to Natkin; he led tight ends in receptions and yards all four of his years as a Miner and was part of 2000 WAC championship  team.
After years of All-Conference and All-American selections, the accolades keep pouring in. Natkin was named to the UTEP's Centennial football team. He has cemented his place in UTEP football history as not only the greatest tight end, but also one of the greatest to ever set foot in the Sun Bowl.
8. Hans Höglund, Track and Field 1972-75
UTEP men's track and field stars throughout the years have been mid-distance to long-distance runners. Hans Höglund, on the other hand, was one of the few greats that excelled in field events.
The seven-time All-American was a five-time national champion in shot put, winning back-to-back national championships in 1974 and 1975. He is the only Miner to win the NCAA indoor shot put national championship, and his record throws still sit at the top of UTEP's indoor and outdoor records.
What secures Höglund's legacy as one of the greatest athletes of all time is how he impacted UTEP track and field and how he finished his career.  Höglund was part of the Miners' first indoor and outdoor national championship teams, and in his last collegiate competition, he won the 1975 NCAA outdoor national championship.
7. Stefon jackson, Basketball  2005-09
A scorer in the purest of ways is the best way to describe Stefon Jackson's game. He left UTEP as the school's all-time leading scorer and rewrote the Conference USA record books with his 2,456 points and 19.6 points per game average.
If it weren't for a broken jaw his freshman year, the scoring numbers would have been even better, Jackson is one of only six Miners to average more than 20 points per game twice. The only downside to Jackson's career is that he didn't have a team that matched his play.
At the end of the day, Jackson is the greatest scoring guard El Paso has ever seen and that is saying something with the long list of great Miner guards that have come through UTEP–Nolan Richardson, Nate Archibald and Tim Hardaway.
6. Nate "Tiny" Archibald, Basketball 1967-70
Known mostly by his nickname, Tiny Archibald only measured short in physical height, not in his game. UTEP basketball is known for its long list of great guards and Archibald was one of the very first. Since his departure nearly 35 years ago, only a few can stack up to the Bronx, New York, native.
In his three seasons with UTEP, Archibald averaged no less than 16 points per game and averaged more than 20 points per game his last two seasons, while shooting well over 50 percent from the field. In 1991, Archibald was named to the Western Athletic Conference's 20-year All-Star Team.
Archibald's 1,459 career points rank sixth all-time on the program's scoring list, ranked sixth might seem mundane to some, but when his career totals are put into perspective, his achievement is staggering. Archibald played 52 less games then all-time leading scorer Stefon Jackson, and if Archibald had played 52 more games, he may have scored 2,484 points to Jackson's 2,456 points.
5. Don Maynard, Football 1954-56
Don Maynard might not show up on any of the UTEP football record books, but his greatness has been revered for years, as he was known as a "do it all" type of player. In his three years at UTEP, Maynard was never pigeonholed or defined by a position.
He played receiver, lined up in the backfield, returned kicks and played defense. He was an offensive juggernaut and a stalwart defensive back on defense, collecting 10 career interceptions, which was a then school record.
With the formation of singular positions in football, it is a certainty that there will never be another Don Maynard in UTEP or college football history.
4. Obadele Thompson Track and Field 1994-97
Thompson was speed personified–pure and simple. Once he completed his four years at UTEP, he became one of the most decorated sprinters the school has ever seen. Thompson racked up 16 WAC titles, 11 All-American selections and four national titles.
To this day, Thompson holds four sprinting records and ranks second all-time in the men's indoor 60-meter dash and men's outdoor 100-meter dash in UTEP history. Thompson was one of the last Miner greats to dominate the college level and go on to excel as a professional.
After a sterling four-year career at UTEP, Thompson went on to become a three-time Olympian for Barbados, and he won the bronze medal in the 2000 Summer Olympics. His accolades at the collegiate and professional level put him on the short list of all-time UTEP track and field greats.
3. Olapade Adeniken, Track and Field 1989-92
Adeniken went onto excel at the professional level in athletics, but some of his best work came as a UTEP Miner. The 14-time All-American was dominant since his first year at UTEP in 1989— Adeniken had four straight All-American selections for the 200-meter dash in the outdoor season.
The 200-meter dash was Adeniken's niche, but the Nigeria native was truly a sprinting savant. Along with his dominance in the 200-meter dash, Adeniken was an All-American in the men's 55 and 100-meter dash, and the men's 4×100-meter relay.
Adeniken finished his collegiate career in style by sweeping the NCAA outdoor individual sprinting events. Adeniken won the men's 100 and 200-meter dash at the 1992 NCAA outdoor championships and his 200-meter sprinting records are second to Obadele Thompson.
2. Jim Barnes, Basketball 1962-64
Jim Barnes is unequivocally the most dominant player UTEP basketball has ever seen. Barnes only spent two years with the Miners, but in those 54 games that Barnes played nothing went to waste as he rewrote the UTEP record books.
Barnes is the all-time leader in rebounds with 965; second all-time is Terry White, who played 57 more games then Barnes. No Miner in school history reached 1,000 points faster than Barnes, who did it in less then 50 games.
The Arkansas native's impact went further than his scoring prowess; the Miners' 1963-64 team is heralded as one of the greatest teams in school history that did not win a national championship. Barnes led the team to a 25-3 record, while averaging 29.1 points per game and 19.2 rebounds per game.
1. Suleiman Nyambui, Track and Field 1979-82
No athlete in UTEP athletics history is as decorated as Suleiman Nyambui, and his dominance can only be measured with the all-time greats in NCAA history. His 15 NCAA championships rank second all-time in NCAA track and field history.
Nyambui's 19 All-American selections are five more than the next closest Miner; he was a 14-time WAC champion and was part of 11 national championship teams. No other long distance runner in NCAA history comes close to Nyambui.
Nyambui was a once-in-a-century athlete, and not even the Miner greats can stack up to the Tanzania native. Nyambui was great at every long distance running event, but his records at the 5,000-meter run are virtually unbreakable. His indoor time of 13 minutes, 20.3 seconds is 18 seconds faster than seven-time All-American Anthony Rotich's time in 2013. It's only right that the face of a great program is one of the greatest collegiate runners in NCAA history.
Javier Cortez may be reached at [email protected]
About the Writer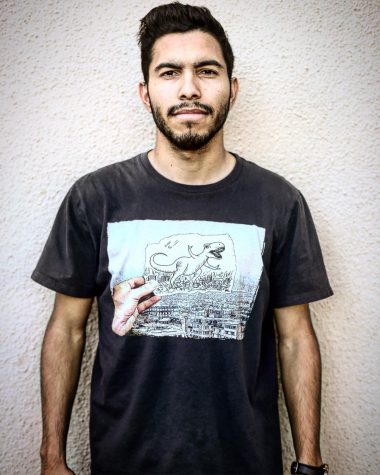 Javier Cortez, Staff Reporter
Javier Cortez is a staff reporter for The Prospector. He is a senior multimedia journalism major, with a minor in English Rhetoric.

Javier was born...