Top 10 female athletes of all time at UTEP
In comparison to the male sports at UTEP, the women have not garnered as much history or decorated athletes, UTEP has seen some tremendous female athletes during its time. The inclusion of women's sports might have come late, but as time has gone on, the list has only gotten longer and more spectacular. Considering that UTEP is now 100 years old, it calls for a countdown of the 10 greatest female athletes in UTEP's history.
Before the top 10 athletes are unveiled, here are some of criteria used to make this list:
• Athletes must have competed at least two years at their respective sport;
• Athletes must have been a major contributor beginning with their incoming year;
• Athletes must have garnered multiple individual accolades, along with team success; and
• Professional achievements do not count, this list is strictly based on the athletes' achievements at UTEP
Honorable Mentions: Jennifer Abbruzzese, Xitlali Herrera, Cynthia Henry, Esther Otieno, Ria Stalman, Debbie Sjoholm, Jennifer Smit, Holly Russ, Amy Pack, Rebecca Calvillo
10. Stacie Townsend,  Softball  2007-10
When it comes to pitching, no one in UTEP softball history comes close to Stacie Townsend. From 2008-10, Townsend posted three of the greatest seasons in the program's 10-year history, specifically her senior season, where she set career highs in wins, ERA and strikeouts.
In fact, she has the three highest individual win and strikeout totals for a season in program history. Carrying the team on her shoulders in 2010, the Miners had their best season in program history, 25 of the Miners' 31 wins came at the hands of Townsend.
When Townsend's time at UTEP finally came to an end, she was part of the winningest class in school history–in her four years, the Miners never won less than 27 games. Individually, Townsend was a named All-Conference multiple times, to go along with being named the Conference USA Scholar Athlete of the Year twice.
9. Tanja Magoc, Tennis 1997-00
Tanja Magoc is the most decorated UTEP tennis player in the program's 31-year history. In her four-year career, Magoc broke and set seven program records. Most notably in career  singles' wins and career combined wins. Magoc's seasonal and career singles' records are unrivaled, no player since Magoc's departure 14 years ago has come close to breaking her records.
Magoc's 168 career combined wins are 29 more than second-place Ana Barnes' 138 career combined wins.
Setting the standard as the greatest singles player in the program's history is unanimous, but Magoc also ranks fifth all-time in career doubles' wins. Magoc's greatness goes beyond her school records—she is the only Miner to compete at an NCAA tournament and she did it twice.
 8. Risper Kimaiyo, Track and Field 2009-2013
As far as women's cross-country goes, the list is still pretty short, but right at the top of that list is Risper Kimaiyo. The Kenya native simply does not make this list because she is at the top of short list Kimaiyo dominated women's cross country, right from the beginning.
In her freshman year, Kimaiyo was named the Conference USA Female Cross Country Athlete of the Year becoming the first freshman in league history to win the award and earned U.S. Track and Field Cross Country Coaches Association All-American honors. There would be no sophomore slump for Kimaiyo, as she repeated her success again, being named an USTFCCCA All-American and adding a top five finish at the 2010 NCAA Championships.
Kimaiyo would finish her career making history, as she became the first woman in program history to receive four cross-country All-American honors. Kimaiyo was no slouch on the track either, receiving All-American honors in the 5,000-meter and 10,000-meter run.
7. Jareica Hughes, Basketball 2006-10
Historically, UTEP women's basketball was not a good program, but that all changed when Jareica Hughes came along. The Michigan native made an impact immediately for the Miners– not only did Hughes lead the team in points per game, she led the Lady Miners to their first 20-win season in the program's history.
Hughes' next three years were nothing short of great. She led the team in scoring, assists and to a then school record of 28 wins. Hughes finished her career a part of the winningest senior class in program history and shattered the individual career scoring record by 304 points.
In the last five years, Kayla Thornton, who played from 2010-2014, has surpassed Hughes, but the impact Hughes made on the program is second to none. Since her inaugural season at UTEP in 2006, the identity of UTEP women's basketball has been transformed into a winning culture and the past struggles are
forgotten memories.
6. Charmaine Crooks, Track and Field  1981-84
The 1980s were a great time for the women's track and field team and Charmaine Crooks was a big contributor to that success. Although Crooks never won a national championship, she  was a six-time All-American and one of the best sprinters UTEP has ever seen.
Her record time of 51.30 seconds in the women's 400-meter dash has now lasted 30 years and  is one of the longest-standing record times in UTEP's track and field history. Crooks was also a talented 200-meter sprinter, and at one time had the second-fastest time in history.
Her individual accolades might not shine as bright as some of her other Miner teammates, but Crooks was part of the 1983 women's track and field team that finished fifth in the women's NCAA indoor national championships, which is the best finish in the women's program history.
5. Kayla Thornton, Basketball 2010-14
Kayla Thornton was an El Paso staple long before she ever stepped foot on the UTEP campus. She was an outstanding athlete at Irvin High school, where she was a state qualifier for the 100-meter relay in track and field to go along with being an All-State basketball player.
In high school, Thornton dominated her opponents on the court with her speed, strength and sheer athleticism, and nothing changed when she put on the orange and blue. Thornton may not have been the main attraction her freshman year, but she was an immediate spark coming off the bench for the Miners. Fast forward three years and Thornton is now the all-time leader in points, rebounds, double-doubles and field goals made.
What Thornton did individually at UTEP is nothing compared to what she accomplished from a team standpoint. To go along with being part of the winningest class in school history, Thornton was witness to the first back-to-back sellout games for UTEP women's basketball.
4. Camilla Carrera, Softball 2008-12
Women's softball has had a very short and unsuccessful history, but Camilla Carrera was a bright spot in the program's history for a four-year period. Statistically, no one comes close to Carrera and no one most likely ever will.
In Carrera's freshman year, she led the team in four batting categories, including batting average and slugging percentage. Carrera went on to have tremendous sophomore and junior seasons, but when hit with adversity in her senior year of 2011, Carrera showed her true greatness. Carrera only played 12 games in 2011 due to a back injury and was redshirted for the rest of the year.
The next year, Carrera not only came back, but also had her best statistical season of her career. Carrera had a staggering .447 batting average and a 1.199 slugging percentage. She also led the team in home runs, runs batted in and on-base percentage.
3. Melinda Sergent, Track and Field 1991-96
Seven All-American honors, 12 conference championships, a plethora of school records and the 1995 NCAA indoor national championship in the women's 55-meter dash, Sergent's resume speaks for itself.
Sergent is on the short list of all-time great track and field athletes, men or women. Her reign of dominance as a sprinter in the early to mid '90s was unprecedented for a women's track and field athlete at UTEP.
It took 20 years for her school record in the 200-meter dash to be broken and her time of 6.73 seconds in the women's 55-meter dash has seen no threat since her departure.
2. Kim Turner Track and Field, 1981-84
Every track and field athlete has their niche and Kim Turner's niche was sprinting— specifically in the 60-meter and 100-meter hurdles. Turner claimed seven All-American selections and the 1984 NCAA outdoor national championship in the women's 100-meter hurdles.
Turner only claimed one national championship, but she posted six top five finishes in the NCAA championships over her four-year career at UTEP. Turner left UTEP as the fastest hurdler in NCAA history, setting record times both indoor and outdoors.
Former Miner Janice Jackson has eclipsed her 1981 indoor record in the past year, but her 1983 outdoor record still stands. Her time of 12.95 seconds has lasted for 31 years and she is the only Miner to break the 12-second barrier.
1. Blessing Okagbare, Track and Field 2008-10
Blessing Okagbare stands alone as the greatest Miner of the last decade, and in UTEP's track and field history. The 11-time All-American revitalized the women's program nearly single-handedly and claimed plenty of individual glory along the way.
Okagbare won four national championships in total, with three of them in different events—60-meter dash, 100-meter dash and the long jump. The Nigerian also collected 15 conference championships in three years.
Specifically, her 2008 and 2010 seasons were remarkable. During those two years, Okagbare set nine school records and finished the 2008 season with an undefeated record in the women's 100-meter dash and long jump.
Javier Cortez may be reached at [email protected]
About the Writer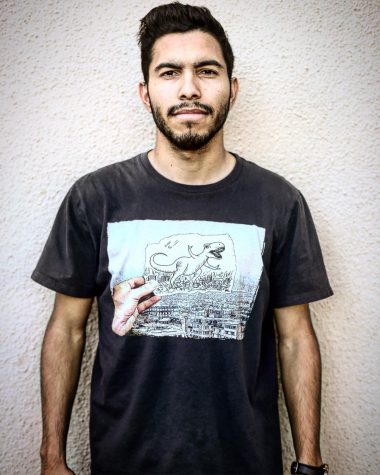 Javier Cortez, Staff Reporter
Javier Cortez is a staff reporter for The Prospector. He is a senior multimedia journalism major, with a minor in English Rhetoric.

Javier was born...