Tier One: The definition of success
For many years after its inception, the university solely offered a degree that was called an Engineer of Mines. Now, 100 years later, the university offers 71 bachelor's degrees, 76 master's degrees and 20 doctoral degrees.
With the university expanding, doctoral degrees being added and millions of dollars in research being spent, UTEP is on its way to becoming a tier-one university.
Many are confused about what exactly the university is trying to accomplish and why so much of the focus is being centered on reaching this status.
Carlos Dominguez, sophomore kinesiology major, said that university officials should do more to explain to students and the community about the university's progress in reaching tier-one status.
"I don't think they are applying it much in the way that they're not letting students know about the progress the university is making towards the tier-one goal, because I mean they are making improvements around the campus itself, but they are not really letting the students know the progress they are making inside that is academic and the programs that they might be bringing in," Dominguez said.
Alejandra Belmontes, senior special education major, said she had never heard the term tier one.
"I want to graduate and say that I am a graduate of UTEP because it is a good school, I want us to be proud of our school," Belmontes said.
UTEP President Diana Natalicio said that she wants to make sure students are not confused when it comes to understanding what tier one means.
"Tier one is sort of a handy label for a top category, and in my own experience, talking with students and people in the community, tier one seems to resonate as a concept that they don't get," Natalicio said.
According to Natalicio, tier one is a way of categorizing universities that are doing a level of research that is considered to be at the top.
"It's mostly about research," she said. "It's also about doctoral programs because doctoral programs go with research, but it's about the kind of university you are, it describes a category of university."
With $84 million in annual research expenditures already accomplished, UTEP must reach the level of $100 million annually in order to be considered a tier-one research university. This is in addition to 200 doctoral degrees awarded per year, a feat that UTEP has already accomplished.
There is no projected time for when UTEP will reach tier-one status, but Natalicio said the university is well |on its way.
"There is no organization or association that says 'you're there,' so you have to set some benchmarks and some milestones for yourself,"
Natalicio said.
The goals Natalicio hopes to accomplish include the university being able to fund $100 million in annual research expenditures and the second is to have 200 doctoral degrees awarded per year.
"We have already exceeded the doctoral degrees and we are at $84 million in annual research expenditures, and if you look at the trajectory and the growth of research expenditures, you can see that we are well on our way to 100, which is our goal," she said.
This tier-one mindset is something that students and the UTEP community are beginning to take on.
"What's hard for people to realize is that this is something that we have to be able to set goals for and if we set ambitious enough goals, everybody else is going to respect us," Natalicio said.
Even the newest members of the UTEP community seem to have already grasped the idea of the road to becoming a well-respected research institution.
Freshman computer science major Kenneth Ward is a part of fall 2014's incoming class. Ward said that upon his arrival at UTEP, he already had a basic idea of what tier one was.
"I heard about tier one when I attended the new student orientation and also at the UTEP prep program," Ward said. "Research is important because that is how you develop new ideas and refine ideas, so I think that is a good goal to pursue. If we conduct a lot of research it will give UTEP a reputation and make it a more respectable university and, therefore, our degrees would be more respectable."
Amanda Guillen may be reached at [email protected]
About the Writer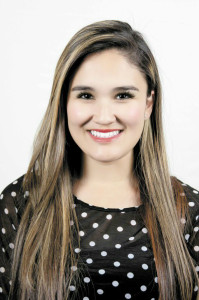 Amanda Guillen, Editor-in-Chief
Amanda Guillen is a senior multimedia journalism major with a minor in women's studies. She was born and raised in El Paso, Texas and graduated from El...