Greek Life continues to grow on campus after 100 years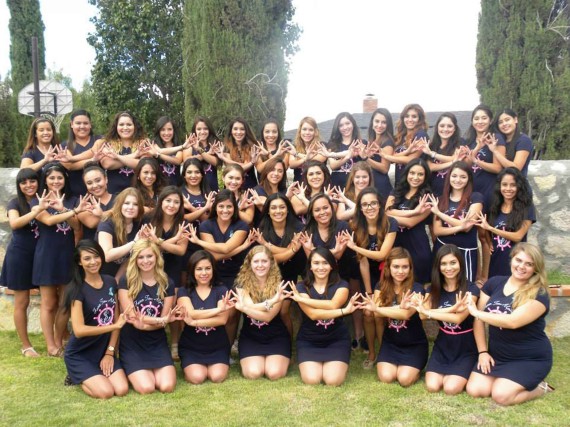 UTEP has many reasons to celebrate during its centennial year.  Fraternity and sorority life has been a prominent and prolific aspect of UTEP for many years, providing the university with philanthropic, academic and communal endeavors for all students who pledge.
The different fraternities and sororities that have called UTEP home have existed with many purposes and ideals, from religious and scientific to gender, ethnic and sexual orientation empowerment.
The current 14 active chapters on campus will gear up for the centennial celebration with an alumni reunion during homecoming week and a follow-up gala during the spring semester.  To reunite the alumni from throughout the year, Kristy Pacheco, coordinator of fraternity and sorority life, will dig deep into UTEP's existing chapters, as well as those whose presence is no longer felt on campus.
"It is an overwhelming amount of information and history to go through," said Pacheco.  "Nonetheless, it's very exciting and interesting to figure out the happenings of Greek life in UTEP's history."
Fraternities and sororities have been a part of the university almost from the beginning.  The first fraternity to become an official chapter at UTEP was Alpha Phi Omega, which was established in 1919. It still exists as a co-ed service chapter, but no longer as the local science group it originally was.  An array of chapters followed suit during the 1930s, with the oldest existing chapter still on campus, Zeta Tau Alpha, an all-female fraternity, which was formed in 1938.
The rich and deep history of Greek life at UTEP isn't just a mere historical and chronological reminiscence throughout the years.  There exists much rich history regarding fraternity and sorority life at UTEP that requires great research and in-depth investigation to grasp the impact it has had throughout the 100 years of UTEP's existence.
Alpha Phi Omega was the first Greek organization on the UTEP campus.  Although it is no longer an active chapter at UTEP, it began at the university and eventually became a national chapter, increasing to more than 200 chapters throughout the country. They regularly appeared in The Flowsheet, a yearbook-style publication that ceased production in 1970.
Throughout UTEP's 100 years, many fraternity and sorority chapters started up throughout the campus.  The first women's sorority emerged in 1924 as Phrateres International, followed by Omega Phi Delta in 1925.
One UTEP fraternity recently celebrated a milestone. Omega Delta Phi honored its 25 years as a UTEP chapter in April. Jaime Mendez, director of Student Support Services Program, started the chapter in 1988 along with three of his friends. They had gathered with a mutual friend, who was attending Texas Tech and had told them about pledging with OD Phi.
"He was so enthusiastic and excited about joining Omega Delta Phi that we were inspired to start our own chapter here at UTEP," Mendez said.
Mendez and his friends filed the necessary paperwork and met with a student organization council, bringing the second chapter of Omega Delta Phi to the UTEP campus. The move sparked conflict between the two chapters, since Mendez and his friends hadn't properly asked for permission from the alpha chapter.  Fortunately, another chapter started at the University of Arizona and forced the three chapters to meet in 1991 and create a chapter protocol to allow for future chapters.
Mendez said that back in 1988, the chapter had a few issues to deal with.
"We were basically the new guys on campus, the underdogs. We were primarily Hispanic on a campus that was primarily Anglo. A lot of members in different chapters were mainly athletes," Mendez said. "Here we were, a few Hispanic locals trying to create a chapter from the ground up with no substantial financing to help us out and no housing. We were just passionate about it and it snowballed from there."
Mendez now serves as an alumni adviser. The fraternity began with 10 charter members and gathered around 20 individuals throughout its first few years.  Now, the fraternity has 26 chapters nationwide and is a multicultural service/social organization.
"I foresee (for Omega Delta Phi) a continuation of university and community involvement," Mendez said. " We've had great academic standing and graduation rates for the last six years and I believe that will continue."
Different natures have sparked members with unique interests to take the pledge with a Greek organization.  Phi Mu Alpha Sinfonia is the oldest and largest music fraternity in the nation. The all-male music fraternity was established at UTEP in 1985.  Rick Rodriguez, a UTEP alumnus with a bachelor's degree in music education, was a member of the fraternity during his college years.
"Joining Phi Mu Alpha Sinfonia was one of the best things I could have done during my collegiate years at UTEP," Rodriguez said. "Being in a room full of men who have a deep passion for music helped my passion grow even further.  There are strong bonds that were made."
Rodriguez and his fellow brothers were responsible for providing ushering services for the music department during events, and they still continue that service to this day.
"I foresee Phi Mu Alpha continuing to grow and serve our community it a positive way," said Rodriguez. "As long as we have men who are passionate for music, Phi Mu Alpha will continue to grow and evolve into a symbol of leadership and passion
for music."
In any discussion about Greek life, the topic of hazing arises–a stereotype that has been embedded in Greek life that entails beer chugging, intense and degrading acts during the swearing in of members and infamous parties at their respective houses.  An article published by The Prospector on Feb. 24, 1983 showcased the crazy antics done by local fraternities.  "Members from the fraternity have done everything from driving golf balls off the roof of their frat houses to dumping trash on parked cars and even throwing oranges at campus police."
The Margaret and Peter de Wetter Alumni Lodge was once the Zeta Tau Alpha house and the Honors House was the old Lambda Chi Alpha residence. The university stopped funding for Greek residences in?
Throughout its first 100 years, UTEP has provided numerous women and men seeking the opportunity for an enriched and exciting college experience through Greek life.
"When I took the position as coordinator, I wasn't aware of the length and depth of its history," Pacheco said. "I am definitely excited to help continue providing UTEP students with a unique Greek life experience like it has been in the past.  As the centennial nears, we want students to know that fraternity and sorority life isn't entirely what they see in movies–it's much more than that. It's an enriching college experience."
For more information on Fraternity and Sorority Life at UTEP, Kristy Pacheco may be reached at 747-5670.
Jose Soto may be reached at [email protected]