The Prospector's Centennial football team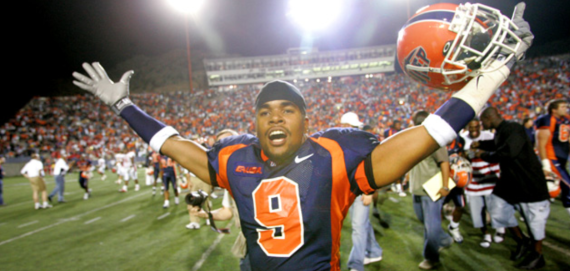 Anyone in the vicinity of El Paso knows that UTEP is not known for its football program. However, that does not mean the program has not produced talent in its 100 years of existence. From a team standpoint, the Miners are in the bottom percentile of Division I college football teams, but throughout the years there have been plenty of diamond in the
rough-type players.
Now that the football team is in its 100th season, The Prospector has made a UTEP football centennial team. In total, 42 players were selected to the list— 11 starters, three utility players and seven backups on each side of the ball.
The Offense: Although the Miners ran a multiple offense during Mike Price's tenure, his most successful offensive scheme came during his coaching days at Washington State. Both offenses are very similar in the way that they are ran—which is an offense predicated on using various formations, option routes and reading how many defenders are in the box.
The quarterback under center in this prolific pass offense is none other than Jordan Palmer. Even though most of his significant passing records were broken by his successor Trevor Vittatoe, Palmer is the most talented quarterback to ever play at UTEP. With all these offensive weapons, Palmer, is the right quarterback.
The best way to describe this offense is speed— the receivers on this team have that and more. They can spread defenses thin and beat secondary's over the top. Johnnie Lee Higgins was one of the fastest wide receivers during his time in college football and Kris Adams led the nation in yards per catch in 2010.
All-Americans Lee Mays and Brian Natkin round out the receiving core, but the icing on the cake is NFL Hall of Famer Don Maynard. His versatility gives the Miners many options— you could line him up in the slot, out wide or in the backfield and he can make plays.
Starters: QB-Jordan Palmer, RB-John Harvey, OT-Raymond Evans, OG-Trey Darilek, C-Robby Felix, OG-Darryl Moore, OT-Joe Macesker, TE-Brian Natkin, WR-Johnnie Lee Higgins, WR-Lee Mays and WR-Kris Adams.
Utilities: RB/WR-Don Maynard. RB-Howard Jackson. WR-Cedric Johnson.
Backups: QB-Billy Stevens, RB- Toriano Singleton, RB-Donald Buckram, TE-Eric Tomlinson, WR-Jeff Moturi, WR-Chuck Hughes and
WR-Chris Fancies.
Offensive Coordinator: Mike Price.
Offensive Scheme: One-back spread offense.
The Defense: Historically, defense has never been a calling card for Miner football—in fact it's been a let down to some of the best offensive teams throughout the years. Ironically, some of the best players to come out of UTEP played on the defensive side of the ball.
Former head coach Robert Dobbs (1965-72), is the defensive coordinator considering the fact that he had some of the best statistical defense of all-time when he was at the helm. Although the 4-3 defense is the most commonly used defense in college football and the NFL, the 3-4 scheme meshes well with this team.
Throughout the years, the Miners have produced many great linebackers and defensive backs, so a strong four-man linebacker set is imperative. On the outside you have Seth Joyner and Thomas Howard, who were two fast and strong coverage outside linebackers, who can take one running backs coming out of the backfield or speedy slot receivers.
On the inside, Fred Carr and Barron Wortham take care of the rest, these two combined are like a black hole—swallowing everything up that comes into their vicinity. The Miners' secondary is no slouch either, and in a nickel package they are even better. Ball hawking safeties Quintin Demps and Braxton Amy were two of the best open field runners in college football, who could take a interception back for six points.
Starters: DE-Tony Tolbert, DT-Brian Young, DE-Chris Mineo, OLB-Seth Joyner, ILB-Fred Carr, ILB Barron Wortham, OLB-Thomas Howard, CB-D.J. Walker, CB-Grady Cavness, SS-Charlie West and FS- Quintin Demps.
Utilities: DL-Gonzalo Floyd, DL-Herman Whiting and DB-Braxton Amy.
Backups: DL-George Daney, DL- Carlos Scott, LB- Robert Rodriguez, LB-Hal Barnett, LB-Michael Comer, DB-Danny Taylor and DB-Adrian Ward. Defensive Coordinator: Robert Dobbs
Defensive Scheme: 3-4 Defense.
Special Teams: K-Chris Jacke, P-Owen Price, KR-Autrey Golden and PR-Hugh Harman.
Javier Cortez may be reached at [email protected]
About the Writer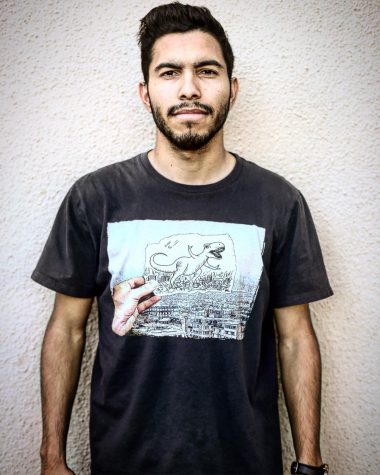 Javier Cortez, Staff Reporter
Javier Cortez is a staff reporter for The Prospector. He is a senior multimedia journalism major, with a minor in English Rhetoric.

Javier was born...