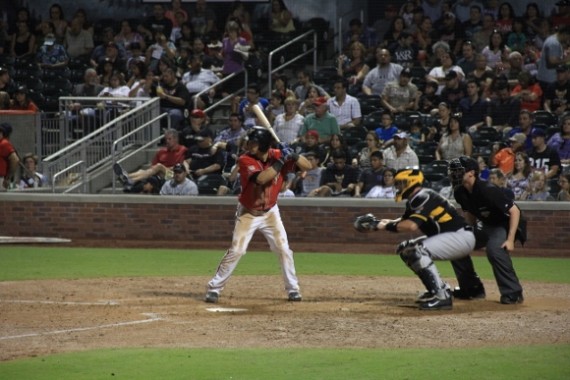 A big fourth inning was the difference for the El Paso Chihuahuas as they evened the series up against the visiting Salt Lake Bees tonight at Southwest University Park.  In front of a crowd of 9,837, the Chihuahuas got their 70th win of the season with a final score of 9-7.
The game was tight with the home team leading by a single run going into the bottom of the fourth inning, that's when bats came alive.
Bees' starting pitcher, Wade LeBlanc, allowed five runs and the Chihuahuas never looked back.  After Chihuahuas' first baseman Cody Decker grinded out a walk, LeBlanc gave up a bomb over the center field wall to Yeison Asencio.
The trouble for the Salt Lake's right-hander continued with nobody out, Taylor Lindsay doubled to right center field bringing in a fifth run for the Chihuahuas.
LeBlanc didn't get much help from his defense either.  On what seemed to be a routine pop fly from Johnathan Galvez, the ball flirted with the foul line before landing fair between three Bees' fielders who failed to make the play.  The ball bounced into the stands resulting in a ground-rule double and producing two more runs.
Chihuahuas pitcher Matt Wisler may have been the biggest beneficiary of the El Paso offensive surge.  Wisler got his 9th win of the season after pitching 5.1 innings allowing 8 hits and 4 earned runs.  The 21 year-old pitcher finished his outing with an ERA of 5.1 and 6 strikeouts.
The visiting team made one last run in the ninth inning after a couple of errors kept the opportunity of a comeback alive.
With one out on the board, the score 9-4, and a man on first base, El Paso shortstop Tyler Greene let go the opportunity to turn a game ending double play when he failed to catch the throw at second base.  After three runs and another out, a double to right field would bring the tying run to the plate.
Closer Dennis O'Grady was able to get out of trouble ending the game with a strike out exactly three hours after the first pitch was thrown.
The Chihuahuas keep their hopes of finishing the season at .500 for the second season in a row, something a San Diego Triple-A affiliate has not done since 1984.  They will take on the Los Angeles Angels affiliates two more times to finish off the 2014 season.  Scheduled to start for the Chihuahuas are right-hander Joe Wieland on Sunday and major leaguer Jason Lane on Monday.
Luis Gonzalez may be reached at [email protected]