The El Paso Chihuahuas beat the Tacoma Rainiers on a hot summer midday by a score of 7-6. Jeff Francoeur hit a walk-off single in the bottom of the ninth inning. Good player execution and managerial strategy helped win this game.
This game was originally to be played on Thursday but equipment got in late and the game was postponed for today.
Alex Castellanos, the left-fielder, got a double to begin the inning. Tyler Greene, the shortstop, hit a sacrifice bunt to advance the runner. The Rainiers intentionally walked Brooks Conrad and that is when Francoeur stepped up to deliver the winning run.
On the mound to start the game was Chris Smith was not even on the roster for the game. The San Diego Padres purchased the rights to the right-hander from the Sugar Land Skeeters of the independent Atlantic League of Professional Baseball.
Smith was drafted by the Red Sox in 2002 and played for the Milwaukee Brewers in 2008.
He struck-out eighth batters in six innings while allowing only one run.
The Chihuahuas had a 6-1 lead going into the seventh inning.
It was a quick start for the Chihuahuas. In the first, Brooks Conrad got a two-run triple and was then brought in for a run by Jeff Francoeur's sacrifice fly. El Paso went up 3-0.
Fast-forwarding to the fourth, Smith struck out the side and in the home half of the inning. Cody Decker hit a solo-homer, which was then followed by an Castellanos' 2-run homer.
The Chihuahas were cruising from that point. Beginning in seventh is when the Chihuahuas struggled from the mound.
They used two pitchers after Smith's game, Tim Sexton and Dennis O'Grady.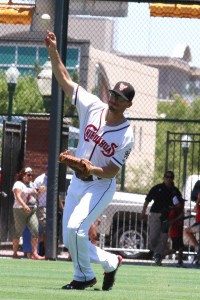 The Rainiers got a run in the seventh, three in the eighth, and one home run in the ninth to tie the game.
There were 6,527 fans in attendance at the ball game.
O'Grady gets the win for the home team and the reliever for the Rainiers, Todd Coffey, is charged with the loss.
The Chihuahuas are on a four game winning streak and stand second in the division at 39-43.
They play again tonight at 7:05 p.m.
Luis Barrio may be reached at [email protected]