Downtown businesses see minor increase with new baseball stadium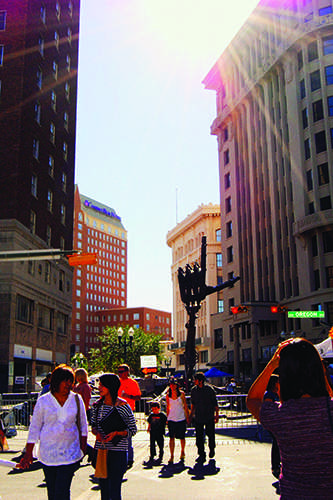 The Southwest University Ballpark, conveniently located in downtown El Paso, opened on April 28 and baseball fans have been flocking to the stadium ever since. The local downtown attraction has proven to be both entertaining and lucrative for El Pasoans. 
The El Paso Chihuahuas have brought in big business for the team—with several sold-out games along with food services and merchandise from a variety of vendors and merchants. However, they are not the only ones benefiting from their success. The businesses surrounding the ballpark have also seen positive results.
Game goers have an array of options for their wining and dining experiences.  The ballpark is located in close proximity to several restaurants, bars and hotels, which have been profiting since the ballpark's opening.
One of the hotspots located near the ballpark is EPIC Nightclub, located on 510 N. Stanton St.  David Castillo, co-owner of EPIC, said the increased business due to the baseball games is "all good."
"I haven't seen so much hustle and bustle in downtown in the evening in a long time. Although the parking for our patrons and staff is not the best, it's great for the city's growth. We at EPIC love it," Castillo said. "The games have definitely been impacting my patrons and we do get a few after-gamers come in for some drinking and dancing."
EPIC has also shown their support for the ballpark with specials and advertising.
"We have implemented our support by posting up El Paso Chihuahuas' posters and offering our guests $2 drinks when sporting their EP Chihuahua gear," Castillo said.
Around the corner from EPIC is Craft and Social, a local business that caters to craft beer and wine partisans. Rafael Terrazas, co-owner of Craft and Social, said that he has felt a positive effect due to the games.
"Mostly it's people coming in for a drink before or after the game," Terrazas said. "We don't always get a large ballpark crowd, but we have felt it on certain days." Terrazas said the ballpark has been good not only for his business, but also for the city itself.
"The ballpark has mostly brought good effects in a direct and indirect way. Directly, more people come in during games. Indirectly, I believe that it's accustoming people to come downtown and not be afraid to look for parking and walk a little," Terrazas said.
Craft and Social offers happy hour specials until 7 p.m. on game nights.
Yet, not all game attendees opt for bars or nightclubs when a game lands on a week night.
Alejandro Ramirez, junior media advertising major, works at the downtown Starbucks, located inside the Mills Building.  He said that they have also had some game goers trickling in through their doors.
"Business picks up a bit before the game, then dies down," Ramirez said. "The major change our location has undergone is our business hours. We stay open an hour later on Fridays and have to open on the weekends when there are games. Before, we didn't open on the weekend. Business overall has picked up and I would say some of it is because of the games during the week."
The Camino Real Hotel is located down the street from the stadium and has also seen changes. Mark Giesemann, director of sales at the Camino Real, said the hotel sees an increase in business during game days.  
"We see an increase at the restaurant and bar during game days, mainly at our bar since it has always been a local favorite to enjoy an alcoholic beverage," Giesemann said.  "We even see an increase inside our parking lot, where some game goers prefer to park their vehicles instead of leaving them on the street."
Giesemann said that the ballpark has increased their monthly financial revenue by roughly 10 percent.
"It's a small, but substantial increase that we've seen that mainly comes from the ballpark," Giesemann said. 
According to Giesemann, the Camino Real offers discounted deals for ticket holders both at the restaurant and bar, which he said helps lure in the crowd.
One downtown business is especially thankful for the ballpark opening. What once was The SoHo Lounge has revamped its business intent and name. They are now known as SoHo Sports Pub. Manager Jacob Rodriguez said the opening of the ballpark was the reason they renamed their location.
"We know that with the opening of the ballpark, we could attract a new set of clientele if we took a different approach to our business," Rodriguez said.  "Being so close to the stadium, we knew that we could attract all the people attending the games if we followed suit with the appeal of sports".
Rodriguez said that their busiest times are on game nights.
"We remodeled our location to accommodate the people attending the games. We've definitely have seen a spike in business after the games, when people walk to their vehicles and such and step in for a drink," Rodriguez said.
SoHo Sports Pub offers drink and food specials during game nights, which have helped their sales and revenue to stay consistent.
Both Rodriguez and Castillo say the ballpark has had a positive effect for their businesses.
"We like that the ballpark has been very good to our business," Rodriguez said. "We've maintained good sales because of it."
Jose Soto may be reached at [email protected]