El Paso Needs to Become Bike-Friendly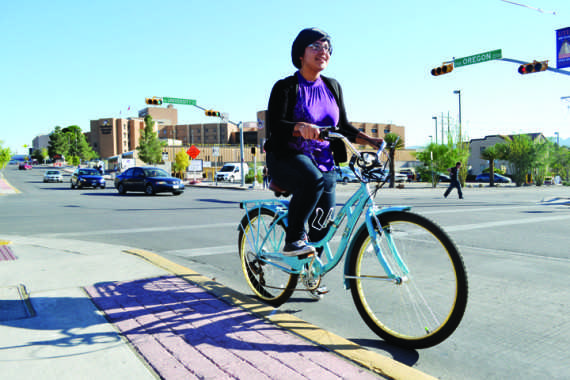 Bicycling in this city seems to be allocated to merely a few spots that are bike-friendly or on biking trails. Some El Pasoans, however, are advocating to change that.
Last year, the El Paso Metropolitan Planning Organization and Transportation Policy Board approved spending $2.3 million in citywide bicycling infrastructure. They have constructed new bike lanes — mainly in downtown ­— in support of the El Paso BikeShare program, which would ultimately allow pedestrians to rent a bike with a swipe of a credit card and use it to venture downtown.
Other big Texas cities such as Austin have already implemented a similar program called B-Share.
The primary local group who has been advocating to make El Paso bike-friendly is Velopaso, an up-and-coming organization of avid bicyclists from across the Paso del Norte region. It is composed of members who previously met during last year's El Paso Bike Month, which is annually held during the month of May. Velopaso is dedicated to improving bicycling and pedestrian conditions in El Paso.
They helped city council approve a Bicycle Advisory Committee and have been working closely with Bike Texas, a non-profit bicycle education and advocacy organization, to help make El Paso more convenient to bicyclists. Velopaso also recently filed paperwork to become a non-profit organization.
In February 2014, Velopaso, along with city officials, welcomed bicycle specialist Stephan Clark from the League of American Bicyclists, a non-profit organization that promotes bicycle safety nationwide. He toured the east, west and downtowns area of El Paso to see firsthand how the city is going about implementing bike lanes and looked at what additional plans the city has to further develop bike-friendly conditions.
Melissa Lugo, equity advisor at Velopaso, thinks that El Paso can easily become a bike-friendly city.
"El Paso has a significant invisible cyclist population, given our demographics, economics and favorable weather year round," she said. "There are proven economical and simple methods available for making streets safe for all." 
Austin has a bicycle advisory committee and El Paso City Council recently passed an ordinance to form its own too," Lugo said. "The pedestrian and cycling community use the streets in their current state, however, we will see a rise in multi-modal use for transportation with the introduction of NACTO Urban Bikeway Design Guide adopted by the city, Sun Metro Brio rapid transit system and the Camino Real Regional Mobility Authority Bike Share program."
Lugo also said that the streets of El Paso are public spaces and they belong to everyone—pedestrians, cyclists, public transportation users and private cars.
"The implementation of streets for people in every other city such as Indianapolis, Tucson and Austin has been through a top-down approach, starting with elected officials, city departments and the El Paso community," Lugo said. "There has to be a collaborative partnership between these three sectors."
Lugo advocates for more bicycling initiatives because of their civic benefits and their health benefits, too.
"Bicycling is simply a more efficient way of walking. It has great health, environmental and economic benefits," Lugo said. "The bicycle is more than just a recreational tool. Bicycling is empowering, enlightening and invigorating. In advanced cities throughout the world, the bicycle is a viable option for transportation. There are proven physical and mental benefits. It is  both functional and entertaining, but most importantly, it's fun."
Lugo and the rest of the Velopaso team recently held bicycle safety classes on Earth Day in the Union East for UTEP bicyclers, such as Rasmiyeh Asam. Asam, a graduate student in education, rides her bike around campus and throughout the city. 
"Bicycling in El Paso is definitely growing, but it surely has room for improvement. I think it would be cool if El Paso utilized the mountains because we are lucky to have them. It would be great to create a bike park, which could include a lift for mountain biking," Asam said. "This could also help promote the city to become healthier and more active as well as bring bike events, races, tourism to the city and create jobs. Also, there needs to be more bike lanes throughout the city for the road because drivers don't seem to what to share them."
According to Bennett Foster, president of Velopaso, El Paso is falling behind other cities with regards to bicycling and pedestrian
education and safety. 
According to Foster, a recent study was conducted where El Paso had the lowest percentage of bikers and walkers and ranked last in the bicycle infrastructure when compared to 51 of the largest cities in the U.S.
"The bottom line is that El Paso hasn't done enough to make people feel safe riding their bikes. If our bike lanes are not inviting, obvious and convenient, bicycling will never become an attractive, viable transportation option in El Paso," Foster said.
Foster also said that in order for the city to improve, it has to follow a few guidelines. 
"El Paso can take the first steps to reverse this trend by following the recommendations in the report card: create a comprehensive, connected bicycle network, launch community-wide bicycle education courses, create a bicycle master plan, create and enforce local laws that promote safety and accessibility for bicyclists and hire a bicycle program manager to implement the bicycle master plan and run the bicycle program," Foster said.
For more information on Velopaso and to see a list of hosted events, visit velopaso.org.
Jose Soto may be reached at [email protected]