Roberto Dominguez, SGA president shares his plans for presidency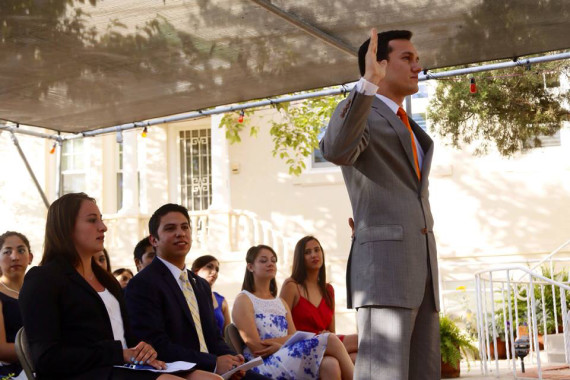 The keys jingle as he opens the door to his new presidential office and Roberto Dominguez, junior biochemistry major, smiles back at his fellow Student Government Association-elected officers.
He welcomes them in.  "This is your office as well," he tells the other representatives, who walk in to see the spacious quarters. "Feel welcomed all the time."
Dominguez officially began his presidential term on June 9, and he's already been drawing up ideas in his agenda for his presidency.
Dominguez and the other elected officers, were sworn-in on May 30 at the annual ceremony held at the Hoover House, President Diana Natalicio's home. Ther he addressed his new team, members of Student Affairs and fellow Miners.
He assured them that his main goal was to have more direct contact with the student body at UTEP.
 "I definitely want to see more interaction between SGA and the student body this year," Dominguez said.
Casually dressed
in a T-shirt, blue jeans and a cap, Dominguez seemed at ease. The following is a Q and A with the newly appointed SGA president.
Q.) You ran as an independent candidate during your campaign for president.  Do you feel like that is reflective of the current student body?
A.) A lot of the student body are independent, we're on our way. We come to school, we work, we do our jobs. We are a commuter school. We all have our own agenda. That being considered, I thought that maybe more people would want to run for SGA seats independently, but they shy away because they don't know people from a party or reasons of that nature.
That is one of the things I want to communicate this year–that if you want to, you don't have to run with a party.  You can run by yourself. If you have the initiative and the objective for change, you should run regardless of belonging to a party.  Perhaps more people can identify with people who don't necessarily belong to a group.
Q.) During your campaign, you had to socially put yourself out there. How do you plan to con-tinue doing so now as president? 
A.) That is exactly what I want to do with SGA as president. My main concern is talking to students. It starts with going to the classroom and around campus to introduce myself and let them know what my plans are.
Not only the classroom, but if people are just sitting around campus, then I have that opportunity, too.  During my campaigning, I wasn't always looking for a big group of people.  I would sit down with two people and introduce myself.  I would get on Miner Metro, in the Union while people ate and introduced my plans.  I plan to continue doing the same now as SGA president. If we're going to be the students' voice, we need to listen to them.
Q.) During the campaign, there was some controversy with the sanctions that were issued to parties who violated election codes.  What was your personal experience with that? 
A.) It didn't personally affect me too much. There were parties who were greatly affected.
My thing on sanctions is that they are a burden to deal with. We are here to introduce ourselves to the student body as individuals who want to help them. They take away from the opportunity to engage with them. What is important, is to know what you can and can't do.
That is something that I want to change this year, specifically our election code, so that it is easier to follow and there aren't any loopholes. If we do that, we can actually focus on what we need to be doing, which is attending to the students.
Q.) A lot of what the sanctions dealt with, and the entire campaign this year, involved social media. How do you feel about social media being a part of your term in office? 
A.) I'm a very old-fashioned guy, traditional even.  I prefer to talk to people one-on-one. I even prefer phone calls over texts. I understand the significance of social media, I know it's important. That's how I got a lot of my information out there.
I plan to continue with that. For example, I want to post video monthly reports that showcase what we are working on. I realize that most students don't always check their email, but they constantly check their social media outlets. SGA will definitely be putting up their events up on there.
Q.) You've said you plan on a lot of student interaction during your presidency, especially with bringing student ideas up during discussions.  How do you plan
on doing so? 
A.) First off, we're going to continue to have a white board, where students can write their opinions, ideas, suggestions or comments–whether they're good or bad. We will divide all the comments into categories and hold panels.  During the panels, we'll invite the different administrations or departments involved with the student's comments.
For instance, if the comments entail parking, we'll bring in parking administration.  Of course, students are invited to attend.
I also want to establish a committee, where students can be directly involved with SGA. Where you don't have to be part of it to help us out.  We'll brainstorm, hear their ideas and suggestions.
A simple, but also big thing is that I'm going to have everyone's office hours posted outside of the office, and a website so that when someone wants to speak to anyone, we are here for them. Accessibility is key with me.
Q.) You've mentioned you want to better student events and student life. What are your plans for that? 
A.) I want to establish a lot more community service. Project Move is great, but it's only once a year.  If we can have more events like it, that would be great. I plan on teaming up with Miner Volunteer Corp.  We have a committee called Student Affairs, and I want to help students from different colleges interact.  Of course, during the first few months, I'm going to talk to students and see what kind of events they would like.
Q.) You've mentioned you have ideas for monetary awards for students. How do you plan on implementing them? 
A.) We already have that going on!  It's called the D.I.G. symposium (Dream. Innovative. Grow). The concept behind it started last year, where we wanted to award financial help not just to those with the adequate GPA, but for anyone to get that assistance.
What students need to do is present an idea of how to improve different aspects of our university.  We pick the top 10 and present at the symposium. A panel of judges will choose the three winners. VPSA also helps us award money to students with innovative ideas on how to improve student life.
Q.) As a biochemistry major, what plans do you have regarding your department? What about other less predominant departments? 
A.) We have a lot of undergraduate research that students are just not aware of.  The UT System publishes a magazine with all of the research they are undergoing, and I think that something of the kind would recruit more undergraduate students.
A mentoring program would be ideal, too. Overall, we want to generally have success rates. Last year, our collegiate center for liberal arts was very helpful.
We started a liberal arts council, with students representing the entire college. It was awesome to showcase what students from different majors showcase what they are doing, different musical projects and especially the marvelous art work that is produced. I surely want to showcase that more. All the recitals, the exhibits–I want to bring more attention to them.
Q.) You've mentioned you want more collaboration between SGA officials and yourself during your term. You've stated everyone had great ideas, but it works better if you work at unity. How are you going to ensure that that happens?
A.) It starts first with helping one another. We need to get to know each other so well that we understand that we are a team. I advocate for transparency amongst ourselves and encouragement to share ideas.
That's the only way to ensure that all the voices are heard. That also helps that voices outside of SGA are heard as well. At the end of the day, we all decided we all wanted to serve the students.
As long as we all want to serve our student body, we should all have the same platform.  Yes, different ideas and different perspectives will fly and we will grow throughout the term, but the same idea will remain. We are all excited to help the university and its students.
Jose Soto may be reached at [email protected]