Dying and coming to life again at Tough Mudder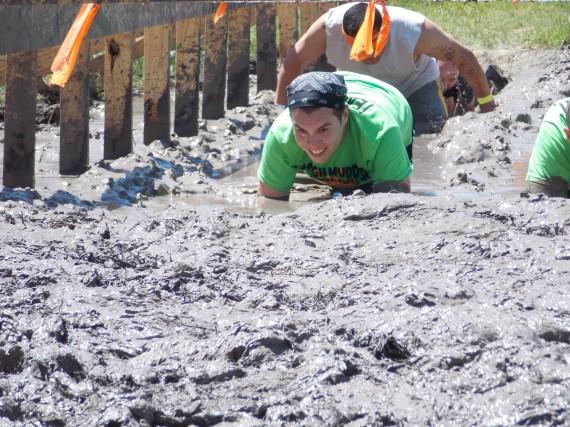 In the middle of Central Texas, about an hour away from Austin, at a remote rural location surrounded by gigantic trees, farmland and mud, I died.  I fell to the muddy ground, gasped and died.  Luckily, just a few hours later, I was reborn again.  My experience at Tough Mudder was like a resurrection.  Not like the biblical one, but a mental one.  I went in one person, and came out another.
Earlier this year, my sister and her husband—who are what you might call annoying fitness junkies—proposed the idea of signing up for Tough Mudder, an event they had previously participated in.  Trying to get into better shape myself, I agreed to it.  My brother followed soon after. Yes, a brief description was given, but it didn't quite conceptualize what Tough Mudder is all about.  I gallivanted through cardio sessions and comical weight lifting and squatting, imagining myself running through obstacle courses like a Roman warrior, born to conquer even the toughest fitness regimen.
As the day came closer, however, the reality began to settle in.  What the hell had I signed myself up for? From watching videos and former tough mudder-ers sharing their experiences, it became clear: I had basically signed myself up for either my own death or a substantial hospital bill.
The starting point for Tough Mudder requires you to jump an 8-foot wooden wall.  That's how it starts! You haven't even begun and you've already scrapped your knees.  An emcee hypes you up by giving you words of encouragement and telling you inspiring stories of aspiring attendees.  In my case, it was of a blind man, who had begun to course before me.  I couldn't fathom the idea of running the event without being able to see.  I basically had no excuse for not finishing.
The first few courses were done in stride and with cheer.  I ran through clumpy amounts of mud and crawled through a pool of it with barbwire hanging over my head. I walked through a narrow log. I laughed and thought this was going to be a piece of cake.  A few obstacles down, that piece of cake was thrown at my face.  Covered in mud from head to toe, I had to climb up two—TWO—walls that were 12-feet tall.  That's when I knew this was going to be the toughest thing I had ever done.
I honestly felt like giving up.  There was no way I was going to finish this alive.  I already felt tired and defeated.  "The blind man," I kept telling myself.  I recollected myself and kept going.  Up ahead: seven hills of mud with pools of water in between. Imagine that.
The thing about Tough Mudder is that, yes, it is intensely physically demanding, but it's even more mentally demanding.  You have to keep pushing yourself and telling yourself that you can indeed do this.
Through climbing ropes, walking up slanted muddy walls, crawling in dry, pointy grass, swimming in a tank full of nothing but ice, and then, at the finish line, running through a field of hanging electrically charged strings, you have to constantly keep telling yourself that you are a Roman warrior designed for this kind of stuff.
Several cuts later, bruised, beaten up and with my legs shaking, I finally reached the finish line.  It was the toughest 12 miles I had ever run through.  It was the most my body had ever endured.  It was the most cuts I had ever received.  My legs felt as if they were made out of putty.  It felt amazing.  The sense of accomplishment and endurance you get upon finishing is enough to bring you tears of joy.
A complimentary beer is given to you at the finish line.  My brother, sister, brother-in-law and I hugged and gave a toast.  I can't think of a time I gave a more honorable and well-earned toast in my life. I left Tough Mudder feeling like I could do anything I full-heartedly wanted to do. Something changed about me in the middle of that obstacle course field. I no longer feel like I can't do certain things.  Perhaps it'll take some more toughening up, but I am confident in my ability and I thank Tough Mudder for that.
Jose Soto may be reached at [email protected]
About the Writer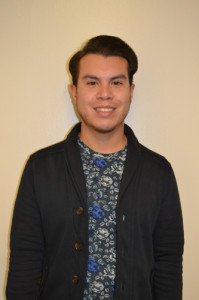 Jose Soto, Staff Reporter
Jose Soto is a multimedia journalism major with a minor in creative writing. He joined The Prospector team in November of 2013 as an entertainment reporter....