Q & A with Davina Meza, UTEP tennis player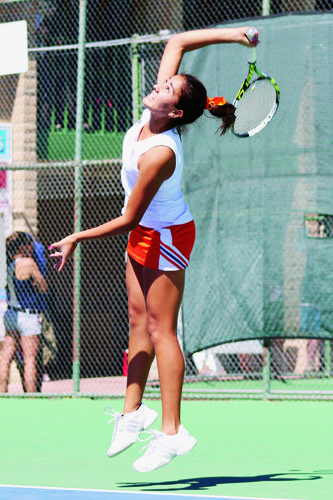 The UTEP women's tennis team has had trouble finding success in an unlucky season with coaching changes and player's injuries, but junior transfer Davina Meza has been an exception to a troubled season.
After transferring from Cal State Stanislaus, Meza concluded with one of the best individual seasons UTEP women's tennis history. The junior captured 47 combined wins in singles and doubles, which is the third best in program history.
Meza was kind enough to chat with The Prospector about her early playing days, adjusting to UTEP and future goals after college tennis.
When did you start playing tennis and why?
"I started playing at the age of 6. I just saw girls playing at a club and I just asked my mom to do the same. I didn't even know what the sport was called, and the next day my mom just bought me a racquet and I have been on the court since then."
Were there any other sports that you played when you were young?
"I started to play volleyball at the age of 8 and I was doing both until I was 12. My tennis coach told me I had to pick one sport because I was struggling with the schedule, so I picked tennis."
Where are you originally from?
"In my bio it says I am from New Zealand. Originally my family is from Bolivia, but I was born in California, so I have been all over the place. Every time I go back home though, I go to New Zealand."
What was junior tennis in South America like?
"It was tough and very competitive, the girls play at a high level. Then when I moved to New Zealand, the girls were much stronger than back in South America. We always had a circuit at the beginning of the year, so I would travel all around South America."
What is the biggest junior tournament you have ever played?
"I have played in South American tournaments, where the three best of each country in South America get together and play and the top three countries go to the European tour. We got fourth when I was 16 then I moved to New Zealand."
"The only tournament after that which I played was the amateur Australian Open. It was quite exciting, my partner and I won the mixed doubles and I lost in the quarterfinals against a girl from China (singles). I played that tournament months before coming to college."
How big was junior tennis in shaping you into the player you are today?
"It helped me a lot. You play girls all over the world and playing just gave me a lot of experience. Now I am happy I did it, even in college we play girls from all over the world and it is not intimidating anymore."
Why did you transfer to UTEP?
"My idea was to transfer to a D1 (Division 1) that was always my plan. (Former head coach Mark Roberts) was talking to me almost every day and was insistent about me coming here. The thing I liked about the roster was that it was international. He told me that if I needed one more year after my eligibility was done that UTEP would pay for it. I thought it was a nice place, nice weather, so why not."
What is the best thing you like about UTEP and El Paso?
"It reminds me of back home. Coming here it is like more of my culture since I am Hispanic, but also the diversity as well. I feel closer to home even though I am further away."
Did you know about your record-setting accomplishments?
"I read about it in the news, but I was very excited when I read about it in the article that came out after conference. I felt so proud because my hard work is paying off and I can see it right there. So I am really happy and glad that I transferred and made an impact right away. It was very positive and hopefully I can keep it up next year and win more matches because it is going to be my senior year, but I am very happy with the results that I had this year."
How hard was the coaching change in December?
"It was very tough, personally I found it very tough. Especially because she (head coach Myriam Sopel) was new and things were different with Mark (Roberts). It was not a good time to come because we were halfway through the season and it was tough for everybody. I struggled a lot, but even though that happened to us, everyone was focused on winning and representing UTEP as best as we can."
Over the past year, has there been an improvement in your game?
"I think transferring to UTEP was a huge change and it helped my game. There is so much competition and it is stronger here. Playing at the No. 2, I am surprised I won that many matches. So I am definitely happy with my game right now."
How would you describe your game?
"My winning shot is my forehand, I think I have a very good forehand and I am a very aggressive player. I am a baseline player, but I am always aggressive from the baseline and anywhere else on the court."
What do you need to improve on going into next year as you become No. 1 on the team?
"Well I am not sure if I am moving to No. 1 because there are new girls coming in. If I do though I need to get physically stronger and more consistent. I have played girls that hit just as hard as me, but it depends on who hits one more ball in. I am excited for it, and looking forward to playing more."
What's next after college tennis?
I have one more semester here once I am done with my eligibility, but I am going to travel around Europe and keep playing. I played so many years and have put so much effort into it, I cannot stop playing. So I am going to give it a go."
Javier Cortez may be reached at [email protected]
About the Writer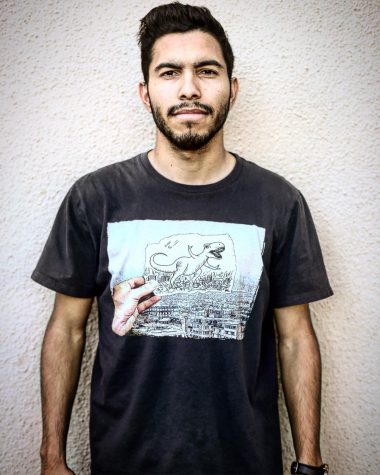 Javier Cortez, Staff Reporter
Javier Cortez is a staff reporter for The Prospector. He is a senior multimedia journalism major, with a minor in English Rhetoric.

Javier was born...