Meza finds immediate impact on the court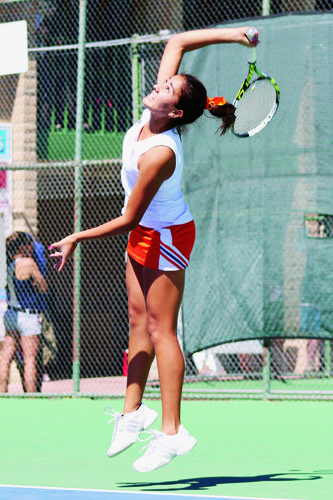 "
I am glad that I transferred and made an impact right away"
— Davina Meza
Players coming in and leaving are part of the process in collegiate sports. As three players left the tennis team last season, there were two newcomers for the 2013-14 season. One of them was junior transfer Davina Meza. Meza proved to be a shining light in a dim and dark season for the UTEP women's tennis team.
In her first year with the Miners, Meza has already left her mark on the team–finishing with a team-best 24-11 singles record, and winning her last nine singles matches. Meza has proved her worth with a 23-9 doubles record with senior partner Rebecca Calvillo. In total, Meza won a combined 47 matches, which ranks third best in a single season in program history.
Ultimately, Meza was rewarded with All-Conference Honors to go along with her record-setting marks.
"I feel so proud because my hard work is paying off," Meza said. "I am glad that I transferred and made an impact right away. I hope I can keep it up and win more matches next season, but I am very happy with the results that I had."
Meza's results are even more impressive considering the trials and tribulations she and her fellow teammates had to go through with a coaching change weeks before the start of the season.
"Personally, I found it very tough," Meza said. "It was not a good time for a new coach to come in, so it was tough for everyone. I struggled a lot, but even though that happened to us, I think everyone was focused on winning matches and representing UTEP."
Having to go through struggles is nothing new for Meza. In her junior career prior to college, Meza traveled all around South America and Europe playing against stiff competition.
"I have played girls all over the world—from Europe to South America, but just playing has given me a lot of experience," Meza said. "I'm happy I did it because I know how to deal with it, and now in college we play girls from all over the world."
Through her years of traveling as a junior player to her first year playing Division 1 tennis, Meza has seen her game improve tenfold.
"Transferring to UTEP was a huge change and definitely helped my game," Meza said. "There is so much competition and the competition is stronger here. I am surprised I have won so many matches at the No. 2 spot. So I am definitely happy with my game right now."
With all the success Meza has had this year, one thing that she has retained is humility. Meza will most likely be playing No .1 for the Miners next season, but taking things for granted is not her style.
"If I do move to No. 1, I need to improve," said Meza. "I will need to get stronger and I need to be more consistent. I am excited for it and I'm looking forward to be playing more."
Win or lose, Meza is going into next season with the intention of working hard, and leaving a legacy as the girl who worked for people's respect and ultimately succeeded.
"When people talk about me I want them to be inspired," Meza said. "I just want people to talk about me with respect, and know me as a nice girl that was hardworking and always worked hard for what she wanted."
You can read the full Q&A with Meza here: https://www.theprospectordaily.com/showcase/2014/05/07/qa-with-davina-meza-utep-tennis-player/
Javier Cortez may be reached at [email protected]
About the Writer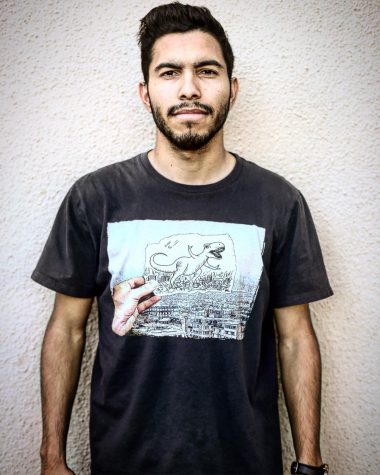 Javier Cortez, Staff Reporter
Javier Cortez is a staff reporter for The Prospector. He is a senior multimedia journalism major, with a minor in English Rhetoric.

Javier was born...