A guide this years' commencement ceremony
Graduation is always an exciting and thrilling time for graduates. Celebrating this accomplishment may be important to anyone who has overcome the struggle to earn their degree. However, this spring's commencement will be different with the 2014 centennial theme. This means that special features have been allocated for the centennial commencement, and special precautions should be considered.
The 2014 spring commencement will be held at the Sun Bowl as opposed to previous ceremonies that have traditionally been held at the Don Haskins Center. This includes changes that all graduates, and their families, should prepare for.
For graduates, the main concern is the extensive walk from registration at the Don Haskins, across Glory Road, through parking lot P-9 and toward their final destination at the south entrance of the Sun Bowl.
The following should be taken into consideration by graduates:
Glory Road will be cordoned off while the graduates are heading toward the Sun Bowl. So if people are intending to park at parking lot P-9, they should do so with enough time prior to the ceremony.
Minimizing pain, discomfort and injury is primary. Krystal Reyes, assistant coordinator at University Relations, advises graduates to wear comfortable walking shoes to manage the walk. For students who encounter any injuries or dangers during the walk, experienced EMTs will be on hand. Reyes also said that water bottles will be offered to graduates along with their programs.
Backpacks, cell phones, purses and coats are not permitted to enter the Sun Bowl, so please leave these items at home or in your vehicle. You can also, as an alternative, register these items at the Don Haskins Center during registration and pick them up after the ceremony. Beach balls, confetti and silly string will also not be permitted.
Sun Bowl ceremony calls for measures for people in need of accommodations:
For those persons needing Americans with Disabilities Act accommodations, measures have been taken as well.
Parking lot R-6 at the Student Recreation Center off Sun Bowl Drive will be reserved parking for those needing ADA parking. A shuttle will pick these individuals up and drop them off at P-7, which will be directly in back of the seating area, which will be located on the west side of the stadium. ADA parking will also be available at P-6 across the street from the west side of the stadium as well.
Be advised that if you park at P-9, there won't be a way to get to the west end of the stadium, which is where the ADA seating is located. You may also park at the Sun Bowl Parking Garage, which connects to the Sun Bowl parking lot via a sky bridge, but it will be very difficult for those using a wheelchair to access the ADA seating area. The shuttle will pick up ADA patrons behind the Sun Bowl Parking Garage in Miner Alley.
There will be 30 reserved wheelchair spaces near the press box and 17 other designated spaces near the north entrance.
An interpreter will be on stage and broadcasted through big screens to assist those with hearing impairments. Bill Dethlefs, director of the Center for Accommodations and Support Services, urges students and family members in need of accommodations to contact CASS at either 747-6197 or 747-5148
to make prior arrangements.
There is a need for volunteers for this event. Both University Relations and CASS are looking to gather a total of 100 volunteers. Individuals interested in volunteering should contact either department to enroll. Volunteering hours range, beginning at 4 p.m. to about an hour after the event wraps up. There is a great need for volunteers to stand in for students with disabilities who cannot make the walk from the registration site at the Don Haskins to the Sun Bowl.
To ensure an enjoyable and safe commencement ceremony, it is highly encouraged for all graduates and their families to take the measures needed for all parties involved to assist in making the event a safe and enjoyable one. For more information, Krystal Reyes may be contacted at [email protected] or 747-8571. To contact the Center for Accommodations and Support Service, visit sa.utep.edu/cass or e-mail [email protected] Bill Dethlefs may be contacted at [email protected] or 747-5148.Visit my.utep.edu and click on the commencement tab for more information.
Jose Soto may be reached at [email protected]
About the Writer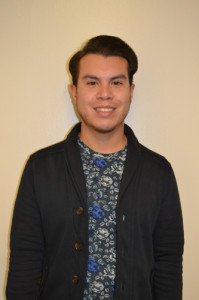 Jose Soto, Staff Reporter
Jose Soto is a multimedia journalism major with a minor in creative writing. He joined The Prospector team in November of 2013 as an entertainment reporter....