Estudiante conserva su cultura mexicana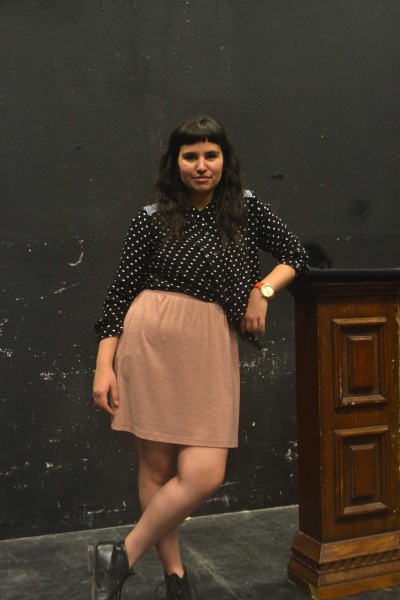 Aquí en UTEP, no es fácil encontrar artistas que conservan las raíces de su cultura, de la convivencia de nuestra frontera y de las costumbres mexicanas.
Julia Sosa, estudiante de teatro y sociología, comparte su tiempo, sus esfuerzos y sobre todo su arte en ambas ciudades—lo cual es importante para ella, ya que dice que es muy difícil quitársela.
"No que me la quiera quitar, es lo que me construye como persona y artista. Es mí identidad", dijo Sosa. "A donde quiera que yo vaya y cualquier cosa que yo haga, mi influencia mexicana va estar ahí. Ya viene contigo.  Así es como haces arte orgánico.  Si la niegas, el arte va estar muy deprimido".
Sosa es vocalista de la banda Lunatic, que se presenta en Juárez, otras ciudades de la república mexicana  y aquí en El Paso. Formada en el 2012, Lunatic ha aprovechado de la tur-gencia de la vida social en Juárez.  Por la violencia, la escena artística fue reducida y muchos optaron por asistir a eventos aquí en El Paso.  Hoy, las cosas han cambiado. Ambas ciudades gozan de la música local y eso hace posible que Sosa y su banda se muevan entre El Paso y Juárez, manteniendo las hermanas cuidades en sincronización.
"Hoy, las cosas están renaciendo. Ahora, vez a la gente de Juárez con ganas de recibir arte y entretenimiento", dijo Sosa. "El Paso está notando de eso. La gente de ambas ciudades son muy nobles y nos gusta que sepan que no somos ni tanto de aya, ni tanto de acá.  Somos unidos.  Somos la gente de la frontera".
Aparte de su esfuerzo musical, Sosa dirige obras de teatro en UTEP y la mayoría de las veces, escoge obras que llevan tintes de la cultura mexicana y son relevantes a la comunidad hispana.  Sosa dirigió "Sazón de Mujer" y actualmente esta en el proceso de dirigir "A Solid Home" que es una traducción de "Un Hogar Solido" como parte de Chicano Theatre Series en UTEP.
"Me gusta que las obras que dirijo lleven algo de valores mexicanos, que son universales, pero a nosotros nos gusta apropiarnos de ellos", dijo Sosa. "Sobre todo el respecto, el amor, el cariño a los padres y adultos, pero también toques de catolicismo y revolucionarios que hacen pensar en los sistemas de creencias como mexicanos".
Aunque "A Solid Home" será en inglés, Sosa dijo que los que no sean de habla hispana podrán entender un poco de la historia y cultura mexicana.
Esa convivencia entre dos mundos ha hecho que Sosa aprenda a coexistir como artista y estudiante, haciendo que su arte refleje la actualidad de ser integrante de una sociedad mez-clada por raíces en la madre tierra y el esfuerzo americano. De acuerdo a la estudiante, mantener una identidad fija es la manera de construir arte relevante y honesto.
"Es inevitable tener influencia americana viviendo aquí. Yo la tengo, como todos que vinimos en la frontera. También, vivimos hoy en la globalización", dijo Sosa. "Pero tenemos que tomar en cuenta de donde vinimos y que es lo que nuestro ecosistema anterior puede aportar a lo que ahora hacemos. Mucha gente se viene a los Estados Unidos y no se acuerda de su patria. Mi arte se esfuerza a recordarles de eso".
Evdokia Romanova, una estudiante de Rusia, dice que para ella, las artistas como Sosa la han ayudado a entender a la cultura de El Paso.  "Creo que sus obras llevan una connotación cultural que dejan a la audencia con un entendimiento de lo que es ella como persona"
Sosa toma en cuanta que muchos estudiantes de UTEP vienen desde Chihuahua y otras ciudades de México y hay que complacerlos.  Demográficamente, UTEP es una universidad compuesta de no solo estudiantes ni temas estadounidenses, pero también de elementos mexicános. Aristas como Sosa hacen posible que no nos desviémos de eso.
Jose Soto may be reached at [email protected]
About the Writer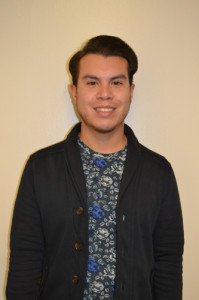 Jose Soto, Staff Reporter
Jose Soto is a multimedia journalism major with a minor in creative writing. He joined The Prospector team in November of 2013 as an entertainment reporter....