Costume designing is taken to the next level
Proudly marching through comic conventions as your favorite character can be pretty rewarding, especially if you've taken the time to create the costume yourself. For cosplayers, who have been going to conventions for years, creating their costumes has become more than a hobby.
"While making costumes is a hobby of mine, I have had a few paid commissions and have had a job as an apprentice to do a few costumes," said Mia Vasquez, sophomore theater arts major. "I ultimately do not see it as a job though because I do it because I love it."
While Vasquez has been cosplaying for many years, she started making costumes two years ago when she came to UTEP. She then began to design costumes for others before she had made any for herself.
"I chose costuming at UTEP and from there I caught on very quickly and was a natural," Vasquez said. "A year later, I was asked to apprentice under a very kind elderly woman, who I admire greatly, named Sharon, who enhanced all that I learned. The next thing I knew, I was not only fixing costumes at UTEP, but was making them at Kids-N-Co. It was then I decided I wanted to make costumes for myself and not just other people."
Vasquez' first self-made cosplay costume was Mavis from "Hotel Transylvania." She is paid for her work if someone orders a costume made for him/her. Typically, she spends $10 to $30 on supplies to make the costume. She said she then puts her money to a good cause.
"I tend to donate some of the money I earn to organizations that I want to see being something more than they already are. The rest goes to a savings account to be used on future supplies I might need," Vasquez said.
While some people make costumes for a job, others make them as a hobby.
Christina Gonzalez, junior theater arts major, makes costumes for herself and has won several costume contests such as Best Female Comic Character for "Black Widow" cosplay at Sun City Sci-Fi. The costumes that she creates are along the lines of superhero or villain-based that she styles to make her own.
"At first it was just a hobby, but I had a friend that pushed me into cosplaying and I can see myself doing it as a job," Gonzalez said. "One of my favorites to make was Poison Ivy. With her, I made a leotard-based corset and covered it with weeds. To make it more interesting, I made the bust with orange leaves to accent it—to make it original and more my style."
Making costumes and being in cosplay competitions was very rewarding to Gonzalez, who said she will be participating in The Miss El Paso, Texas, pageant.
"It was my New Year's resolution to go after different fears and out of my norm. Running for Miss El Paso was one of them," Gonzalez said.
"I've always wanted to be in a pageant, but I was shy. Cosplaying opened up a big part of me. Now I'm very courageous and it really did boost my self-esteem. I realized that if I could do cosplays, then I could do a pageant."
Vasquez and Gonzalez said that anyone who wants a career in costume-making needs to remember that practice makes perfect and one can always teach themselves.
"It's a fun hobby you can do if you want it to be a career or a part-time hobby," Gonzalez said. "As a beginner, at first it was tough to make the costumes, but over the years you will get better. Every costume is a piece of you. It's a piece of artwork that you're making. Be shameless about it."
Amber Gomez may be reached at [email protected]
About the Contributor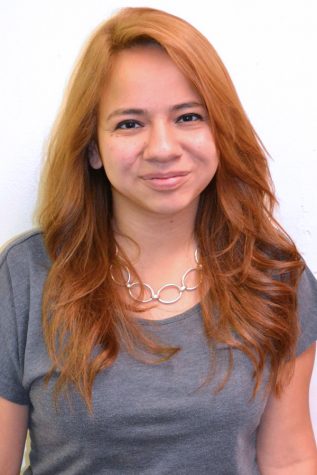 Michaela Román, Editor-in-Chief
Michaela is a Senior Digital Media Production major at The University of Texas at El Paso. As the Editor-in-Chief, and former Photo Editor of The Prospector,...