SGA's BOLD party to be penalized for early campaigning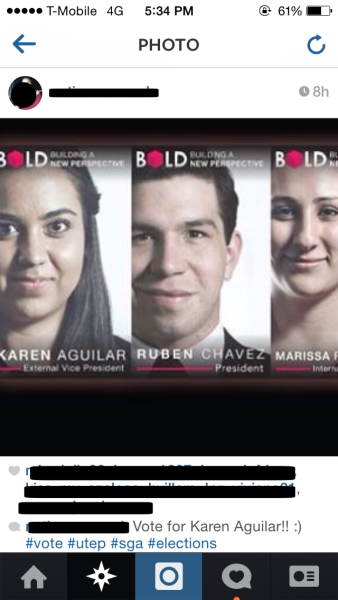 Maria Esquinca, Staff reporter
April 28, 2014
The BOLD Party, one of the two parties running for Student Government Association, has received sanctions after it was found guilty of early campaigning, a violation of the election code.
The BOLD party is banned from campaigning Tuesday, April 29 from 7 a.m. to 1 p.m. after being found guilty by the SGA election commission. This includes limitations on banners, flyers, pamphlets and candidates individually promoting themselves to UTEP students.
According to election commissioner Perla Galindo, sophomore political science major, further sanctions might be given to the BOLD party after a second complaint was submitted about the  party promoting themselves on Instagram and using a UTEP hashtag.
"It's in the election code that they (parties) can't associate themselves with UTEP, and the BOLD party candidates are posting their pictures on Instagram with the hashtag UTEP," Galindo said.
The election commission will meet Monday evening at 6 p.m. to decide on whether the BOLD party will get any sanctions for the second violation.
A few hours into the first day of campaigning, which began at 6 a.m. Monday, an anonymous tip was sent to SGA reporting that the BOLD party began campaigning early.
According to the anonymous tip, the BOLD Party launched their website, www.boldparty.net, at midnight. The tipper sent a screenshot of BOLD's website, which displayed the time on the right hand corner of the screen as 12:30 a.m.
The site gave the BOLD party a six hour lead of campaigning time.
"They got six hours of campaign advantage so we're taking six hours of their time," Galindo said.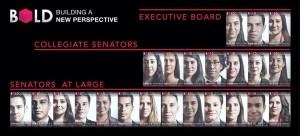 Before campaigning began, all candidates running for SGA office had to go to a candidate info session in which they were explained campaign election rules.
The BOLD party has not yet decided to appeal the decision to the SGA Supreme Court, an option that is open to candidates if they don't agree with the penalty handed down by the election commission.
"We barely made this decision at noon. They haven't appealed it yet," Galindo said.
However, SGA president Paulina Lopez, senior corporate communication major, said all the appeals and complaints are preliminary. Lopez declined further comment on the topic.
Last year, Lopez's Focus party was similarly sanctioned for posting their website earlier than the time established by the election code, according to Arleen Reyes, senior history major and current senator at large who ran last year under the Focus party.
Changes were made to the election code to prevent similar behavior from happening this year, but seem to have not prevented violations to the election code from happening.
"We added more sanctions for the social media and the internet," Galindo said.
Maria Esquinca may be reached at [email protected]